Must-Have Makeup Items In Your Makeup Bag:
Every girl would want to have certain makeup items in her bag. But there are so many varieties of beauty products out there that it could be quite difficult to decide which ones you do actually need to spend money on and have with you. In fact, sometimes, girls can afford just a couple must have makeup products at some given point of time.
Anyway, if you have been wondering what essential beauty products you need to have in your collection, then the list of 5  must-have makeup products we have compiled could be of great interest to you.
Keep in mind this though: the makeup routine of every girl will differ. What may be great for you could be lacking for others, and that top 5 of essential beauty items can and probably will be different for everyone. Some women use plenty of gloss, whereas others prefer to just have a little touch of lipstick on their lips.
That being said, whether you are at a loss trying to add new items to your collection or are looking to completely renew your essentials on a budget, our top 5 list for must-have makeup products could be really helpful for you.
1. Makeup Brushes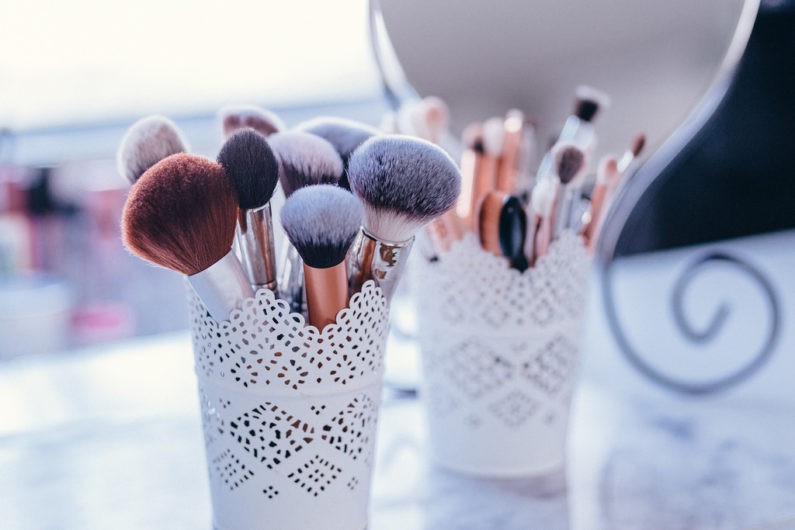 The very base thing that you would need to create a signature look for your upcoming interview or a wedding is a couple of brushes. You didn't think that you'd be applying the makeup with your hands, did you?
While a brush may seem like a simple beauty item, you would want to really look into them to get the right one. There are plenty of cheap brushes on the market that indeed do the job, but they tend to be not very durable and convenient.
When choosing an applicator brush, you would want to consider things like build quality, the secureness of the bristles, as well as the ergonomics of the handle. In fact, you would probably also need to get separate brushes for each of your beauty products.
As an alternative to a makeup brush, you could try out the variety of 360-degree makeup applicator sponges. They have a softer feel than brushes, which may be a thing that you need.
See more- List Of Makeup Brushes Guides and their Uses
2. Bronzer
If you really want to obtain an attractive summer tan, then you don't necessarily need to expose yourself to the damaging UV rays of the sun. And besides, you'll be able to get a summer-ready look even if there is no sun to get the tan from in the first place!
The product that would allow you that is the bronzer. It's an awesome way of finishing off your makeup look and also accentuating the effects of the other beauty items you have used.
Now, you don't really want to use a low-quality bronzer that will just make your skin look darker. The plain dark shade probably wouldn't do you good by itself. However, what would be excellent is if the bronzer looked on you naturally. Aside from that, the amount of time the bronzer will stay on is also crucial: you don't want the makeup to come off early into the event, do you?
You don't really need to spend a lot of money on a bronzer: some cost under $10 yet deliver amazing quality and longevity. Some also double as eyeshadows, and some are also fragranced.
3. Eyeshadow
While some women may get away with using a two-in-one bronzer and eyeshadow, others may feel that they aren't satisfied with what such a product could deliver. Well, those women would certainly want to have a dedicated eyeshadow!
If you have never tried an eyeshadow before, you might be skeptical about the benefits it's going to give you. However, some women consider it a must-have for any occasion. Eyeshadow is an excellent tool to make your look more accentuated and deeper with overall, not to mention that it would allow you to put an emphasis on your eyes and make them more expressive.
Eyeshadows most commonly have just one color, but you could find multi-color palettes if you want to. Those multi-color eyeshadow products would be able to impart an appropriate finish to your makeup whether it's a night out or a job interview on your plans.
4. Mascara
Another must-have makeup products to deepen the impression from your eyes with is the volumizing mascara. Thickening and defining your eyelashes, it will make your eyes seem bigger and appear more awake. So, you don't really need to use cumbersome eyelash extensions to accentuate your eyes.
Even if you don't have that much makeup applied, mascara would be able to beautifully complete a simple look. It's also fairly easy to apply once you get used to it, which could come in handy if you ever happen to be in a rush.
When choosing the best mascara, you should be going for a waterproof product that will stay long. Besides, you may want to apply colored mascara, but this isn't a thing that women frequently go for because colored eyelashes may actually overdo the accent on the eyes.
5. Lip liner
You might have thought that the number 5 must have makeup products on our list would be the lipstick, but we think that even the best lipstick brands would be incomplete without a lip liner. Lipstick still is a beauty item that you should be using, but it will be much better with a lip liner.
Think about it: how skilled must you be to be able to apply lipstick perfectly without it "bleeding"? And even if you use great lipstick and have the skill to do that, applying the lipstick would be much easier with a lip liner.
And sometimes, instead of just outlining the outer edges of your lips before applying the lipstick, you may just want to use the liner as lipstick on its own. This, again, would be useful if you are in a rush or are too lazy to apply lipstick. Since lipsticks are available in the same color range as lipsticks, this should be very easy to do.
Hope you enjoy this article. Please share your feedback with us!