This post contains
AFFILIATE LINK
to products. We may receive a commission for purchases made through these links.
It is truly said, that many problems arise in your body if you are overweight. Losing weight easily is not possible for everyone, but it is needed in the long run. A perfect Indian diet plan for weight loss in one month is to eat a balanced diet. But if you live in India, the different variety of food does not make it possible for you to lose weight. Our culture and dietary habits mainly include foods that are high in sugar and carbohydrates.
Our snack eating habit like namkeen and bhujia makes it difficult for us to have a diet plan and to lose weight. And now, due to the COVID-19 pandemic, our workout and physical activity have also become minimum. Trapped inside the home, our tendency to eat unhealthy every now and then has increased. Therefore, we have brought to you a perfect Indian Diet Plan for weight loss in just one month.
Check out the blog-
Indian Weight Loss Diet Chart Plan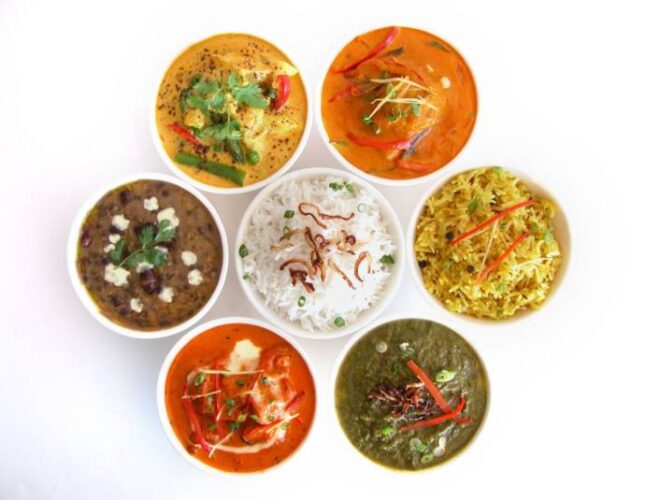 Morning Detox Plan
Let's start with our Morning detox plan, detox drink in the morning helps to accelerate the weight loss at home-
A lukewarm glass of water with honey and lemon.
Cumin water- Boil some cumin in the water, until it becomes half. Add lemon and honey in it.
For Fat- Burning- Add 1 tbsp. of ACV and ½ tbsp. of Cayene Pepper to lukewarm water.
Add 1 tbsp. of Ginger paste and 2 tbsp. of Fresh mint paste in a warm glass of water.
Read about – 15 Homemade Detox drinks step by step here
Breakfast
Breakfast is the first meal of the day and you should have it like king size. It should be packed with vitamins and proteins. Some of the Breakfast Ideas are-
This breakfast is perfect for your weight loss journey. Having two steamed idlis, with sambhar and chutney will keep you full till lunch and it is also filled with nutrients.
Cook poha with ghee, mustard seeds, green veggies and some lemon juice. One plate of poha will keep you full for a longer time.
Oatmeals are low in calories and high in fibres. It is considered one of the healthiest breakfast options. You can add some fruits to it for added flavours.
One of the best protein-rich breakfasts. You can make an omelette in olive oil, two egg whites and an egg yellow tossed. Also, add some veggies to it to make it healthy and nutritious.
Lunch
Some amazing Lunch options for Weight loss is-
Brown rice is rich in fibre and antioxidants. They are a perfect healthy lunch option. Fill up your tummy with half a serving of brown rice and tur dal. Also, add salad to your diet.
Vegetable Bowl with Chickpeas-
Chickpeas are filled with proteins and other nutrients; they are a healthy choice. Add carrots, beans, broccoli, beetroot into soaked chickpeas. Sprinkle some salt and black pepper, also add little lemon juice to it. A perfect nutritious filled lunch.
Multigrain Chapatti and Chicken curry-
Multigrain chapatti helps to provide you with proper nutrition. A bowl of chicken curry will keep you full for a long time, giving you proper protein and fibre.
For an easy and healthy lunch preparation, you can have a chicken sandwich. Take two multigrain bread stuffed with grilled chicken breast, also add tomato slice, cucumber and rings of onion in it.       
Snacks
After lunch, many people often just go for dinner. The following are the snacks option you can go for if you feel hungry between 11 am and 5 pm.
Instead of having regular tea, consume green tea. It is rich in antioxidants too. With tea, you can have two pieces of rusk.
Fruits are a good option, instead of drinking juice as juice lacks fibre content. You can pick any of the fruit like banana, guava, apple, pear as a snack.
Protein bars are loaded with nutrients and are also filling in nature. You can make these bars at home, by adding lots of dry fruits too.  
Just having four almonds and raisins make a perfect snack option. You can also add some walnuts and dates in it.
Dinner
Try to have dinner at around 8 pm. Since it will give you time for a walk and the food will be easily digested too.
Make two whole wheat mixed vegetable wraps. These wraps are filled with nutrients and are also delicious.
A scrambled egg with lots of green veggies and a dal is a perfect dinner option.
Soya curry is loaded with proteins and fibres. Consume it with two chapattis.
Have a wholewheat paratha with a bowl full of curd and a salad.
Perfect Diet Chart for Weight Loss in One Month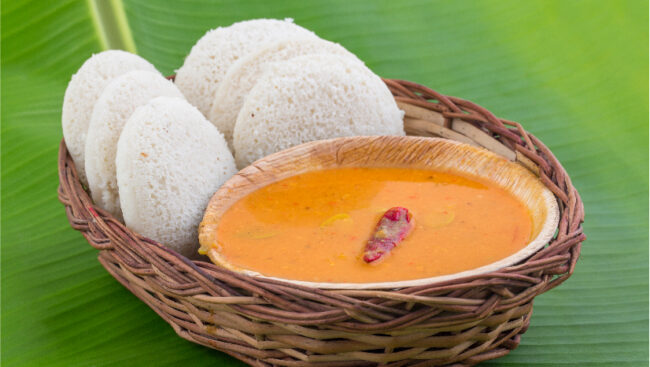 Above you have seen what all food items you should eat and in how much quantity. To lose weight it is necessary that you eat a perfectly balanced diet. For a Balanced diet, you need the following nutrients-
Carbohydrates- Your body's healthy functioning is not possible if you do not include carbohydrates in your diet. Carbs are the main source of energy in your body. Although it is important for you to choose the healthy and right type of carbs. Avoid the carbs like- bread, biscuit, wheat flour, and white rice, they contain too much of sugar which is bad for health. Consume carbs that are high in fiber and packed with nutrients.
Proteins- Proteins are the building block of our body. Indians fail to meet the daily requirement of Protein, which creates problems. Protein helps in building and repairing tissues, muscles, cartilage, and skin as well. Having a high protein diet helps to lose weight and also build muscle.
For proper protein, consume dals, paneer, chana, milk, leafy vegetables, sprouts, and egg.
Fats- Often people think Fats are bad for our health and they make us fat. Well, just like other nutrients, Fats are also needed in the body. They help to store vitamins and provide energy. It is recommended that your body should consist of healthy fats like – Polyunsaturated, Monounsaturated, and Omega-3 fatty acids.
The best way to consume healthy fats is to use different oils like olive oil, mustard oil, rice bran oil, groundnut oil, sunflower etc.
Vitamins and Minerals- Vitamins and Minerals are very necessary for our body. They help to support metabolism, muscle and nerve function, cell production, and bone maintenance. Your body needs Vitamin A, B12, C, D, Calcium, and Iron in proper quantity for the healthy functioning of the body.
You can get Vitamins and Minerals from plants, meat, fish, and minerals.
Natural Tips To Stay Fit and Healthy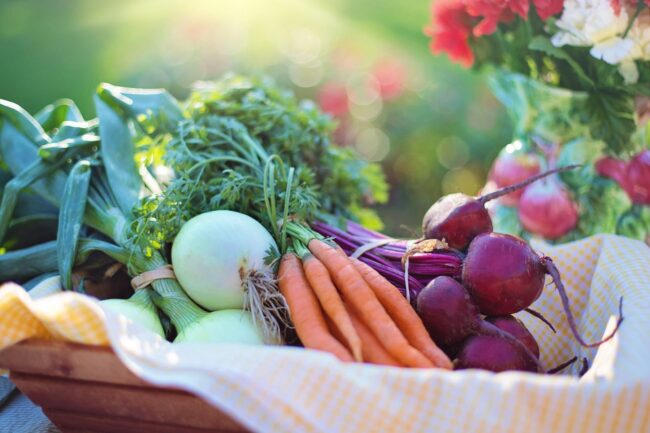 Now, you know what all nutrients are necessary for the healthy and proper well-being of the body. Some other tips to stay fit and healthy are-
Take 5-6 meals a day- Eating frequently and small portions of meal in a day, helps to prevent acidity and also keeps hunger pangs at bay. Quit your consumption of eating junks and try to make healthy food choices.
Try to have an early dinner- These days due to workload and office hours, people have started eating late dinner, which is very unhealthy. During night time metabolism slows down, and eating late dinner leads to weight gain. So, try to have your dinner till 8pm.
Keep yourself hydrated- Drinking ample amount of water and keeping yourself hydrated, helps to cut down in the calories. Also, water helps to flush out the toxins from the body and curb hunger pangs. Drink around 6-8 glasses of water daily to lose weight.
Eat lot of fiber- Consumption of fiber helps in the proper digestion and also keeps heart healthy. Some great sources of fibers are- Oats, Lentils, Apples, Broccoli and Flax seeds.
Never Skip Meals- Many times we forget to eat breakfast or even lunch too. Skipping meals never help to lose weight. In fact, when you starve, you tend to eat unhealthier which will increase your weight.
Conclusion
So, above is the best Indian Diet Plan for weight loss in one month. Weight loss is one difficult task, but with proper and healthy eating you can achieve it very easily. You need not make a massive change in your diet, just try to follow a balanced nutritious diet and you will be fit and healthy.
How do you take care of your weight?
FAQ on Indian Diet Plan for Weight Loss
1. Can I eat Biryani too in the diet plan?         
If you are eating Biryani at any time of the day, it is better to compensate for the calories by working out. For calorie burn, you can run for 1 km or do some heavy workout too. Having one cheat day is good, but only when you have lost a good amount of weight.
2. Should I consume ghee if on diet?
Consuming ghee is good for you, it is an anti-inflammatory agent. You can have ghee but in limit. 3 tbsp. of ghee per day is good, if you want to lose weight.           
3. What to do about sweet dish after meal?   
Well, you can have a sweet dish after a meal. For the sweet dish, rely on homemade sweets with a minimum amount of sugar. You can have a piece of dark chocolate or chew a clove after every meal.
Related Article-