This post contains
AFFILIATE LINK
to products. We may receive a commission for purchases made through these links.
Summers are here and the days when we need to keep the utmost care for our skin. Every girl, women in the World vouch for glowing skin. But frequent visits to parlor may harm our skin in the near future and also they are expensive. So, why not to get a glowing skin without going to a parlor and in the budget.  Yes, You can use homemade face masks for glowing skin. Seems impossible? Not now. Though this requires a bit of hard work, It is definitely achievable.
So, Trabeauli has done some research and got for you the most amazing DIY homemade Face masks for glowing skin at home:-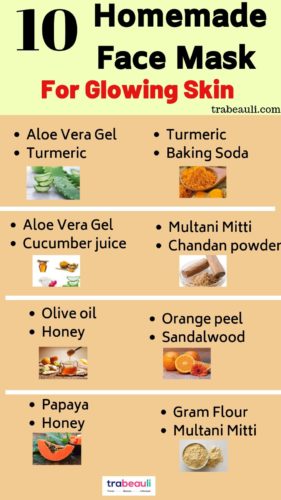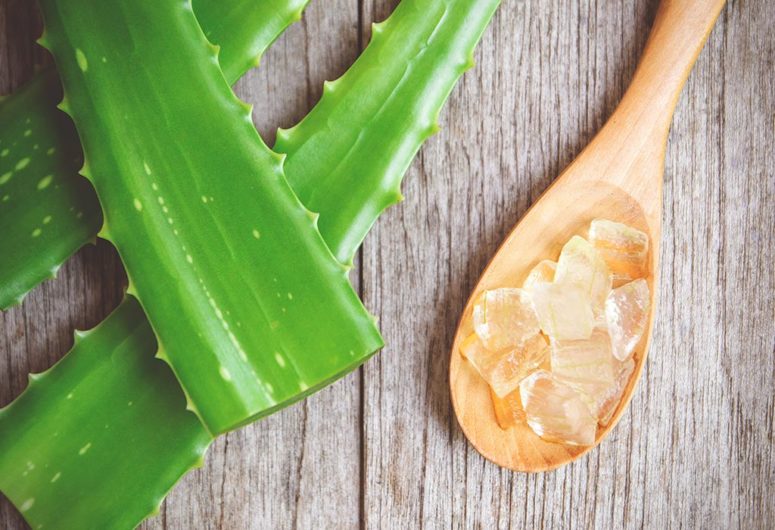 Aloe vera " Wonder Plant" has the anti-inflammatory and hydrating properties. It is best for removing Acne and Dark spots. Aloe vera can be easily found in our garden. It helps to moisturize and nourish our skin. Using it regularly, you will find a great reduction in your blemishes, aging spots, and suntan.
Mix 1tbsp of Aloe vera gel with a pinch of Turmeric. 

Mix them to form a paste and apply it evenly on your face.

Leave it for 20-30 minutes and wash it off with lukewarm water.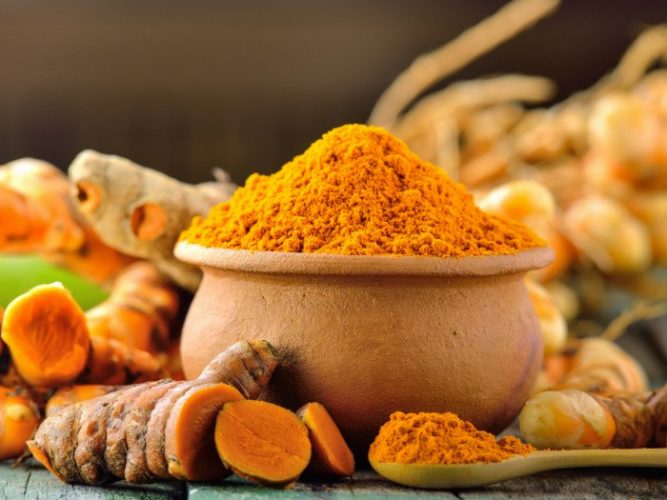 This is one of the best face masks for glowing skin. Its antiseptic property has made it an integral part of Indian culture. Every bride before the wedding applies a Turmeric face mask for the lighter and glowing skin.
½ tbsp of turmeric powder

1 tbsp of baking soda

1-2 tbsp of rose water

Mix Turmeric powder and Baking soda first and then add Rosewater in it.

Once the pasta is ready, apply it and leave it for 5mins.

Massage the paste in a circular motion with wet fingers.

Wash it off with lukewarm water and then with cold water.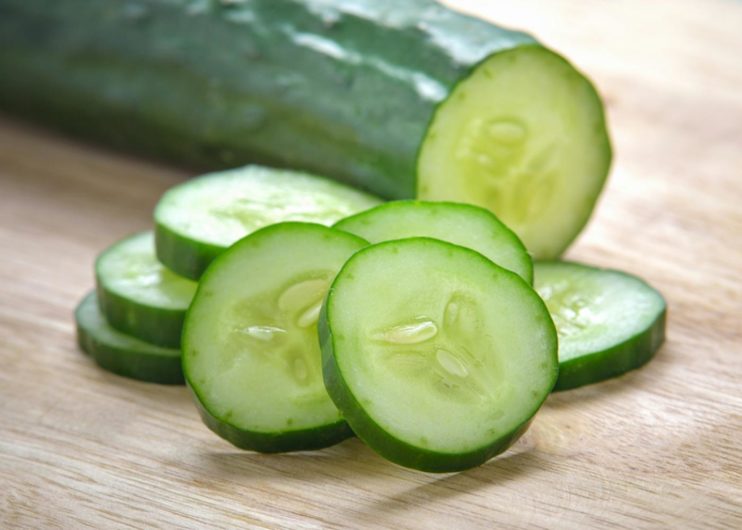 We all know cucumber has the cooling property. It is good for both our skin and also our health. It keeps our body hydrated, which results in glowing skin. Apart from hydration, it reduces the puffiness around the eyes, removes acne, and also combats premature aging.
Take a cucumber and grate it.

Blend it and make a paste of it

Apply it on your skin till it dries

Wash it off with water
Multani Mitti or Fuller's earth has been prominent in ingredients in homemade face masks for glowing skin. Multani Mitti helps to remove blackheads, dark spots, and acne. It cools down our skin and gives it a refreshing feeling. Multani Mitti is also known to exfoliate the skin and treat tanning and uneven skin tone.
Take1 tbsp of Multani Mitti and Mix it with 0.5 tbsp of Chandan powder

Make a paste of it with the help of rose water

Apply the paste on your face and let it dry

Wash it off with cold water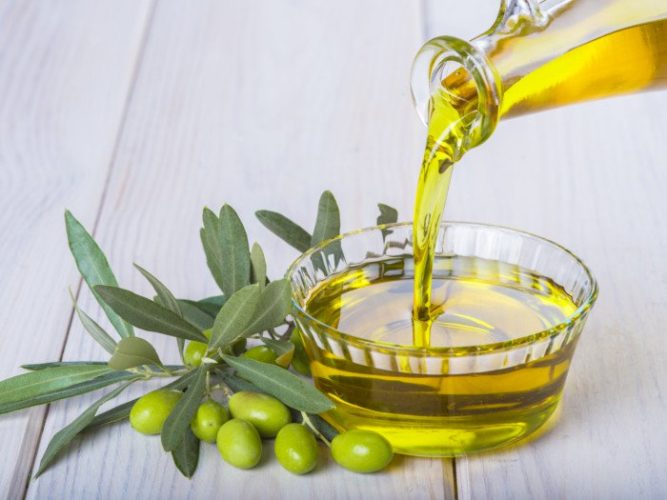 One of the highly nutritive oils for both skin and health. Many people use olive oil for cooking instead of vegetable oil. This oil is considered as the secret behind Cleopatra's beautiful face. Olive oil has antioxidant content, which makes our skin free from radicals. It is rich in Vitamin A, D, E, and K which are very beneficial for the skin. 
1 tbsp of Virgin Olive oil

1 tbsp of Honey

Mix them and apply it to your skin

Leave it for few minutes and wash it off with lukewarm water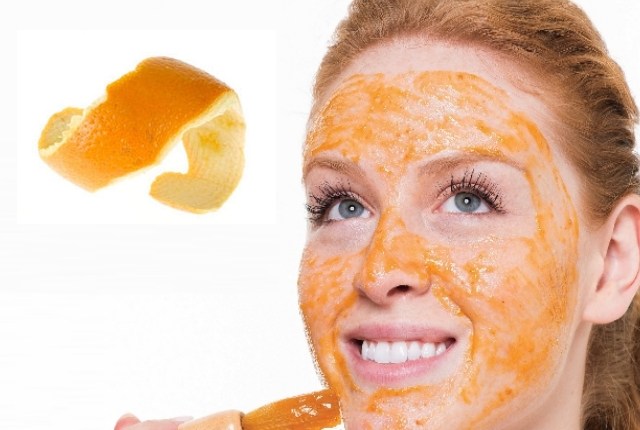 Oranges are filled with Vitamin C, but its peel has more Vitamin C than the orange itself. And Vitamin C protects the skin from damage, it contains citric acid, which acts as an exfoliating agent. Rich in potassium and magnesium, it helps to retain the moisture in the skin and protects it from aging.
Take the orange peel and dry it in the sun for 2-3 days.

Once they are dried, grind them to make a powder

Add Sandalwood powder to it and mix them properly

To make paste add water to it

Apply the paste on the face and rinse it after 20mins.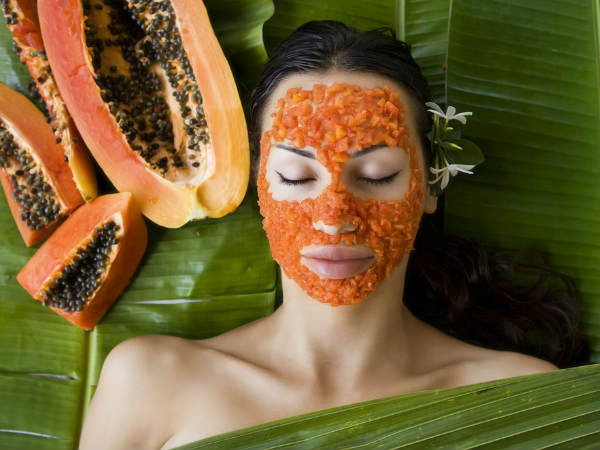 Also called as "Angel fruit" for its amazing properties. Papaya is filled with vitamins and minerals which are good for health and skin. The potassium present in it hydrates the skin and removes the dullness. It is also a great exfoliating agent, which helps to remove the dead skin cells from the skin making it young and clear.
Take a piece of Papaya 

Add 1tbsp of Honey

Mash the papaya and add honey to it

Apply the paste on your face and keep it for 15-20 mins.

Wash it off with lukewarm water.
See more- 10 Papaya face mask for flawless skin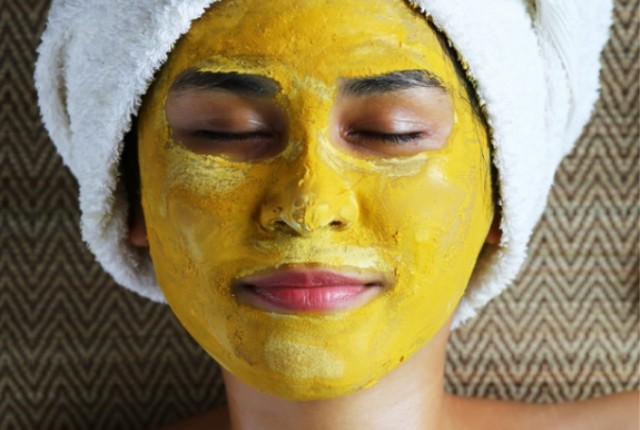 Gram Flour called "Besan" is known to fight numerous skin problems. It is used as a cleanser and maintains the pH level of the skin. It also absorbs excess oil from the skin regulating the moisture of it.
2 tbsp of Multani Mitti (Fuller's earth)

1 tbsp of besan

Mix them and make a paste with the help of rose water

Apply the paste on your face and leave it for 15 minutes

Rinse it off with water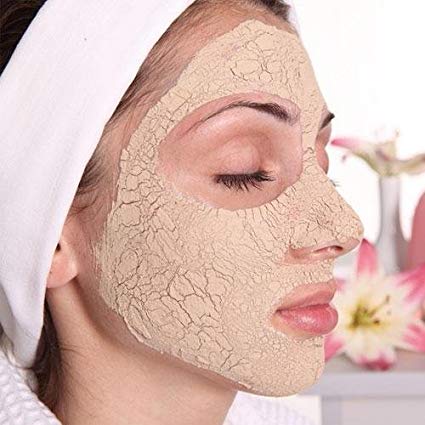 This is one of the secret ingredients in many face packs and moisturizers for nourishing and healing properties. It helps in healing rashes, reduces dullness, and tans. It makes our skin soft and helps in removing acne and blackheads. Sandalwood is also good for the removal of dark spots.
1tbsp of Sandalwood

1 teaspoon  of curd (sour)

Mix them and make a paste with Honey

Apply the paste on your face and leave it for 20 mins.

Wash it off with lukewarm water
Oatmeal is a boon for the skin. It possesses wonderful skincare as it cleanses, heals, and nourishes the skin. Oatmeal helps to absorb excess oil from the face. Rich in antioxidants and anti-inflammatory properties, it helps to treat the dry skin cells and also remove dead skin cells.
2tbsp of Oatmeal

1 tbsp of Honey

Mix the dry ingredients together and make the paste with the help of Milk

Apply the paste on your face and leave it for 20 min.

Wash it off with water.

We all know Mint helps to cool down the skin, and they are the specialty of the summer season. Well, its face pack is also very beneficial. Mint leaves help to treat acne and blackheads. It clears and tones your skin while hydrating it. Mint leaves also slow down the aging process and rejuvenates the skin.
Take a handful of mint leaves and grind it
Take 1 tbsp. of Multani Mitti
1/2 tbsp. of honey
1/2 tbsp. of curd
Mix them properly to make a paste
Apply it on your face
Leave it for 10 mins. and then wash it off with lukewarm water.
12. DIY Milk Powder Face Pack:
Milk powder is an ingredient we never thought we can use it in a face pack. It acts as a cleanser and helps to give your skin a youthful glow. The lactic acid in the milk powder lightens and smoothes the skin. It boosts the collagen and makes our face glowing.
Take 2 tbsp. of milk powder
A pinch of turmeric
1 tbsp. of honey
Little water
Mix them all to form a paste.
Apply it on your face and leave it for 10-15 mins.
Wash it off with lukewarm water.
13. DIY Almond Face Pack:
As beneficial as almonds are for our health, the same it helps to make our skin glowing. Almonds are rich in vitamin E which helps to nourish and soften our skin. It also helps to remove the dirt from our faces. You can also use almonds to treat your acne.
Take some almonds and grind it to make a powder
Take 1-2 tbsp. of raw milk
Mix 1 tbsp. of almond powder with milk
Apply the paste on your face
Leave it for 10 mins.
Wash it off by scrubbing the paste.
Tight Skin Gives Glowing Skin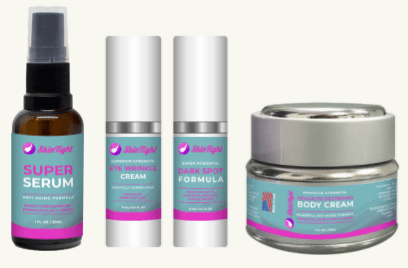 Want glowing and toned skin? Don't worry Skin Tight is here for you, it helps to remove those stubborn wrinkles, fine lines, and crow's feet. Skin Tight will help to tone your face muscles and also remove wrinkles and aging spots.
It super hydrates your skin, stimulates collagen, and also firm the peptides. If you are thinking to go for Botox treatment or any expensive plastic surgery, give Skin Tight a chance and you won't regret using it.
Made with miraculous ingredients like-
Gotu Kola, Sage Leaf, Rosemary Leaf, Aloe vera, Jojoba Seed Oil, and Hops, etc. all these ingredients help to tighten and strengthen the skin veins and increases the elasticity of it. It also helps to treat burns, acne, and dry skin.
How to use it:
Cleanse your skin with a cleanser
Apply a small amount of Skin Tight serum
Massage it on your face and neck
Let it get absorbed completely before you start with your makeup.
These face masks if used properly and regularly can give you amazingly glowing skin.

Chose the one which bests suits you, there is something for all. Try them at home, they are way better and consistent and will save your lot of bucks of the parlor.
I hope you enjoy this blog "Homemade face masks for glowing skin" Please share your feedback with us!
Recommended Articles For You: