This post contains
AFFILIATE LINK
to products. We may receive a commission for purchases made through these links.
Dandruff is a very common problem. More than 50% of people in the world are embarrassed by this flaky and itchy scalp. Dandruff is not a serious problem but sometimes it is difficult to get rid of dandruff. It can be controlled simply by using these effective home remedies.
Youngsters are mostly affected by dandruff. Treating dandruff on time is very important as it can lead to problems like pimples, acne, bumps on the skin, and scalp. There are many reasons for this stubborn dandruff, which are often neglected by us. 
Top 9 Reason For Dandruff Causes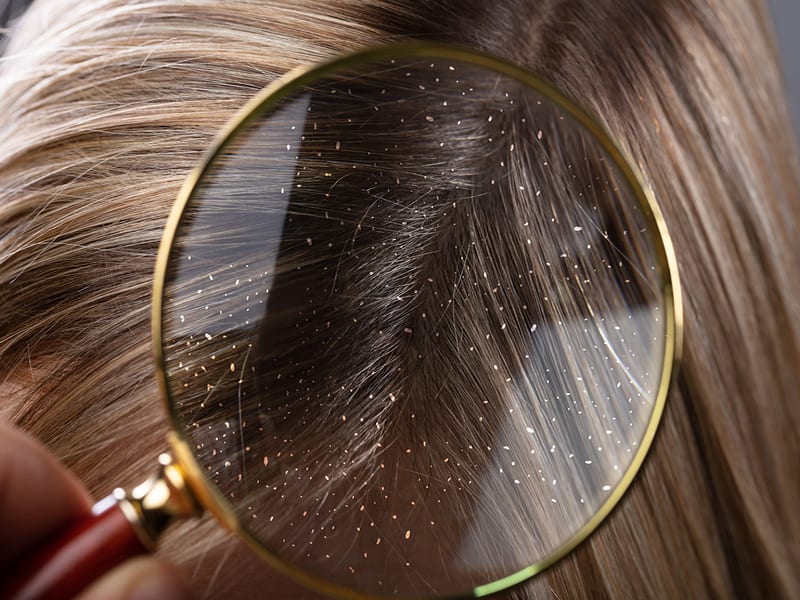 Here are some causes of dandruff to help you to avoid itchy and flaky scalp :
1. Oily Skin –
Oily skin is the major reason behind dandruff. Greasy scalp promotes dandruff. Excess of sebum from sebaceous glands leads to dandruff and itchy scalp. Dandruff caused by greasy skin is difficult to treat so it is should not be neglected as it can lead to serious skin problems. You should frequently wash your head and keep your scalp clean. Do not apply a lot of hair oil, instead take a small amount and apply throughout.  Always apply good quality hair oils.
2. Shampooing –
Shampooing is another frequent cause of dandruff. Why do we forget that cleaning the scalp is equally important as cleaning the body? You should cleanse your hair with good shampoo at least twice a week or thrice as needed. Remember a lot of shampooing is also not good, take appropriate amount depending upon the length and wash. Always go for chemical-free or herbal shampoos.
3. Dry Skin –
Dry skin also can also be the reason for dandruff. But the flakes are not greasy rather inflammatory. It can lead to redness and itching. Continuous itching can lead to skin damage, which is the most possible cause of dry skin. It can affect the other parts of the body either by falling down or touching your fingers to the scalp and then to your body. 
4. Stress –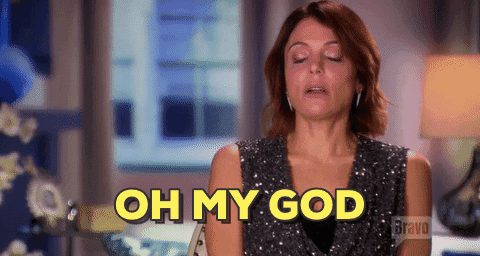 Stress is another unavoidable reason for dandruff. Stress weakens the body's defense system, so it is difficult to deal with Malasseziaglobosa and scalp irritation. When you are under stress, you may notice problems like itchy scalp, scalp irritation, dryness, and flakes. 
5. Harmful Products –
Exposure to excess harsh products onto hair can cause dandruff. As each of us has a different type of skin and so as the needs are different. You always choose a baby shampoo for a baby according to his/her needs and age. The same way each of us needs the products suitable for our type of skin to avoid allergic reactions.  
6. Excess Heat/ Cold –
Too much heat or cold can also have adverse effects on the skin, which can certainly be a reason for dandruff. Direct heat in summer or cold breeze in winter can result in a dry and flaky scalp. 
7. Dryers and Straighteners –
The use of Dryers and Straighteners can cause dandruff. The heat generated from these two can lead to mild burns, itchiness, dryness. So it is better to avoid them using frequently especially in winters.
8. Certain Illness –
Illness is another reason for dandruff. Illness weakens your body. When you are ill, you may notice more itching and skin irritation. 
9. Fungus –
Fungus leads to sebum production causes dandruff. In this skin cells clump together and form flakes. 
  Natural Home Remedies To Get Rid Of Dandruff Permanently: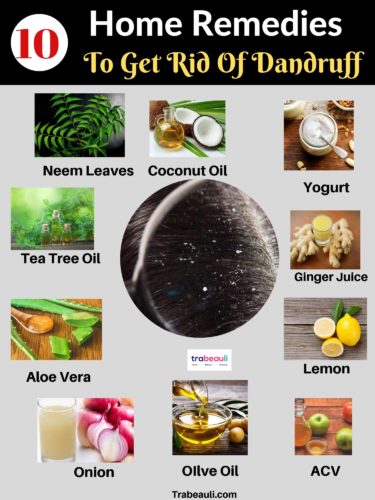 Hope you have grown through the possible reasons that lead to dandruff and prepare yourself from getting it. Let's move onto home remedies to get rid of dandruff  easily at home :
1. Tea Tree Oil –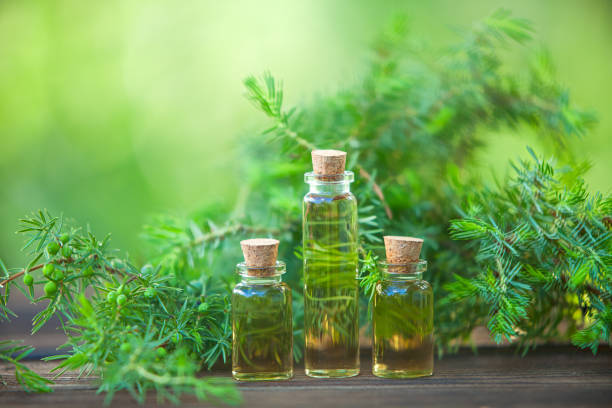 Tea tree oil is very effective in treating dandruff. It has antimicrobial and anti-inflammatory properties to clean dandruff.
Add two or three drops to regular oil, massage onto your hair, and wash after an hour.

Repeat this remedy twice a week for best results. 
2. Coconut Oil and Lemon –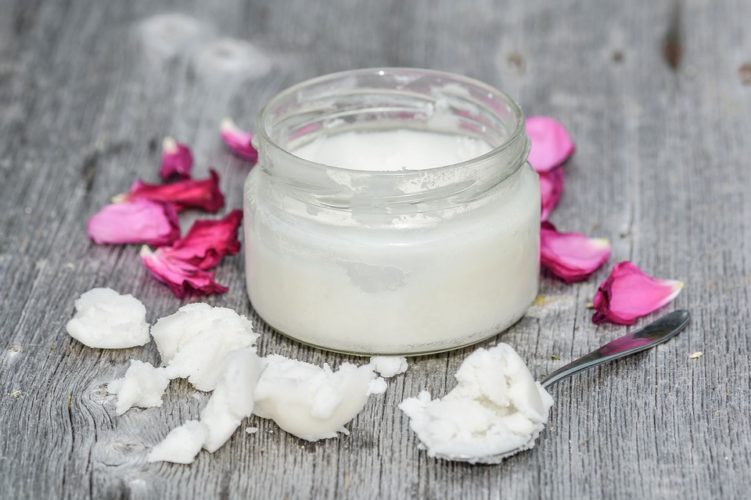 This is one amazing mask for the removal of dandruff. Coconut oil is filled with fatty acids and lauric acid, which prevents hair from breaking. It also helps in increasing the blood circulation. Lemon contains vitamin C, which affects the growth of hair. It unclogs the pores and makes the scalp healthy
Method:
Add one teaspoon lemon juice to coconut oil,

Massage your scalp with your fingertips

Leave it for 20 min and wash your hair with a mild shampoo.
3. Neem Water For Dandruff –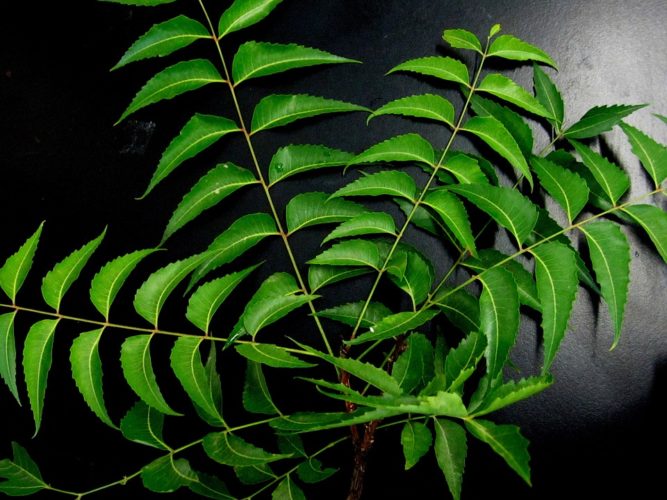 We all know neem leaves are very effective for hair growth and it also prevents the graying of hair. Neem water has anti-bacterial properties that treat dry scalp, dandruff, and also hair fall issue.
Method:
Take some neem leaves and boil them for 10 min.

Let it cool and rinse your hair.

Doing this remedy every week can reduce dandruff.
Neem has anti-fungal, anti-bacterial and anti-inflammatory properties, which will help your scald to stay dandruff free and healthy. 
4.  Yogurt and Lemon-
This is trial and tested by me and is really effective for the removal of dandruff. Yogurt has got some miraculous properties, and it soothes the scalp, gets rid of dandruff, and also calms the frizz. And the citric acid present in lemon helps fight dandruff.
Method:
A mixture of yogurt and lemon gives an effective result.

Lemon has antimicrobial properties and contains citric acid, which is very effective in eliminating dandruff. 

Aloe vera Gel –

Apply fresh aloe vera gel onto your scalp twice a week.

This will help in treating dandruff.

Take aloe vera leaf, peel and scrape the gel and apply for 20 min onto your scalp.
 5.

Fenugreek seeds –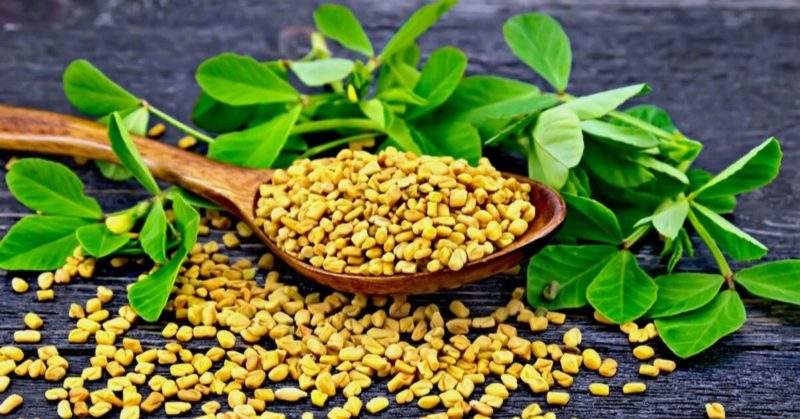 This is another effective remedy in treating dandruff.
 Fenugreek seeds help to prevent hair loss, conditions the hair, and also fight dandruff.
Soak a spoonful of fenugreek seeds overnight and make a smooth paste,

Add a few drops of lemon and

Apply onto your scalp for 30 min.

And cover your head.

Wash it off with a mild shampoo. 
6. Apple Cider Vinegar –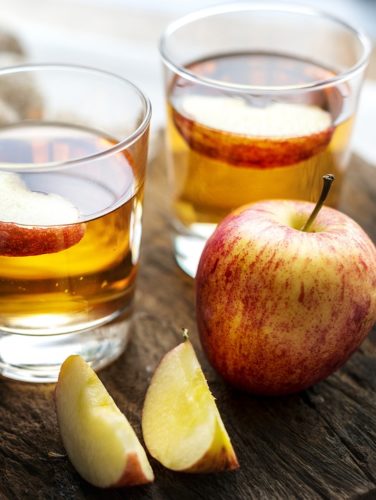 Apple Cider Vinegar is a very helpful remedy in treating dandruff. It maintains the pH balance and has antifungal and antibacterial properties to treat dandruff-causing elements.
Method:
Mix equal parts of ACV and water,

Apply for 15 min and rinse your hair.

Apply it in clean hair.
7. Olive Oil –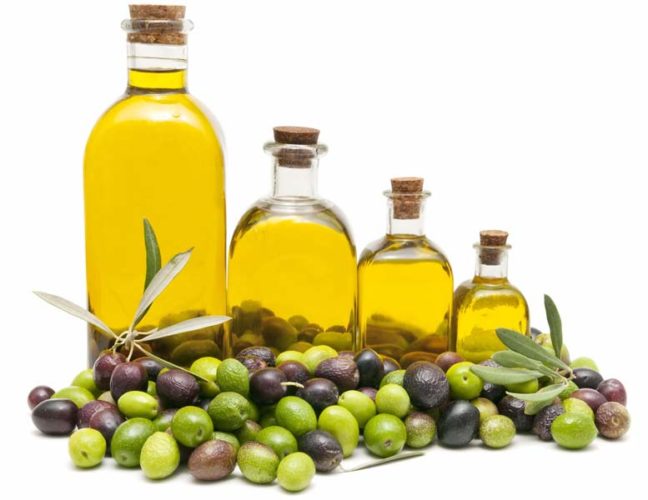 Olive oil helps to moisturize the hair, reduce scalp irritation, and also reduces dandruff
Method:
Massage Olive oil to your scalp to get rid of dandruff.

Take some olive oil and apply onto your scalp and

Rinse after an hour.

Repeat thrice a week for better results. 
8. Ginger Juice For Dandruff –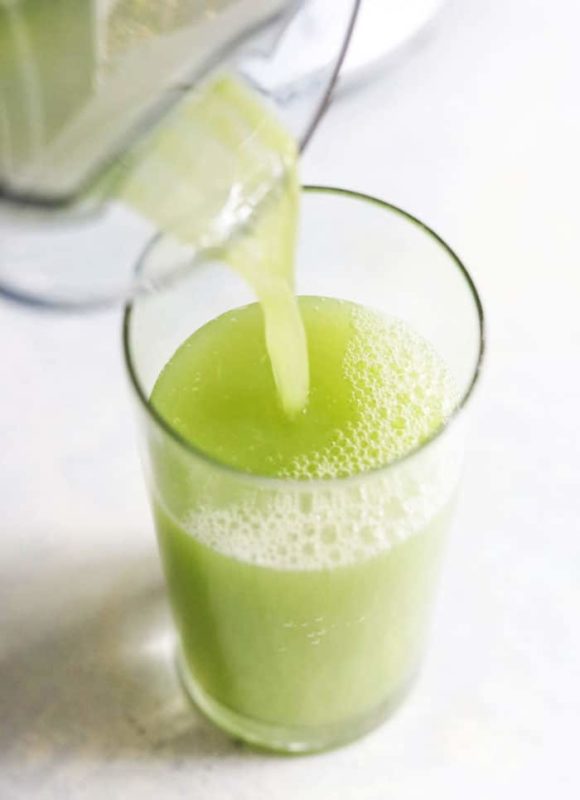 Ginger juice is an excellent remedy for hair growth and also for controlling hair fall. It makes the hair stronger and thicker.
Method:
Mix a teaspoon of ginger juice with sesame oil.

Slightly warm it and

Apply to your scalp for half an hour.

Rinse your hair with a mild shampoo. 
9. Garlic and Honey Hair Mask  –
https://youtu.be/rl5varoaOxU?list=PLSOl-ATypRNSYHesYhPk2b7sJxyLdNlGg
Garlic is very effective for health and hair. It helps to purify the hair follicles, prevents clogging, calms the scalp, and fights dandruff. Honey helps to moisturize the hair.
Method:
Crush some garlic cloves and add honey.

Apply this mixture to your scalp and

Wash in 20 min with a mild shampoo. 
See more- Health benefits of garlic
10. Onion Juice –
Onion juice is very effective for hair growth and dandruff. Onion juice helps in improving hair growth and also nourishes the hair follicles. It minimizes the hair thinning and breakage.
Method:
Mix onion juice with some coconut oil and

Apply for 20 min.

Wash it off with mild shampoo.

Repeat this remedy twice a week for better results. 
Best Shampoos for Remove Dandruff 
1. Phyto Dandruff Treatment Shampoo:
Having curly hair and dandruff, is like the worst nightmare for any women. But do not worry, Phyto Dandruff Treatment Shampoo, claims that in just two weeks your hair will be dandruff free.
Just massage your scalp with the shampoo for  five to seven minutes, and before you know the dandruff will be gone. It exfoliates the dandruff and removes it from the scalp. Formulated with Lentinus Edodes Extract it has got anti-fungal and antibacterial properties.
Pros-
Treats dandruff and itchy scalp

Silicone-free

100% anti-fungal

Anti-bacterial

Contains three active ingredients – Piroctone Olamine, Salicyclic Acid, and Sodium Shale Oil
Cons-

2. Philip B Anti-Flake II Relief Shampoo:
One of the luxurious shampoo to get rid of the troubled scalp. It makes your hair softer, shinier, and stronger every time you were it. The shampoo does not leave your hair greasy instead it makes them bouncy. It reduces the flakiness of the scalp to a great extent.
Pros-
Amazing fragrance

Leaves hair soft and bouncy

Removes dandruff

Balances dry and oily scalp

Makes hair shine
Cons-
Expenisve

Not a great smell

3. Sachajuan Scalp Shampoo:
Made with ocean silk technology, Sachajuan Shampoo is another luxurious choice in the shampoo. Formulated with different essential oils, the shampoo not only removes the dandruff but also moisturizes the hair. It contains salicylic and lactic acid which removes the flakes and also soothe your scalp.
Menthol and Ginger makes your scalp healthy and gives your hair a refreshed feeling. With the use of Sachajuan Shampoo, you will eradicate the dandruff, end your itchy scalp and will make your hair shiny and bouncy.
Pros-
Moisturize the hair

Makes hair soft and smooth

Removes flakes and dandruff

Soothe your scalp

Ocean silk technology

Non-greasy

Promotes new cell growth
Cons-

4. Oribe Serene Scalp Anti-dandruff Shampoo:
Oribe Serene is considered as the best splurge- worthy shampoo. Made with amazing ingredients like salicylic acid, the shampoo fights off dandruff and also removes the flakes from the scalp. It strengthens the hair and makes it smooth. It has for one gorgeous packaging and prefume like fragrance.
Pros-
Contains Salicylic acid

Nice Fragrance

Strengthens hair

Make hair soft and smooth

Removes dandruff
Cons-

5. Redken Scalp Relief Dandruff Control Shampoo:
Just give your two weeks to this shampoo and you will get dandruff free hair. It has got anti-inflammatory properties and makes hair look pretty and healthy. It makes the scalp clean and removes any yeast from it. Redken is made with pyrithione zinc, which removes dandruff without ripping off the hair color.
Pros-
Best for colored hair

Makes hair pretty 

Removes flakes and dandruff

Anti-inflammatory 

Leaves scalp clarified and relieved

Formulated with glycerin which hydrates the scalp
Cons-

6. Shea Moisture African Black Soap Dandruff Control Shampoo:
A shampoo formulated with natural ingredients like aloe vera, tea tree oil and african black soap. Its gentle formula helps to moisturize the hair and removes the dandruff. It cleanse the scalp by removing any product build up and makes the scalp calm ,and clean.
Pros-
Cleanse and soothes the scalp

Contains natural ingredient

Removes product build-up

Makes scalp calm, clean, and comfy

The perfect combination of essential oil and vitamins
Cons-

7. Nizoral A-D Anti-Dandruff Shampoo:
With around 3000 plus reviews on Amazon, Nizoral A-D Anti Dandruff Shampoo is one affordable anti-dandruff shampoo. It contains ketoconazole which fights the yeast, the reason for dandruff. It is a medicated shampoo that works in three ways- it controls the flaking, scaling, and itchiness of the scalp. It contains 1% Ketoconazole which fights dandruff and relieves the itchy and flaky scalp.
Pros-
Removes dandruff

Affordable

Very mild scent

Contains Ketoconazole

Clinically proven

Soothes itchy scalp

Controls flaking and scaling
Cons-

Bonus Tips To Get Rid of Dandruff Fast:
Keep your hairbrush clean and separate.

Often wash your hair.

Cover your hair in sunlight and dust.

Use the right shampoo.

Eat a Healthy Diet.

Always oil your hair and wear a swimming cap while swimming.

Stay stress-free. 
Follow these tips and try these home remedies to get rid of dandruff and make your hair healthier. Try them out and let me know your feedback and suggestions regarding the same only on Trabeauli.
If you like my article please like and share it with your loved ones and can also check my other articles on the Trabeauli website.
FAQ
How often can we use these remedies?
You can use these hair remedies three or two times a week. Be consistent in using them for better results.
Can we oil the hair before applying the home remedies?
It is always good to oil your hair. Oiling helps in moisturizing and nourishing them. You can use a mix of oils and apply them on the scalp and then after an hour or the next morning, and you can apply the home remedies.
Recommended Articles For Hair Care: