Dry Skin? So, you and I have the same type of skin and I can very well understand the hardships we have to go through to keep it hydrated and nourished. Dry skin can make us look dull and really uncomfortable. Finding a perfect dry skin product is very necessary, or else it leads to skin breakout and irritation. So, for making your and my work easy on how to get rid of dry skin, I wrote a complete blog with proper guidelines on How to Get Rid of Dry Skin. 
Check out the blog-
What causes extremely dry skin?
Dry skin is a very common condition of the skin. Many people suffer from the dryness of the skin. Dryness in the skin can be caused due to internal and external factors. Some of the common causes of dry skin are-
Over-washing with harsh soaps

Cold temperature

Low humidity

Overuse of sanitizer and lipid solvents

Complete evaporation of the water from the skin
Dry skin persists if you are not using a good moisturizer or enough moisturizer. Dry skin problem is also a sign of the internal medical condition. For instance- if you are aging, you are more prone to have dry skin.
What does extremely dry skin look like?
After understanding the causes of Dry skin, it is necessary to understand what are the symptoms of dry skin. Dry skin symptoms are-
Itching

Rough dry skin

Breakout in the skin
The most common dry skin areas are- lower legs, hands, and arms.
Natural Home Remedies To Get Rid Of Dry Skin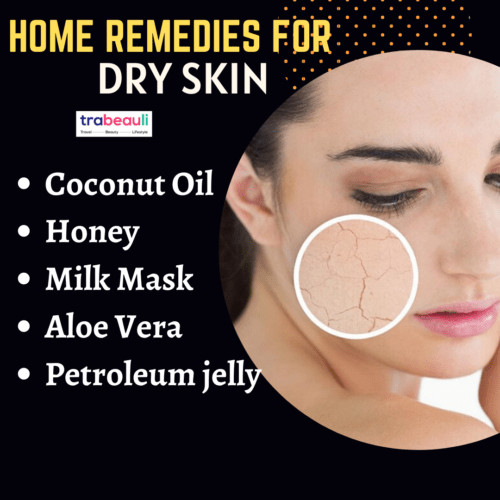 We all know home remedies are best, they help to address the dry skin symptoms and restore moisture in the skin. Some of the natural ways to get rid of dry  and dull skin are as follows-
1. Coconut oil:
Coconut oil works best when it comes to dry skin. It is safe and effective and helps to combat skin dryness. It significantly improves skin hydration and makes the skin soft and smooth.
How to use-  Apply coconut oil on your skin every night and massage for at least 2-3 minutes. You will notice a change in your skin.
2. Petroleum jelly:
Petroleum jelly products can heal your skin very effectively. It is best for skin breakouts and dryness. It is also called as mineral oil and helps to form a protective layer on the skin. It traps the moisture inside and makes the skin soft and smooth.
How to use- You can mix little of petroleum jelly in your moisturizer and apply it daily. You can also directly apply the petroleum jelly every night, it helps to get rid of dry flaky skin on the face.
3. Antioxidants and omega-3s:
Foods that are rich in antioxidants help to repair the damaged skin cells. They minimize damage from toxins and help your body to make healthy cells. A great treatment for dry skin face. Some of the foods that are rich in antioxidants are-
Blueberries

Tomatoes

Beans

Peas

Lentils

Carrots
For Omega-3s you can try salmon.
4. Milk powder mask:
Milk powder face pack helps to moisturize the dry and damaged skin and makes the dull skin glowing. Using this mask every alternate day will help you to cure your dry skin.
How to use-
Take 2 tbsp. of milk powder

A pinch of turmeric

1 tbsp. of honey

Little water

Mix them to form a paste of it. 

Apply the pack on your face.

Leave it for 10-15 minutes

Wash it off with lukewarm water.
5. Magical aloe vera:
Aloe vera is one of the most amazing remedies to treat sunburn and dry and dull skin. It helps to remove the redness of the skin and also fight the dryness of the face.
How to use- 
Cut a fresh aloe vera leaf and extract the pulp from it. 

Rub the aloe vera on your face and leave it for 15 minutes. 

Wash it off with lukewarm water.
6. Drinking milk:
Milk is filled with a phospholipid, which offers great relief from dry skin. Including milk in your diet can also help to improve your dry skin.
7. Honey for Dry skin:
Honey is known for its anti-bacterial, moisturizing, and healing properties. It helps to cure the dry skin and is an ideal treatment for dry skin face. 
How to use- Apply honey daily on your skin and massage it for 2-3 minutes. Wash it off with lukewarm water.
See more- Home remedies for dry and damaged skin
Skin care Routine For Dry and Dull Skin
Cleanser- Every skincare routine starts with cleansing your face properly, so that dirt and dust gets washed off. Dry skin face cleanser should be mild and hydrating on the skin.
Toner-

Toner helps to deep clean the pores and also tighten them. It gives your face a fresher and cleaner look.

Antioxidant Serum-

Serum is the next important skin product to be used as it repairs and revitalizes the skin. It also protects the skin from harmful sun radiations.

Moisturizer- No skincare routine can be completed without applying moisturizer. Moisturiser should always be applied as it helps to hydrate and nourish the skin. Dry skin people should look for moisturizers containing shea butter or any essential oil.
Sunscreen-

One should never step out of home, without applying sunscreen. Sunscreen protects the skin from free radicals and harmful UV rays. You may find SPF in the moisturizers these days, but using sunscreen differently is always good.
You need to follow the same routine even for night time, just replace sunscreen from the Eye cream and eye cream should be applied before moisturizer.
Eye Cream-

Dry skin is prone to aging and dull skin. Fine lines and wrinkles appear very soon under the eye. Using a good eye cream helps to make the skin under the eye better and healthy-looking.
Best Skincare Products for Dry Skin
Cleanser: Cetaphil Gentle Skin Cleanser–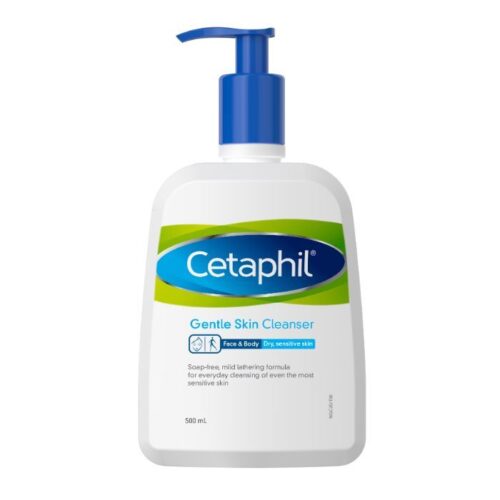 Beloved by many dermatologists, this Cetaphil Gentle Skin Cleanser is mild and very hydrating. It helps to remove the makeup and dirt from the skin and makes it soft and smooth.
Pros:
Makes skin clean and clear

Gentle and mild

Maintains skin pH balance

Does not breakout skin
Cons:

Moisturizer: CeraVe Moisturizing Cream-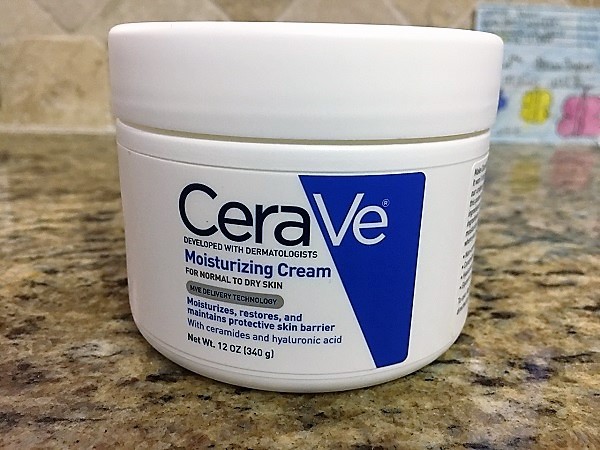 A perfectly balanced moisturizing cream helps to restore the protective skin barrier. Developed with Dermatologists, this cream is fast-absorbing and does not give a greasy feeling. It hydrates and nourishes the skin.
Pros:
MultiVesicular Emulsion delivery technology

Non-greasy

Does not clog pores

Makes skin soft and smooth

Affordable

Lasting hydration
Cons:
Not travel-friendly packaging

See more- Best dry skin moisturizer In India
Toner:  Dermatologica Multi-Active Toner-
A perfect boost up for dry skin people.  Just a little spray of this toner and it gives you an instant cooling effect. Formulated with Aloe vera, lavender, arnica, and cucumber extracts it is perfect for dry skin.
Pros:
No artificial fragrance

Vegan

Gluten-free

Paraben-free

Cruelty-free

Helps moisturizer to absorb properly
Cons:

SPF:

EltaMD UV Clear Broad-Spectrum SPF 46 Facial Sunscreen-
This zinc oxide facial sunscreen filled with SPF 46 protects against UVA and UVB rays. It is dermatologist recommended and helps to calm and protect the skin from acne, discoloration, and rosacea.
Pros:
Protects against harmful UVA and UVB rays

Dermatologists recommended

Formulated with zinc oxide

Leaves no residue

Does not contain fragrance, oils or parabens
Cons:

Eye Cream: Neutrogena Hydro Boost Eye Gel Cream-
Neutrogena offers some great products and all of them are highly rated on Amazon. This hydrating eye gel cream is rich in hyaluronic acid and gets absorbed quickly.
Pros:
Lightweight

Filled with hyaluronic acid

Gets absorbed quickly

Hydrates the under-eye skin

Fragrance-free

Non-Comedogenic
Cons:

See more- Best eye cream for reduce wrinkles
Retinol Cream: Neutrogena Ageless Intensives Deep Wrinkle Moisture, Night-
A deep wrinkle moisturizer cream filled with Retinol and Hyaluronic acid. It makes the wrinkles and fine lines less visible and makes skin soft and smooth.
Pros:
Rejuvenate the look of skin

Hydrates the skin

Removes fine lines and wrinkles

Makes skin soft and smooth

Gives skin a healthy look
Cons:

Anti-aging cream: RoC Retinol Correxion Deep Wrinkle Anti-Aging Retinol Night Cream
Retinol is the main active ingredient when it comes to Anti-aging cream. RoC Retinol Night Cream is non-greasy, non-comedogenic and helps to reduce the appearance of deep wrinkles.
Pros:
Reduces fine line, wrinkles and crow feet

Makes skin soft and smooth

Hydrate and revitalize the skin

Non-greasy

Makes skin healthy
Cons:

Anti-aging serum: L'Oreal Paris Revitalift Derm Intensives Hyaluronic Acid 
With the highest concentration of hyaluronic acid, L'oreal Revitalift serum helps to hydrate and plump the skin. It reduces the fine lines and wrinkles and makes the skin soft and smooth.
Pros:
Reduces fine lines and wrinkles

Makes skin soft and smooth

Keeps skin hydrated

Gives skin a healthier and bouncier look

Revitalizes the skin
Cons:

Setting spray: Evian Mineral Water Spray
This mineral spring water helps to refresh your makeup throughout all day. It hydrates the skin and blends the makeup.
Pros:
Provides ultra-fine micro-droplet mist of pure Evian water

Hydrates and refreshes the skin

Blends the makeup properly

Refreshes the skin throughout the day

Set Makeup
Cons:

Concealer:
NARS Radiant Creamy Concealer
NARS concealer has quickly won many hearts. Made with light-diffusing technology, the concealer gives a soft, naturally radiant finish. It blends into the skin easily and also protects the skin against free radicals.
Pros:
Reduces redness

Hydrates the skin

Gives antioxidant protection

Removes all the imperfections

Paraben-free

Crease-proof
Cons:

Foundation: Giorgio Armani Beauty Luminous Silk Foundation
One of the best foundations for dry skin people. It gives you the smoothest texture and is easily blendable. It gives you a medium coverage with a silky finish.
Pros:
Hydrates the skin

Easily blendable

Does not dry out the skin

Gives a silky smooth finish

Hides any fine lines and wrinkles
Cons:

Micellar water: Garnier SkinActive Micellar Cleansing Water
This Micellar water by Garnier helps to remove makeup and dirt. It makes your skin soft and fresh and also does not irritate your skin.
Pros:
Paraben-free

Fragrance-free

Does not cause a breakout

Silicone and sulfate-free

Makes skin soft and fresh
Cons:

How to Apply Makeup on Dry Skin?
Following proper steps for makeup helps to give you a perfect look. Makeup for dry skin and oily skin involves just a little bit of difference. So let's have a look at the steps to apply makeup on dry skin-
Wash your face

: It is very necessary to first cleanse your skin before you apply the makeup.

Moisturize your skin:

After washing your face, moisturize your skin. Apply the moisturizer on the skin, when it is still damp so that the moisturizer gets locked into your skin and it feels soft and smooth.

Apply face primer: Applying a face primer is like applying a sheer, gel-like base on the skin before makeup. It helps to keep the makeup intact and gives you a beautiful look.
Apply eye primer: Eye primer helps the eyeshadows and eyeliner to glide smoothly and makes the eye makeup looks more attractive.
Apply lip balm: If you have dry lips, it is a good idea to apply the lip balm, so that it gets absorbed and till he time you apply the lipstick you will have soft lips.
Liquid foundation: Dab a small amount of liquid foundation on your finger, and with the help of foundation brush blend the foundation in the skin. Be gentle on applying the foundation.
Concealer: Use a liquid or cream concealer on your undereye cream, to cover any dark circles. Apply the concealer in a triangle shape and then dab it into the skin.
Setting spray:

Setting spray plays a very important role in makeup. It keeps the makeup still and has a moisturizing effect.

Eye makeup: After your face makeup is complete, now is the time for eye makeup. With the perfect primer, it will be easy for your eye shadows to get blend easily and your eyeliner will glide smoothly.
Lipstick:

Makeup is incomplete without applying lipstick. Till the time you apply foundation and concealer if your lips feel dry apply a little lip balm on it and then apply the lipstick. Go for liquid lipstick, matte lipstick may dry your lips soon. 
If you wish to apply matte lipstick, it is recommended to first use a lip scrub to get rid of dry skin on lips and then apply the lipstick.
Highlighter:

Applying highlighter is the last product to be used in makeup. A liquid highlighter gives your skin a dewy, fresh look.
Natural Ways To Cure Dry Skin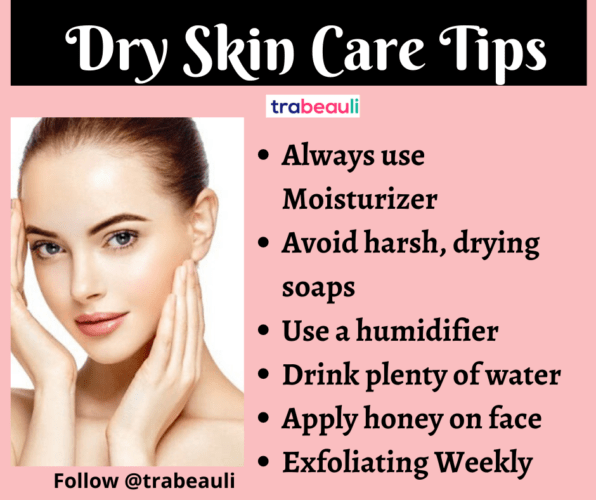 Some of the bonus tips to cure dry skin are as follows-
Moisturize-

Moisturizers helps to hydrate the skin and lock the moisture in. If you have very dry skin, it is recommended to apply a moisturizer several times a day. Thicker moisturizers work better as they tend to be in the skin for a long time.
You can also apply baby oil, to nourish your skin. It prevents the water from evaporating from your skin.
Use warm water and limit bath time-

Using warm water helps to make the skin soft. But avoid the long bath times, it removes the natural oil from your body. Maximum 10 minutes bath in a warm, not hot water is recommended.

Avoid harsh, drying soaps-

Choosing a good hydrating soap is very necessary. Chose a mild soap with added moisturizers, oils, and fats in it. Always use face wash.

Use a humidifier-

Hot, dry, indoor air can cause more dryness and breakout in the skin. A good humidifier adds moisture to your home and makes your skin hydrated. Make sure to clean the humidifier.

Apply moisturizers just after bathing-

After bathing, gently pat your skin dry with a towel and apply the moisturizer when your body is little damp. This helps to trap the moisturizer in your body and makes it soft, smooth, and hydrated.

Choose skin-friendly fabric-

The clothes you are wearing, make sure it is easy on the skin and allows your skin to breathe. 

Drink plenty of water-

Boosting your water intake helps to flush out the toxins from the body. It also makes the skin hydrated and moisturized both inside out.
hope you enjoyed this blog "How to get rid of dry skin"So, these are the ways in which you can take care of the dry skin. It is not difficult to maintain dry skin, you just need to care and pamper it a little bit. 
So, how do you take care of your dry skin?
Recommended Articles for you: