This post contains
AFFILIATE LINK
to products. We may receive a commission for purchases made through these links.
Long and Healthy Hair Secrets- Rice Water
Hair is the most important part of our body as it changes our look and our personality. We go to ends in keeping our hair beautiful and healthy, we try many shampoos, have parlor treatment and whatnot. But we never imagined that a homemade natural product which we use daily can also help in making our hair beautiful and long. Rice water for hair– Yes, this is the best homemade product that can give you long and beautiful hair.
It is Asia's best kept ancient secret, and you will know it why once you try it. The best part is you can easily make it at home. 
What is Rice Water-
Rice water is nothing, but the milky starch water which you get while soaking the rice. The water is milky, because of the starch present in it. We tend to throw that water, and use fresh clear water. Next time, while making rice do not throw away that milky water. That is the water that will make your hair long and healthy.
That water is rich in minerals and vitamins and makes for a healthy drink also.
Yes, you can use Rice water on your skin also apart from the hair. It will tighten your skin and will make it look young and rejuvenated.
History of Rice Water-
Now you might be wondering, how this rice water for long hair came into existence. The world came to know about it after it was referenced by the Guinness Book of World Records.  There is a town in China called the Huangluo Yao Village, also referred to as "Land of Rapunzels". The women living here are known for the long healthy hair. In ancient times, women of Japan were also known for their beautiful long hair.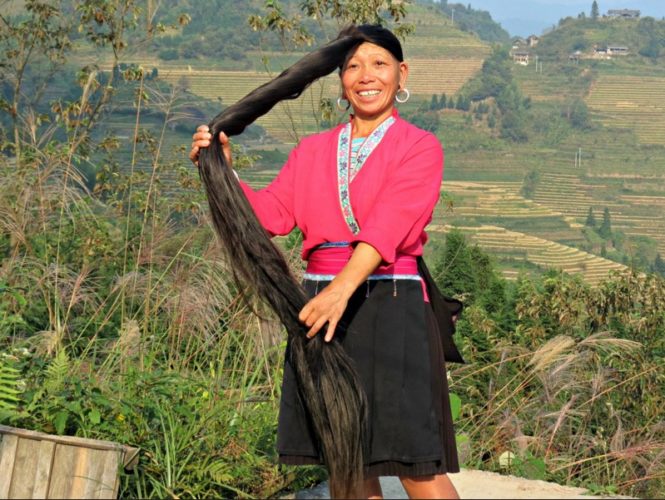 After asking them, they revealed the secret of their long hair- Rice Water.
They have been using Rice water for ages. It is a tradition that has since been passed on to different generations. It was also referenced by the Guinness Book of World Records as the Long Hair village. As time passed, the world came to know about it and people started using Rice water.
How To Apply Rice Water for Growth-
There are two types of Rice water which you can use for hair-
Boiled rice water and

Fermented rice water.
1. Boiled Rice Water For Hair Growth-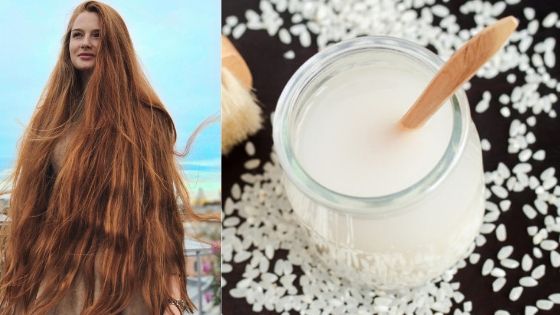 This is the water you get, by boiling the rice. The excess water which is left after the rice is cooked is called Boiled Rice Water.
Ingredients-
How to make it-
Take one bowl of rice and wash it properly.

Take a tumbler instead of the cooker to cook the rice. Fill the tumbler with the rice and add more water than you usually take.

Boil the rice for some time

. The excess water will come on the top.

You can remove the excess water in a container and let the rice cook.

The water will be a highly concentrated cloudy liquid.
How to use Boiled rice water on hair-
You can use boiled water instead of the conditioner.

Take a cup full of boiled water and add few drops of essential oil.
Shampoo your hair as you used to, after washing the hair, use the boiled rice water.

Pour the water on your scalp and leave it for 5-10 minutes. 

Gently massage the water on your scalp and then rinse it off.

You can use the water once in a week and you will notice the improvement in your hair.
2. Fermented Rice Water-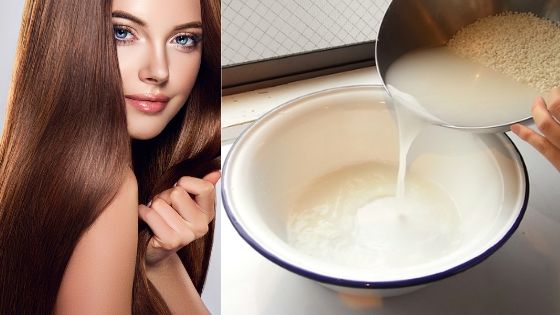 Fermented rice water is the one that is let to ferment before using it on hair. Fermented should be diluted before using it.
Ingredients
How to make Fermented rice water?
Take a bowl of rice and wash it to remove any impurities.

Soak the rice in the good water for 30-60 minutes.

Extract the water by straining the rice.

Contain the liquid in the jar, and keep it to ferment for 24-48 hours.

When the liquid starts giving a sour smell, that means the water is fermented and you can keep it in the fridge.
How to use Fermented rice water
Never use the fermented rice water directly. Always dilute it before using it.

Follow your hair routine of shampoo and conditioner as you always do.

After the conditioner, use the fermented rice water on your scalp and massage it for 15 minutes.

Later rinse it with water.
These are the two ways in which you can use Rice Water. Chose the one which you find easy to make.
P.S.- Fermented rice water is more beneficial than plain rice water. Fermentation helps bring down the pH level of rice water. It enhances the vitamins and nutrients level in the water, which nourishes the hair cuticles and promotes hair growth. Fermented rice water is acidic, and when you rinse your hair with it, it restores the pH level of your hair.
Benefits of using Rice Water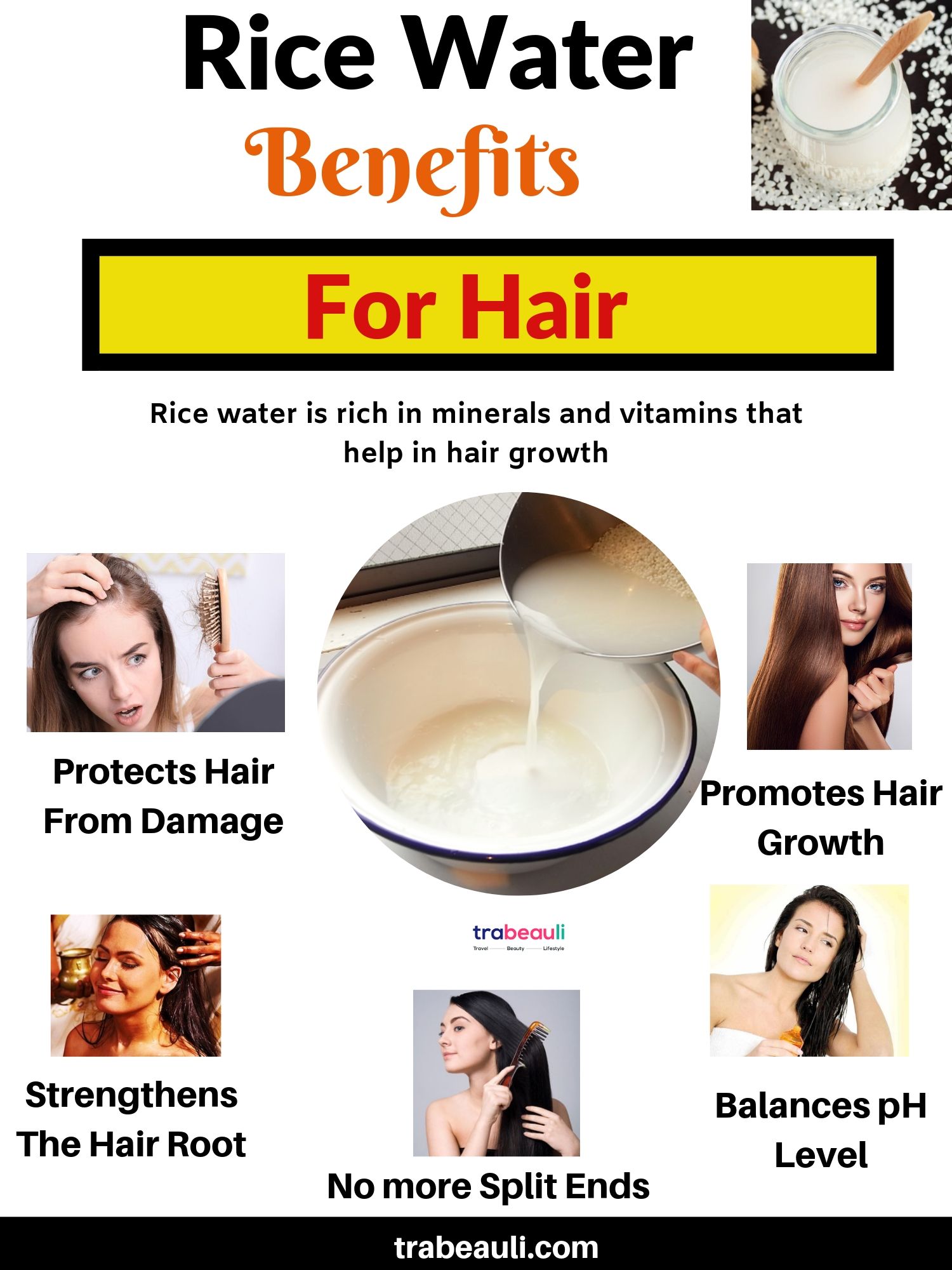 Now, since we know how to make Rice Water. Let's see the benefits of using the Rice Water-
1. Promotes Hair Growth-
Rice water helps in decreasing the hair fall and promote hair growth. The amino acid present in the water helps in the regeneration of hair and makes them grow faster.
2. Balances pH level-
The pH level of rice water helps to restore and balance the pH level of the hair, which makes the hair healthy.
3. No more Split ends-
Split ends are caused due to a lack of protein in the hair. Rice water is rich in amino acid, It repairs the cuticles of the hair, hence reducing the split ends.
4. Protects hair from damage-
Rice water improves the hair elasticity of the hair. It contains a carbohydrate called inositol which improves the texture of your hair and protects it from any damage.
5. Strengthens the hair root-
Rice water makes your scalp healthy which strengthens the root of the hair. It smoothens the hair and makes it soft and manageable.
These are some amazing benefits of Rice Water. All you have to do is use rice water as a hair mask, leave it on for 20 minutes, and then wash it off.
Conclusion-
I have personally used the Fermented rice water and it has worked amazingly well for me. My hair is dry and curly and now after using this homemade product my hair has become healthy and curls are manageable and I have also noticed the change in the length of my hair. Give the rice water a try to see if it suits you.
Comment below to let us know, does it work for you?
FAQ-
How long do you leave rice water on your hair?
How often should you use rice water?
Can you use rice water on your hair every day?
What Rice do you use for rice water?
Any good quality rice, which you use in eating
How long does it take for rice water to grow your hair?
It takes 24-48 hours to make the rice water which will grow your hair faster.
How fast does rice water grow hair?
Depends on the hair quality. Still regular use of this, you will notice a change in 15 days' time.
Recommended Articles For You: