Oily skin is next to a nightmare. Getting that oily shine in just 2 hours of you leaving home makes us lose confidence and we are concentrated only on our skin. It gets difficult to manage oily skin. As your foundation gets melt away, whatever you apply becomes greasy and all you have to do to look fresh is keep the oil away. So, the main question is how to get rid of oily skin fast? As getting rid of a skin charateristics is diffciult.
So, maybe you do not have to get rid of oily skin on face during this days, you just have to control the excess oil production in your skin. There are different ways and products to be used for oily skin. This blog tells you about how to take care of oily skin, so that you just enjoy the natural oil of the face.
Check out the blog-
What causes excessive oily skin?
As many people suffer from oily skin, let us understand the exact cause of it:-
Genetics

:-

Sometimes, oily skin runs in the family. And this may be the cause for your oily skin too.

Age

:-

When we reach the adolescents age, our hormones changes and this causes more of the oily skin, as you grow older slowly slowly, the oiliness in the skin becomes less.

Climate

:-

Your skin secrets more oil, if the weather you are living in is hot and humid. Just like in summers the skin is more oily than in winters.

Enlarged pores

:- Enlarged pores make your skin secrets more oil. And pores becomes large due to aging, acne breakout and weight fluctuations.

Wrong skin care products

:-

It is very necessary to use right skin products. Some people do not understand their skin type and tens to use different products, which makes the skin secrets more oil.

Wrong skin care routine

:-

Following a skin routine is must. Oily skin people have the habit of washing their face a lot, and this leads in the removal of natural oil from the face.

Skipping moisturizer

:-

Applying mositurizer no matter your skin type is very necessary. If you skip the moisturiser, it makes your skin more oily.
What is the Symptoms of Oily Skin?
Know about Signs and symptoms related to oily skin are-
Greasiness or shine on the face

Large pores on the face

Clogged pores

Blackheads or whiteheads

Skin appears rough

Causing of pimples
Effective Home Remedies For Oily Skin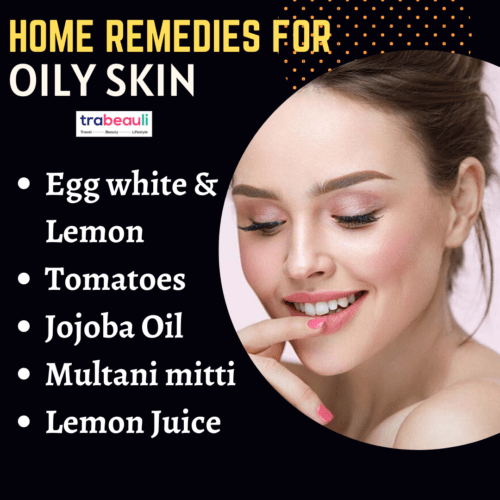 Taking care of oily skin is very important, as it gives you unwanted shinyness on your face. Using a home made remedy once a week, will help you control the excess oil of your face. Some of the amazing home remedies which you can think of using are-
1. Egg white and Lemon-
This is one of the best face mask for oily skin. Both egg white and lemon helps to tighten the pores and absorb oil.
DIY Egg Mask:
Take 1 egg white and add 1 tsp. of lemon juice in it

Apply the solution on your face.

Leave the pack until it dries

Rinse it off with lukewarm water.
2. Tomatoes Mask-
Tomatoes are rich in salicyclic acid. They help to absorb excess skin oils and also unclog pores.  Its is the best face scrub for oily skin.
DIY Tomatoes Mask:
Take half cut tomatoe and extract its pulp from it.

Mix it with 1 tsp. of sugar.

Apply it on the skin and massage in circular motion.

Leave the mask for 5 minutes

Wash it off with lukewarm water.
3. Jojoba Oil-
Many of you might find it strange, to apply oil on oily face. But Jojoba oil has got the quality, where it tricks sebaceous glands into producing less sebum, hence controlling the oil.
How to use:
Take few drops of Jojoba oil in hand

Massage your face with the oil

Leave it over night or wash it off after 30 minutes.
4. Multani mitti-
Multani mitti or Fuller's Earth helps to control the oil secretion and also tackles the bacteria and dead skin cells. Multani mitti face pack helps to lighten the blemishes and makes the skin clear.
DIY Multani Mitti Mask:
Take 1 tbsp. of multani mitti

2 tbsp. of curd or yogurt

Mix them to make a paste

Apply the paste on your face

Leave it for 20-30 minutes

Wash it off with lukewarm water
5. Lemon Juice
–
Lemon juice helps to shrink the pores and controls sebum production. It also helps to kill the acne- causing bacteria and remove acne naturally.
How to use:
Take 2 tsp. of lemon juice

2 tsp. of water

1 tsp. of glycerine

Cotton balls

Mix lemon juice and water

If you have sensitive skin, add glycerine in it

Apply the solution, with the cotton ball

Leave it for 20-30 minutes

Wash it off with lukewarm water
Read more- Natural home remedies for oily skin
What is the best skincare routine for oily skin?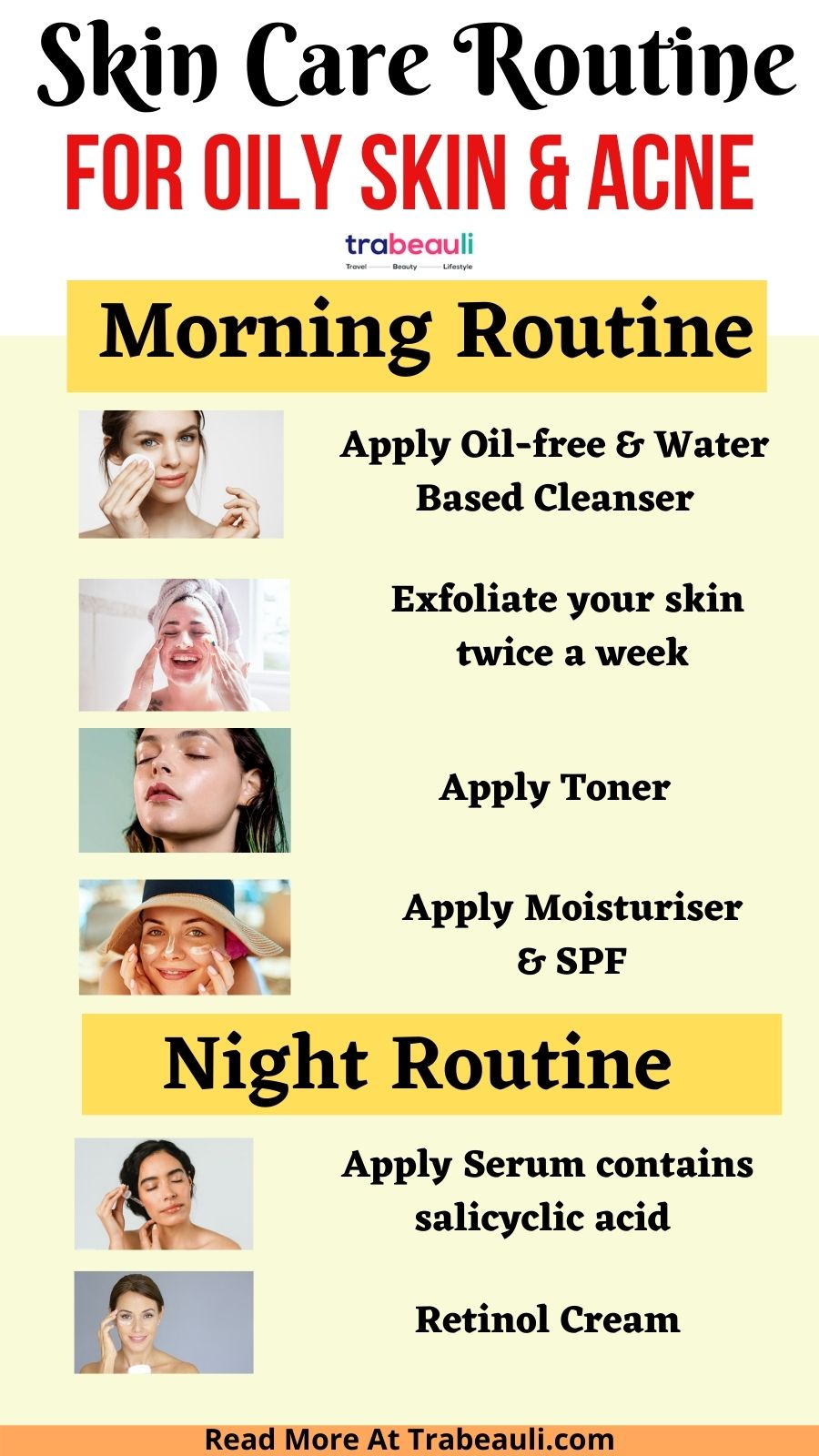 Taking care of our skin is very necessary and it all starts with a perfect routine. Every skin demands a routine and it is different from other skin. A perfect oily skin care routine is as follows-
1. Cleanser-
Every skin care routine starts with cleaning your face properly. Using an oil-free cleanser is very necessary. So, the first step to take care of oily skin is to cleanse your face using a water based cleanser.
2. Exfoliation-
It is necessary to get rid of dead skin cells, so that it does not form any blackheads or clogged pores. Exfoliate your skin twice a week to prevent rough skin.
3. Toner-
Toner works the same for both dry skin and oily skin. They help to get rid of the smalled dust particles and makeup. Toner also helps to minimize the pores.
4. Moisturiser-
Never skip this step. Applying a good moisturizer helps to seal all the nutrients into the skin and makes it soft and hydrated.
5. SPF-
Do not step out of your home, without applying sunscreen. Sunscreen is a vital step in skincare. It prevents your skin from harmful UV rays and premature aging.
The next two steps are for the night routine. At night, after using toner use the following steps-
6. Serum-
Applying a good face serum, helps to heal your skin in the night and also reduces the pores. Always look for a serum which contains salicyclic acid.
7. Retinol Cream-
This is the oily skin acne products. It unclogs the pores and clears the acne and scars from the face.
What products are best for oily skin?
Some of the best skincare products for oily skin reviews which you can easily buy from Amazon are-
1. Best Cleanser For Oily skin-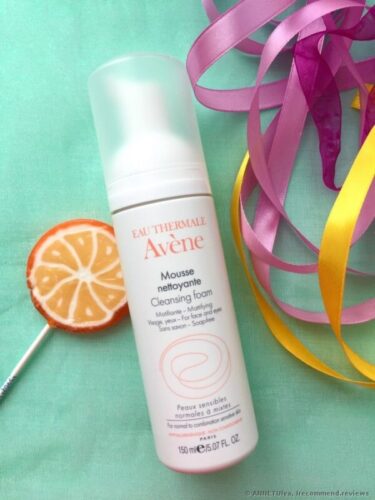 Avene Eau Thermale Cleansing Foam. This soap-free cleansing foam gently cleanses the skin and also keeps it hydrated and moistured. It helps in removing the makeup and dirt from the skin. 
Pros:
Silicone-free

Paraben-free

Makes skin soft and smooth

Lightweight

Reduces oil on the skin
Cons:

2. Best Toner For oily skin

–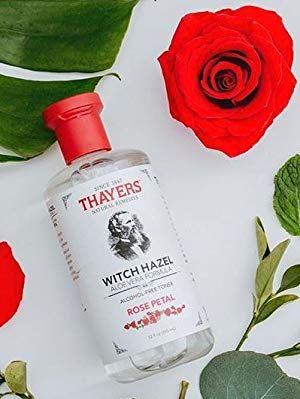 Thayers Alcohol-Free Rose Petal Witch Hazel Facial Toner: Made with Witch Hazel Extract and Aloe Vera, this facial toner helps to cleanse, tone and moisturize the skin. It helps to tighten the pore and control oil and acne production.
Pros:
Reduces Irritation

Tighten the pores

Control oil and acne production

Moisturize the skin

Balance skin's pH
Cons:

3. Moisturiser For Oily Skin

–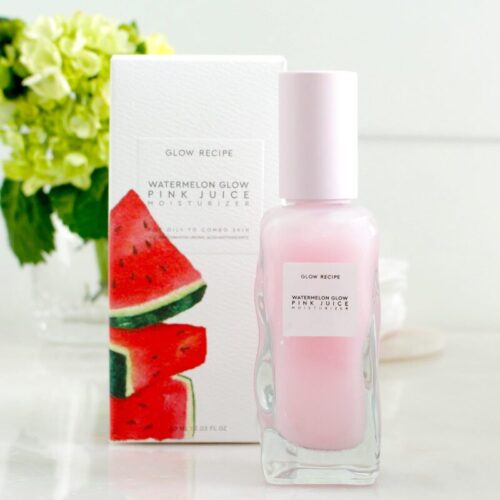 Glow Recipe Watermelon Pink Juice Moisturizer: This oil-free moisturizer helps to hydrate, soothe and moisturize the skin perfectly. Filled with antioxidants, it protects the skin from environmental damage and also reduces fine lines and dark spots.
Pros:
Reduces fine lines

Hydrate, soothe and moisturize the skin

Leaves skin plump, juicy, and hydrated

Protects against free radicals

Brightens up the color

Cruelty-free

Free from chemicals
Cons:

See more-  17 Best Moisturizer drugstore for oily skin
4. Best SPF

–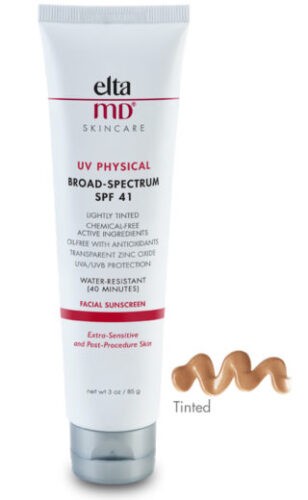 EltaMD UV Physical Broad-Spectrum SPF 41 Sunscreen.  A mineral-based sunscreen, which is oil-free, lightweight and water-resistant. It helps in providing broad-spectrum coverage against harmful UVA and UVB rays.
Pros:
Lightweight

Oil-free

Gets easily absorbed

Water-resistant

Contains Anti-oxidant

Fragrance-free
Cons:

See more-  Best sunscreen cream for all types of skin
5. Oil-free Eye Cream

–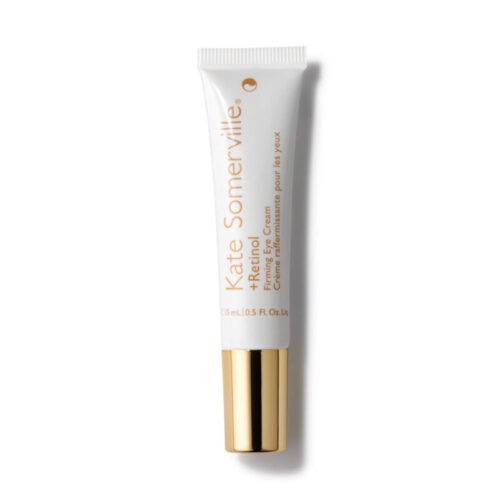 Kate Somerville Retinol Firming Eye Cream. Giving you eye skin a perfect new look by toning, brightening and hydrating the skin around the eye. This light, silky eye wrinkle cream helps to reduce the appearance of fine lines and wrinkles. It improves the elasticity and firmness of the skin and makes us look younger.
Pros:
Improves firmness and elasticity of the skin

Reduces fine lines and wrinkles

Enhances skin clarity

Reduces the appearance of pores

Allows stimulation and renewal of younger cells

Increases hydration in the skin
Cons:

See more- Best eye creams for wrinkles drugstore
6. Night cream for oily skin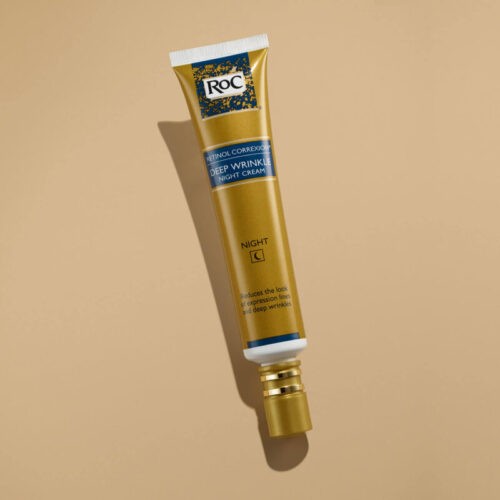 Retinol Cream– Roc Retinol Correxion Deep Wrinkle Night Cream. A deep wrinkle night cream which helps to revitalize and hydrate the skin. It makes the appearance more radiant and makes you look 10 years younger.
Pros:
Non-greasy

Non- comedogenic

Removes wrinkles, fine lines, crow's feet, and uneven skin tone

It hydrates and moisturize the skin

Gentle for daily use

Oil-free
Cons:
May cause skin irritation

See more- Effective night cream for all types of skin
7. Oil-Free Anti-aging Cream-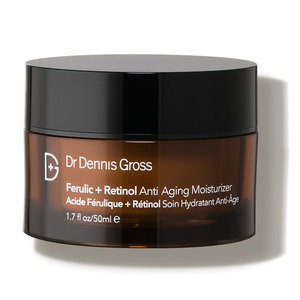 Dr. Dennis Gross Skincare Ferulic + Retinol Anti-Aging Moisturizer. A moisturizer with triple benefits. It helps to hydrate the skin, reduce the wrinkles and also tones the skin. A very smooth anti-aging cream which balances the skin's pH and also lifts up the skin.
Pros:
Gets easily absorbed

Non-greasy

Evens out skin tone

Reduces wrinkles and fine lines

Hydrates the skin
Cons:

8. Oil- Free Anti-aging Serum-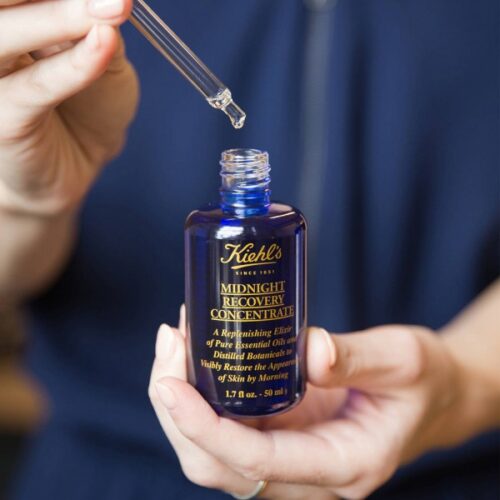 Kiehl's Midnight Recovery Concentrate. With Evening Primrose Oil as its major active ingredient, this anti-aging serum is effective on skin barrier repair and boosting radiance. It helps to reduce skin irritation and gives it a more brighter and radiant look.
Pros:
Helps restore skin's natural moisture

Makes skin extra soft and supple

Regenerates, repairs  and replenish skin

Paraben-free

Hydrates the skin

Easy to use
Cons:

9. Blotting Paper
–
PleasingCare Natural Premium Oil Blotting Sheets – Bamboon Charcoal. One of the best oil absorbing tissue. PleasingCare Blotting Paper, helps to absorb the excess oil and controls shine without any powder.
Pros:
Made with 100% natual linen fibers

Soft and gentle to use

Soothe, protect and refreshes your skin

Absorbs excess oil

Do not clog pores
  Cons:

10. Oily Skin Treatment Mask

–
Clinique Moisture Surge Overnight Mask. Give your skin a luxurious treatment with this overnight mask. It deeply hydrates the skin and restore a protective moisture barrier. It helps to replenish the lost moisture. And makes the skin glowing and toned.
Pros:
Calms and comforts the skin

Deeply hydrates the skin

100% fragrance-free

Makes skin soft and supple
Cons:
If you have acne prone skin, do not keep it overnight

11. Setting Spray-

Slay All Day Green Tea- OIL CONTROL Spray

 
A best quality make-up setting spray, that helps to lock your makeup look. Slay All Day Spray, helps to lock your makeup look for the whole day. It will keep you refreshed from morning to evening with the same look.
Pros:
Cruelty-free

Green tea scent

No need for touchups

Gives you a refreshing look

Controls the oil to appear on skin
Cons:

12. Translucent Powder-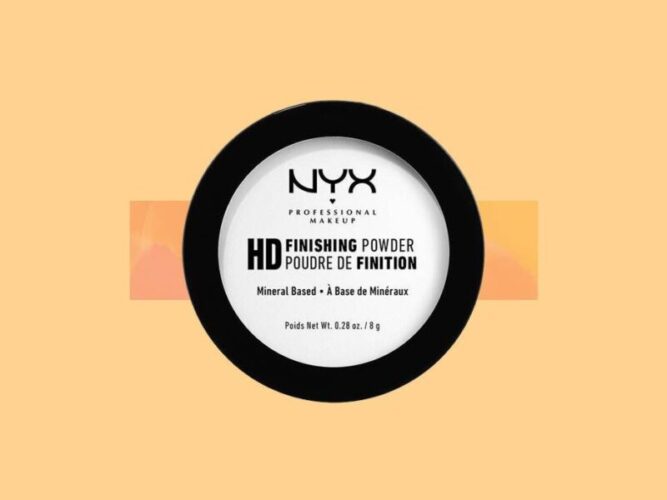 NYX PROFESSIONAL MAKEUP High Definition Powder, Translucent.  A loose face powder, which helps to minimize the redness and controls the shine. It is a perfect setting powder, to lock in your makeup look and also to control the shine. It is available in green and yellow correcting shades. It helps to minimize redness and bruising. Its oil-free face powder.
Pros:
Minimizes redness and bruising

Controls shine

Mattify shine and color

Provides full coverage

Spreads properly on the skin
Cons:

13. Best Concealer Of  Oily skin-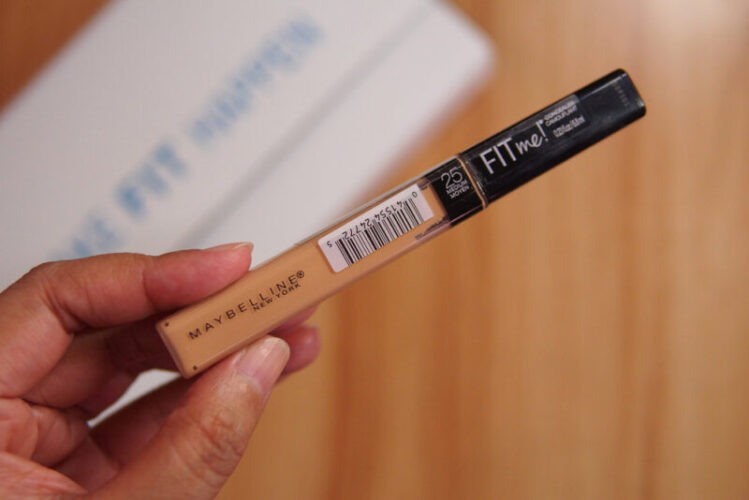 Maybelline Fit Me Liquid Concealer Makeup. Maybellines Fit Me Brand is one of the best makeup brand for skin. With around 7k positive reviews on the Amazon, this is a must buy for oily skin people. It delivers a perfect complexion, gives a flawless natural finish and does not clog pores.
Pros:
Reduces redness, blemish and fiine lines

Gives a natural flawless look

Absorbs excess oil

Non-comedogenic

Fragrance-free

Dermatologist-tested

Highly pigmented
Cons:
No ingredients list provided

See more- Best concealer drugstore for  all types of skin
14. Best Oil-Free Foundation-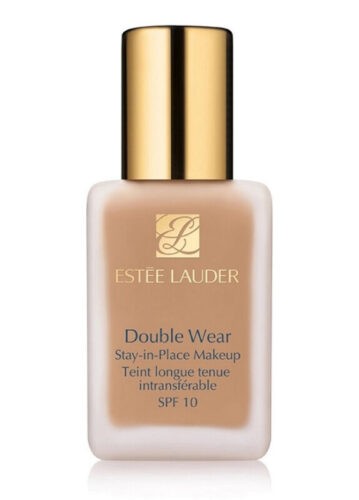 Estée Lauder Double Wear Stay-in-Place Makeup. Long-wearing makeup with 15-hour staying power Estee Lauder Makeup Foundation offers you a wide range of shades according to your skin tone. It does not make the skin look cakey and also covers the face very well.
Pros:
Not cakey

Did not break me out

Transfer-proof

Waterproof

Medium to heavy coverage

Hides all the imperfection of the skin
Cons:
No pump

Smell is not very soothing

See more-  Top-rated foundation for all types of skin
15. Micellar water-

La Roche- Posay Effaclar Micellar Water
Micellar cleansing water helps to trap the makeup and impurities from the skin. It removes the dirt, oil, makeup and even pollution particle from skin and makes the skin clean and clear.
Pros:
Removes dirt, pollution and makeup from skin

Leaves the skin fresh and soft

Alcohol-free

Soap-free

Paraben-free

Hydrates the skin

Purifies and refreshes skin to remove excess oil
Cons:

How to Apply Makeup for Oily Skin?
Once you have finished using above products in your daily routine. Now, is the turn how to apply makeup on the oily skin. For oily skin always use oil-free products which give your skin a mattify look. Follow the following steps to apply makeup on oily skin-
Apply your Foundation

– After you have properly primed your face.

Go with your Concealer

– If you got any dark circle, redness or blemishes

Use a Powder-

Use beauty sponge to set with translucent powder. This helps to be shine-free for long.

Spritz on Setting Spray–

Just a thin layer of setting spray is enough. This will seal your makeup.
 Tips To Get Rid Of Oily Skin
Apart from using above products and home remedies, some of the oily skin care tips are-
Drink lots of water

– It helps in flushing out the toxins from the body.

Never skip Moisturiser-

It will cause breakout in skin.

Do not scrub rigorously-

This can damage your skin cells.

Exfoliate once a week-

This will help in removing the dead skin cells.

Apply face mask once a week-

Doing this will help in controlling the oil from the face.

Don't wash your face again and again-

This will rip off the natural oil from the face.
Don't keep touching your face-

Touching your face again and again, will accumulate the dirt and dust on your face.
Avoid oily food-

Eating healthy food, will keep you healthy from inside and will not cause excess oiliness.
Choose water based products-

instead of oil based.
So,  this is the whole summarized way and tips, products on How to get rid of oily skin. Oily skin is not very difficult to manage, if you use the above steps. Do you have oily skin? How do you take care of it?
Recommended Articles For You: