This post contains
AFFILIATE LINK
to products. We may receive a commission for purchases made through these links.
Before moving on to Morning daily Healthy habits for life, one must know the need to adopt it. Sometimes you find yourself stuck in the same daily grind—perhaps even in a rut? Life can be hectic, and we forget to pay attention to ourselves—both our body and our mind which is in the utmost position.
This is where daily healthy habits come in! All of us are different from one another, so are the requirements. We get irritated, frustrated, even lose our patients on silly things, and the root cause is nothing but the rigid and boring routine of life. So it's very necessary to get a change also keeping your mind calm so as to achieve the desired goals. If you do something consistently enough, you'll see results.
Trust me it takes a bit of effort initially, but once you get in the routine, these daily healthy habits can be life-changing.
9 List Of Daily Healthy Habits Must Follow Everyone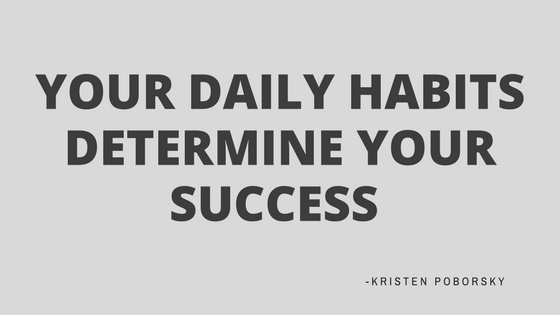 Here are some daily Healthy habits for healthy lifestyle list you should adopt every day to keep yourself energetic, healthy and happy.
1. Session of Exercise-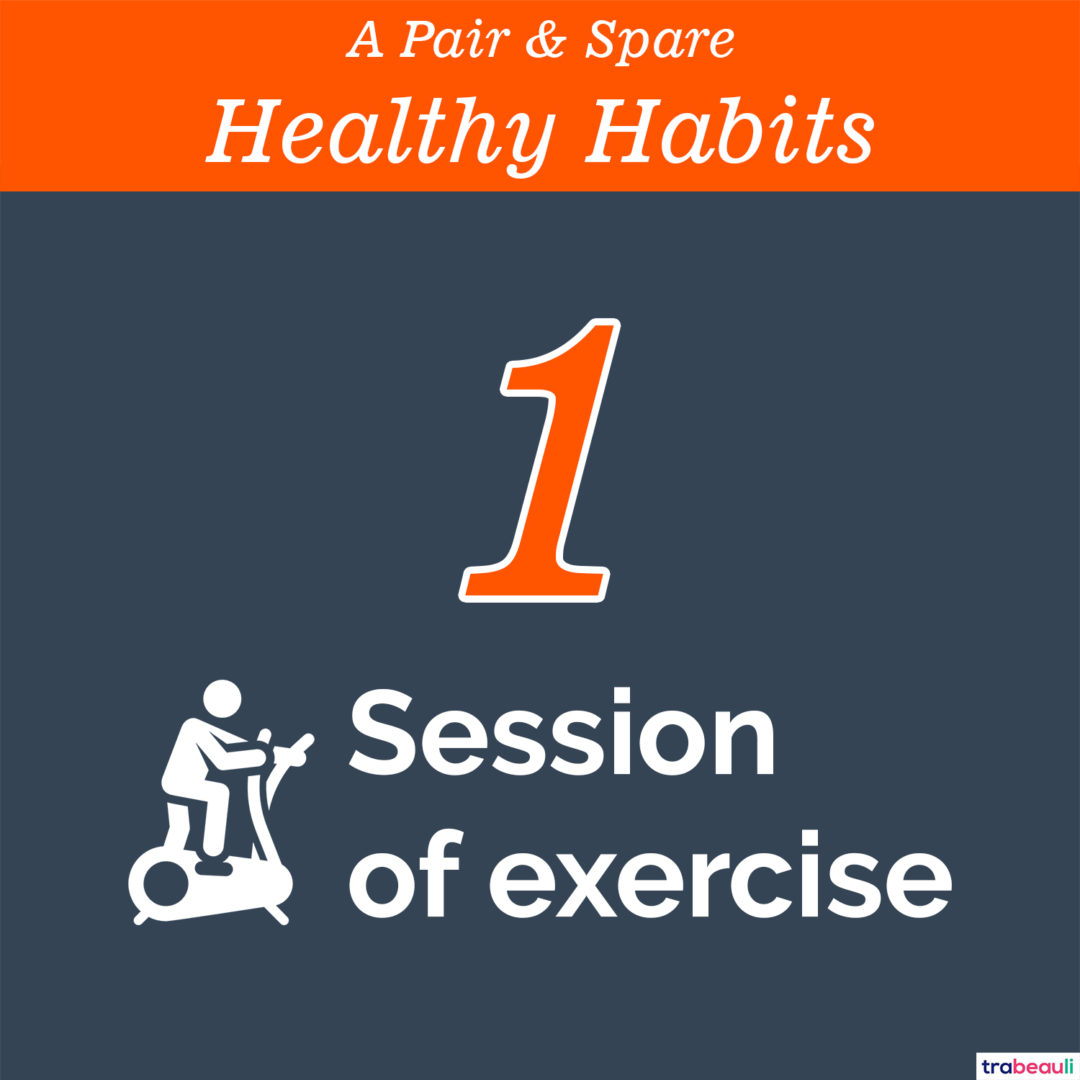 Daily exercise is very essential for each one of us. It keeps us healthy, fresh, energetic and enhances one's ability to judge and make wise decisions. Exercising has both short and long-term benefits.
It can improve your mood,
Reduce stress level even make your brain work
Better even in worse circumstances.
After being a part of your daily routine for a long, it can prevent leading health problems from obesity and diabetes to heart disease and even cancer.
Exercise keeps your body cells growing which in turns keep your body fit, young, healthy habits and able to resist disease.
See More – Way to Live More positive Life
2. Hours of "No Phone" Before Bed-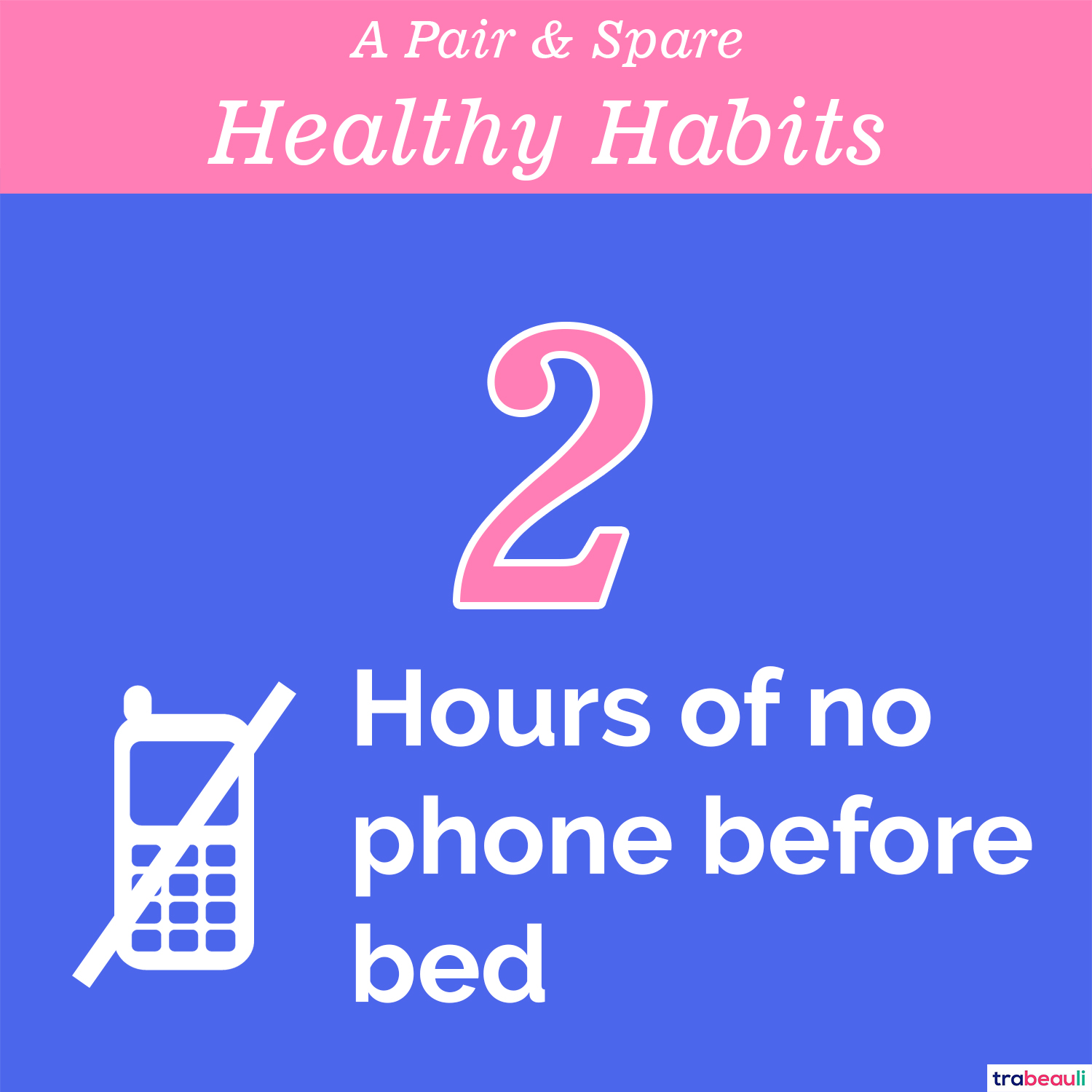 If you are like me, your phone or tablet is probably the first thing you look in the morning and last thing you look before bedtime. All this screen time may be eating away our sleep, it continuously deviates are mind from sleeping and results in the sleeping disorders.
Studies have proven that the blue and white light which emits from the phone, laptops and other gadgets is very harmful and prevents our brains from releasing the hormone called Melatonin which tells our bodies that it is nighttime.
You might have noticed that we get more stress on eyes when you watch movies in the cinema hall or at home when the lights are off; this is because the radiations are directly hitting the eyes thus result in many types of illness.
3.  Meals and Healthy Snacks-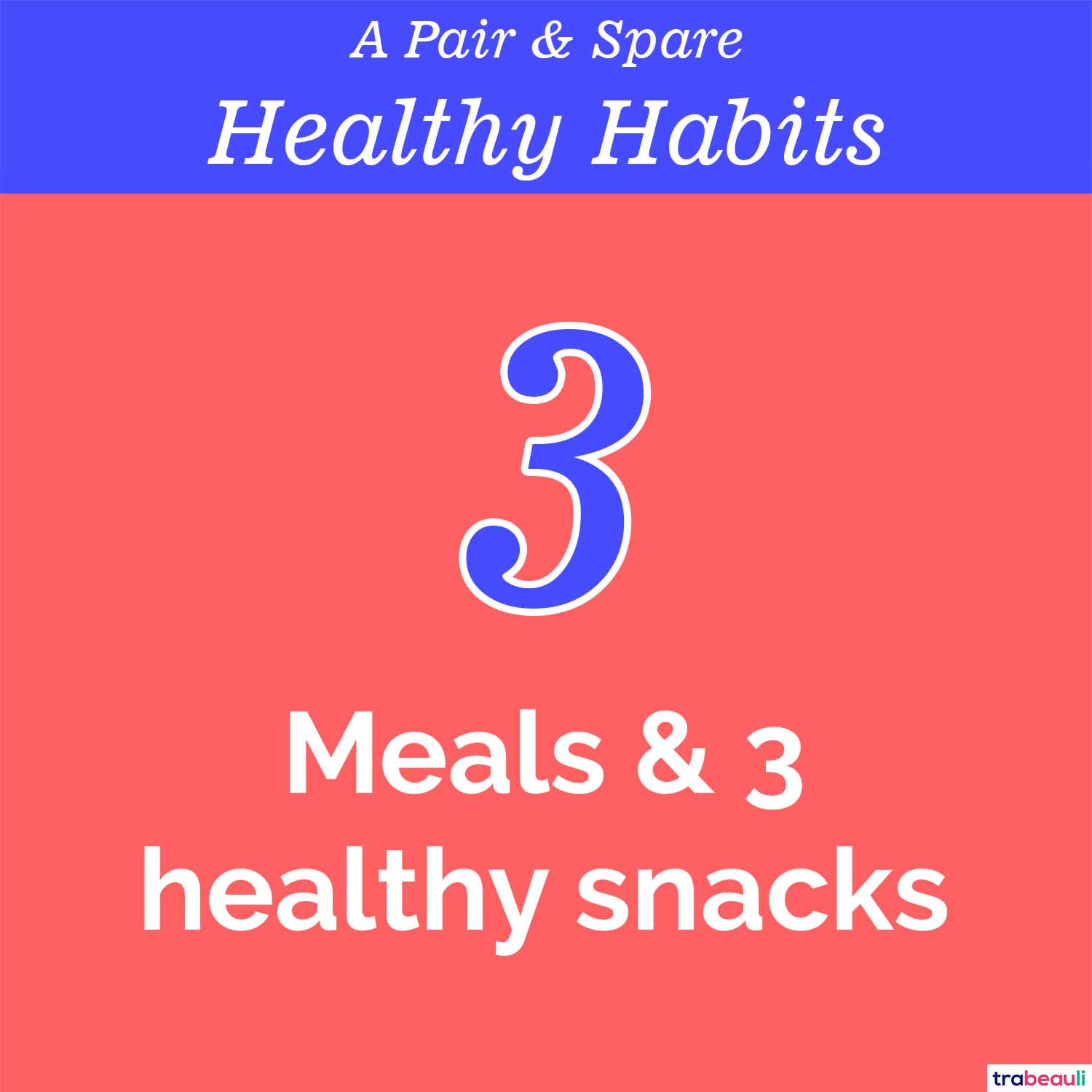 Always have a healthy breakfast which is rich in protein. This starts your metabolism for the day and also prevents you from getting hungry and overeating later in the day.
Have a serving of cooked vegetables mainly leafy and small whole fruit of your choice, juicy fruits help to keep your body hydrated and gives many essential elements.
Always try to have fiber-rich food which can is an excellent way to break down your body fats. Try to avoid trans fats. They are mostly found in processed foods, so if the list of ingredients includes the word "hydrogenated", stay away.
Another important and the toughest thing is to avoid "Sugar". Tough yet possible to avoid sugary food, especially those with artificial sweeteners. In case of craving, you can replace your white sugar by jaggery, honey or by brown sugar.
Initially, you might face some problem in eliminating it but eventually your taste buds and mind stop craving for it.
4. Healthy Lifestyle Diet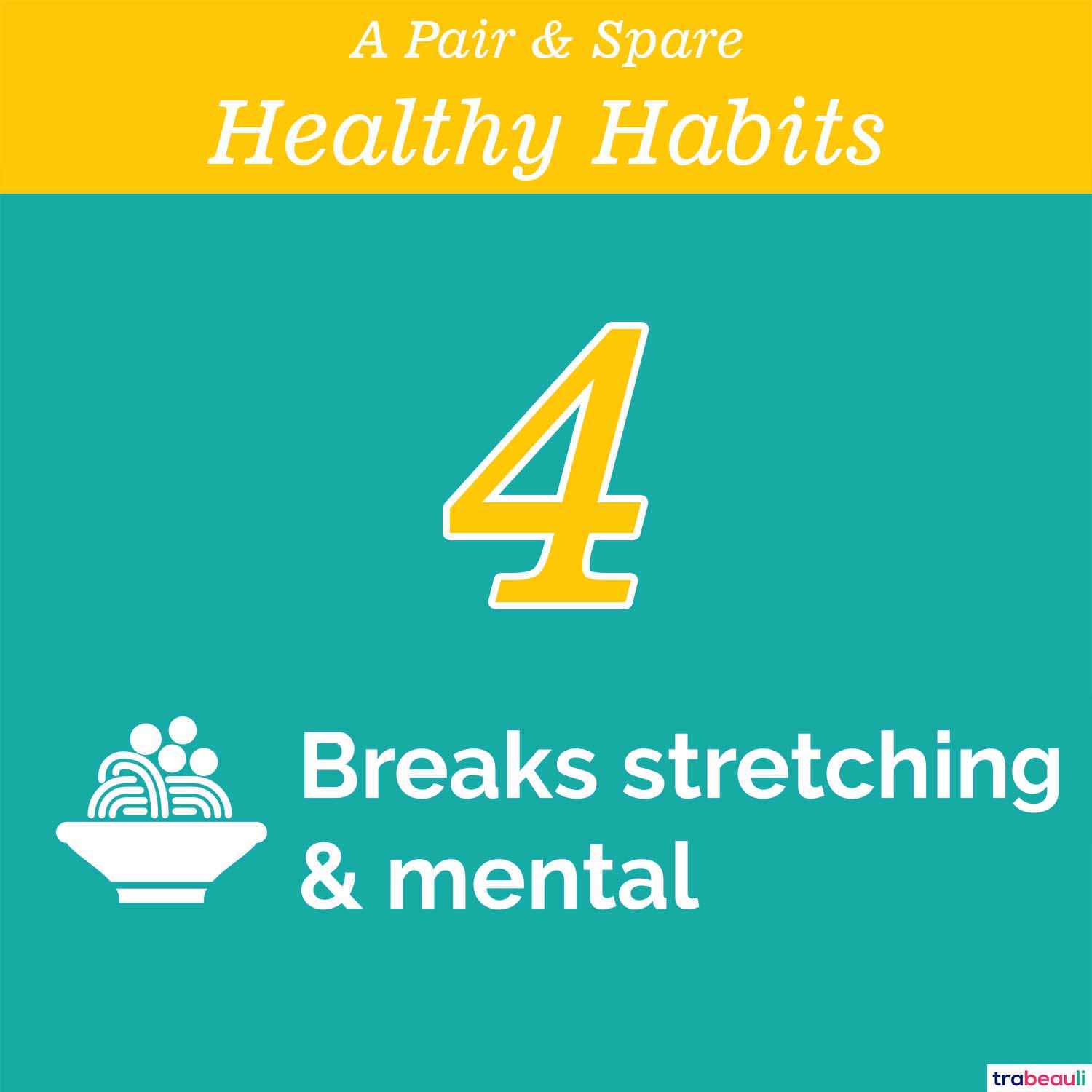 Always take small breaks from you to avoid any kind of physical and psychological ailments and one type of work for a long period of time can disturb your peace of mind.
Laugh out loud,
Crack jokes, chat,
Talk with your friend and colleagues to keep your mood chill and relaxed.
Keep in mind is stretching.
Stretching is essential, and it's something you should do every day. Even if you're just sitting all day, your muscles will end up becoming tense. Improve your flexibility and relieve your tension by stretching every day. lastly, always try to keep your temper cool to achieve mental health.
This can be done by indulging in something you love, like picking your favorite hobby.
Also, keep your mind filled with positive thoughts, this will add to your personal growth and will improve your quality of life.
Hardest work can be easily done if you have positive thoughts.
5. Serving Fruits and Veggies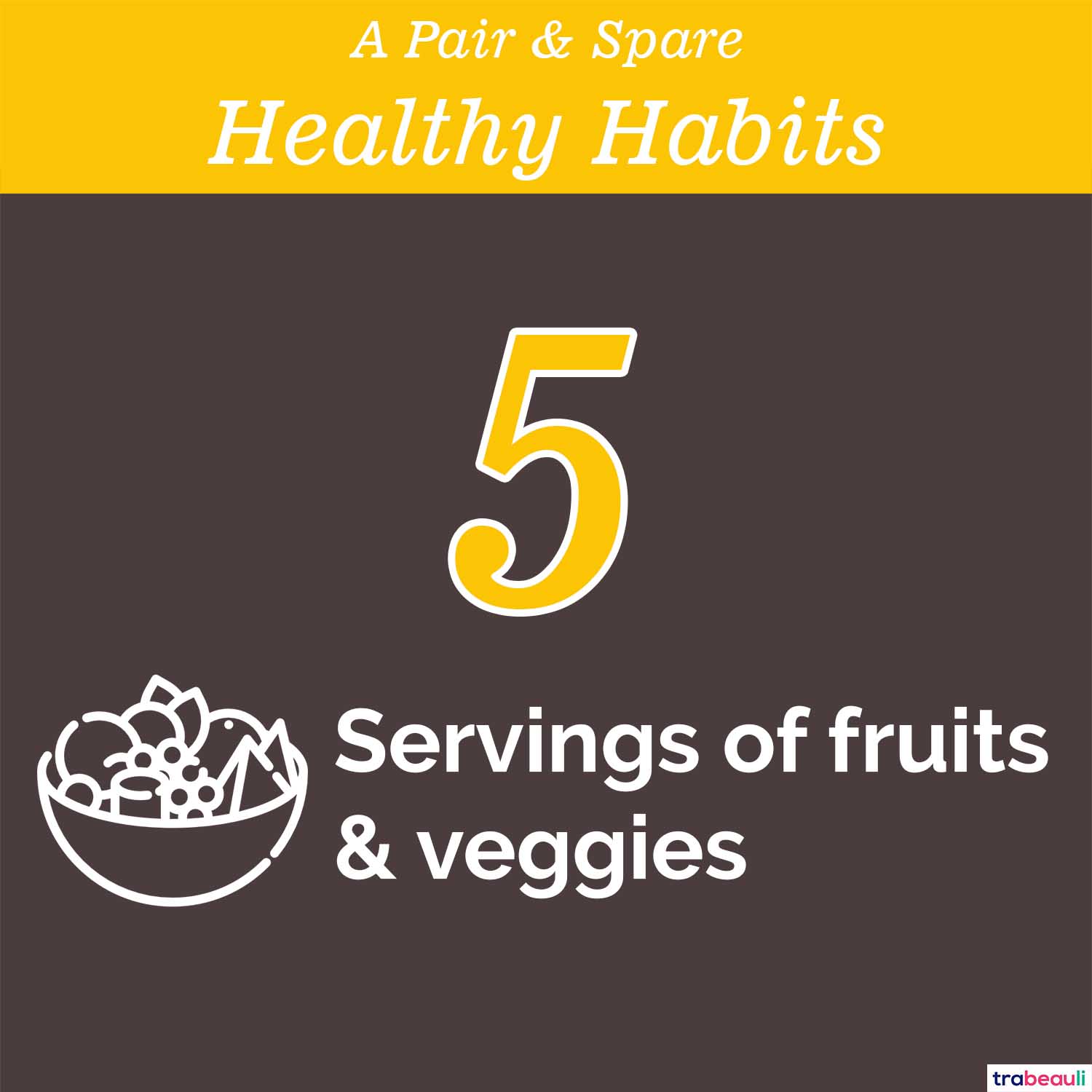 Everyone is different in a different size, one plan cannot fit everyone. It's not easy for anyone to eat 5-9 servings on a routine basis. There are many obstacles which come in from our diet chart.
The solution for this is, make your diet plan which is convenient for you. Eat fruits and vegetables which can be found easily at home.
Fruits and Veggies are low in calories but they have a high amount of minerals, fibers, and vitamins. One should have 5-13 servings of fruits and vegetables according to their age, workout and overall health.
6 Minutes of  Meditation-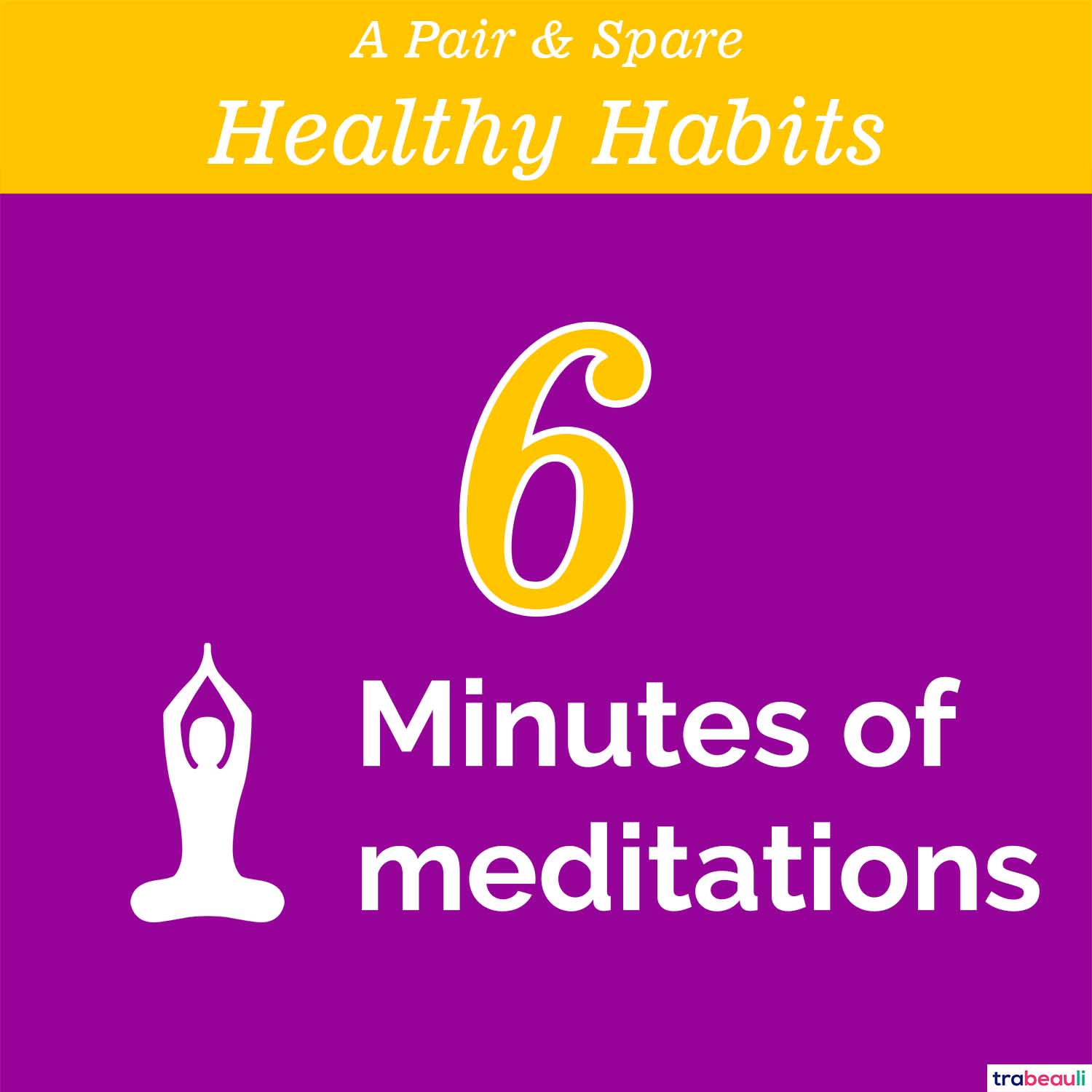 Let us first know about the actual meaning of meditation as many of us relate it to different definitions. Meditation is actually relaxation. I know it is quite surprising but true it is just relaxation in the proper way not by focusing or concentrating on particular thought but by becoming thoughtless. It is the best way to come out from all your worries, tensions, desires and the materialistic world.
It takes you to the magical world of peace, keeps you calm, gives clarity, wisdom and rejuvenates your mind and body. It does not only improve your physical health but also spiritual and psychological.
Healthy benefits of meditation help in lowering blood pressure reduce stress and anxiety, enhances create skills, gives emotional stability, boost your immune system, sharpens the mind and keep you conscious to make wise decisions.
See More- Boost your Self-confidence
7. Drinking Plenty of Water –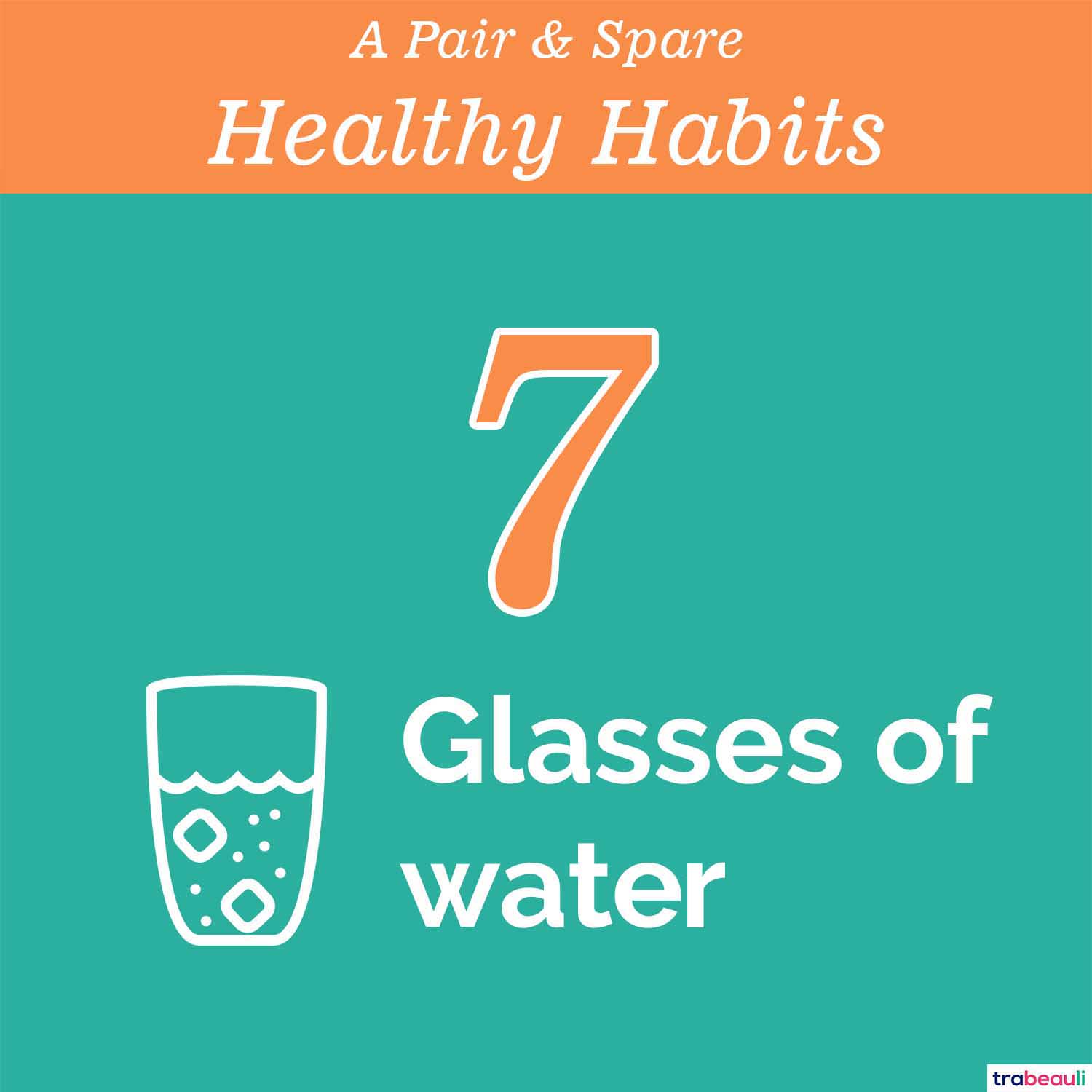 Drinking enough water should be an integral part of the day, as it works as a building block of our life and body.
We all are very well known with the fact that human body is comprised of approximately 60% of H2O, so always have a big glass of water after you get up preferably warm, it will keep you refreshed and helps in motion sickness.
Drink plenty of water, it helps in flushing out our body toxins, keep you hydrated, promote weight loss and reduces the hunger by suppressing the food cravings. Plus when you drink a glass of water before you eat you'll already feel a little more full and won't be so tempted to eat food.
Water keeps you happy by curing short-term headaches, boosting your immune, elevating moods levels and by many other means.
8 Hours of  Sleep-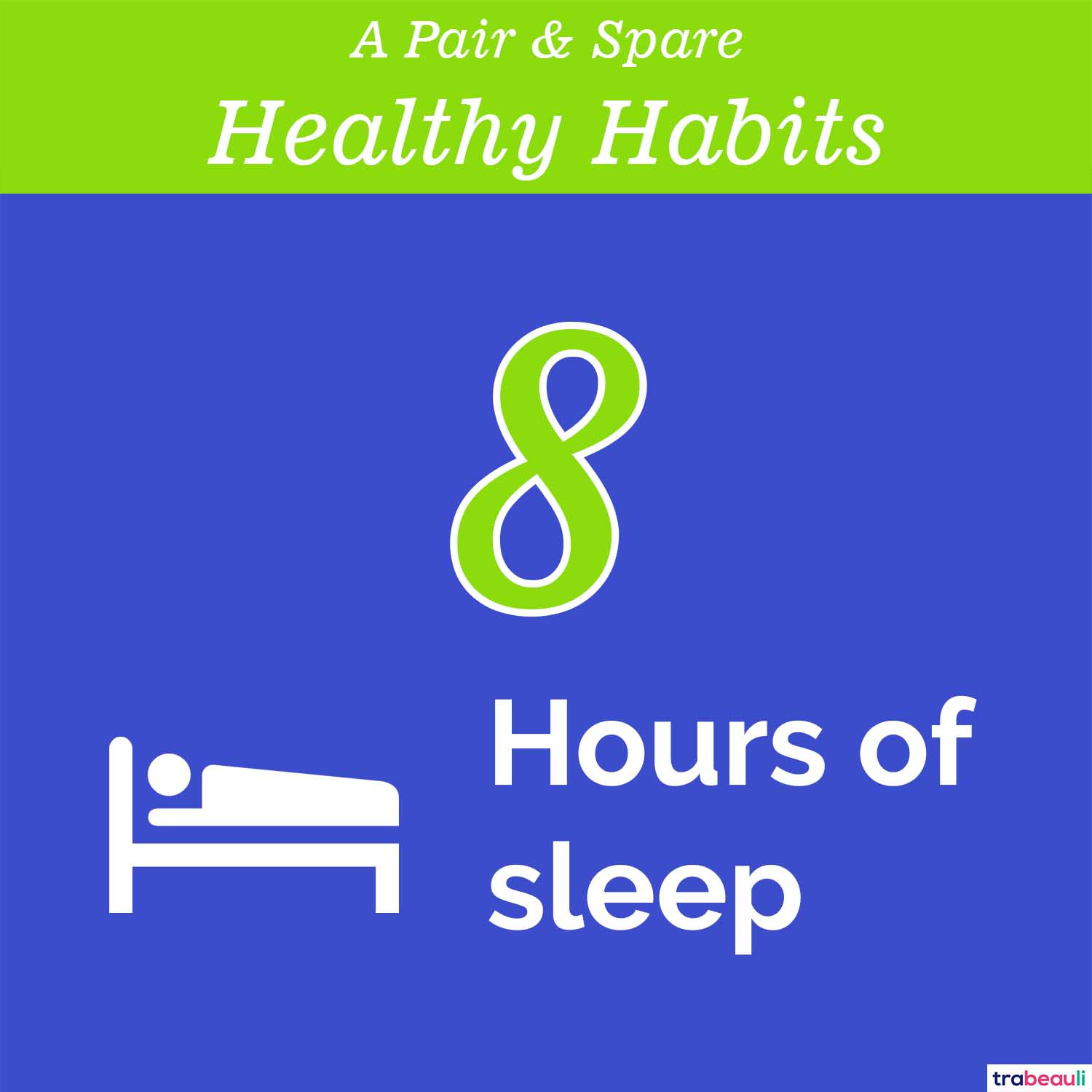 Adequate sleep plays a key role in a healthy lifestyle. Sleep make you feel better, and its importance goes way beyond just boosting your mood and banishing under-eye circles.
During sleep, you can strengthen memories or "practice" skills learned while you were awake (it's a process called consolidation). Sleeping not only improves your memory but also increases lifespan, curb inflammations, enhances creative skills, sharpen attention, help to maintain the healthy weight, lower stress, and anxiety level, make you attentive and has many more unknown benefits.
Researchers have said that we should sleep at least 7-8 hours in order to stay healthy.
"Early to bed and early to rise gives a perfect life"
9. Thousand Steps-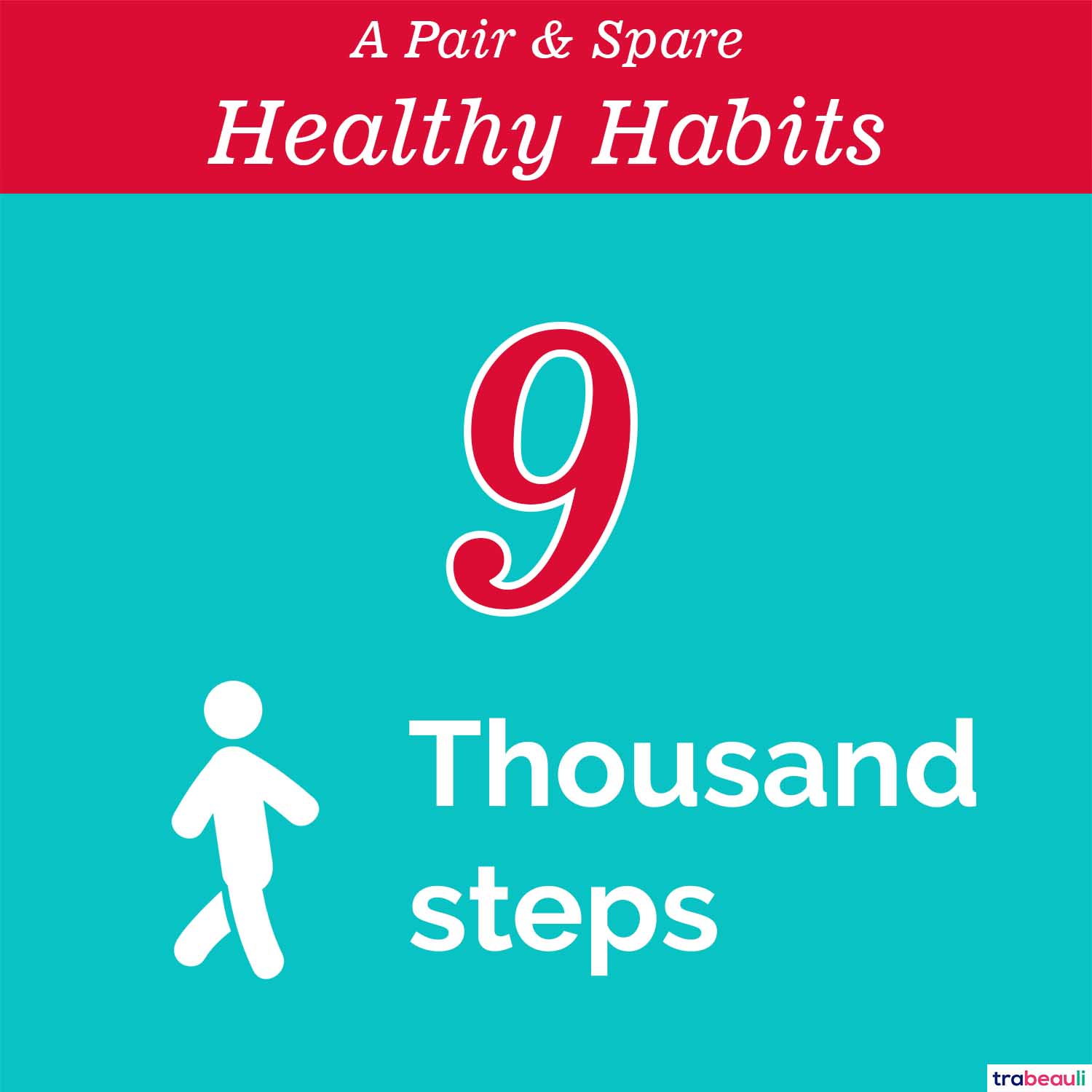 In a desire for comfort, people do not prefer to walk even for the short distance. They use their gadgets to get there to work efficiently in consuming the least time.
It is also due to the hectic schedule and responsibilities that people forget about walking and its benefits. Forget about counting carbs and calories and achieve lifelong health by walking 10,000 steps each day.
We don't realize the benefits of walking, rather only bother about the time taken by it. But trust me it can help not only weight loss, but can also improve help to improve cholesterol, blood pressure and help in so many health-related areas.
Don't always focus on sitting work to be active and increase your steps to increase your lifespan.
Conclusion
Do adapt these  Daily healthy habits checklist to stay healthy, fit and happy. Follow them regularly and find the results yourself, you will thank yourself after getting a new and happier you!
Stay healthy and Blessed!
Recommended Articles For You: