The Right Way to Use Foundation Brushes:
Your foundation provides the perfect base for your makeup look. It is responsible for creating a flawless finish so the rest of the products you use on your face come together really nicely.
Currently, there is an abundance of foundations to choose from that can work for your specific skin type — this is all thanks to the tireless efforts of cosmetics companies. Likewise, there is a variety of application techniques that you can use to make your foundation look great. And speaking of application techniques, one of the most popular is by using a foundation brush.
Foundation brushes come in different forms (a lesson you will learn in a more detailed way if you take a beauty makeup masterclass).
You have the typical paddle brush, which is quite similar to a small paint brush. You also have a stippling brush, which is fluffier and comes with a flat top. There are also those dense hybrid brushes that often come with the stick or mineral powder foundations, which are really dense and can have a straight, angled, or even a rounded top.
How the Different Type Of Foundation Brushes Work:
The different foundation brushes create varying results. Here's how they work:
1. Paddle brush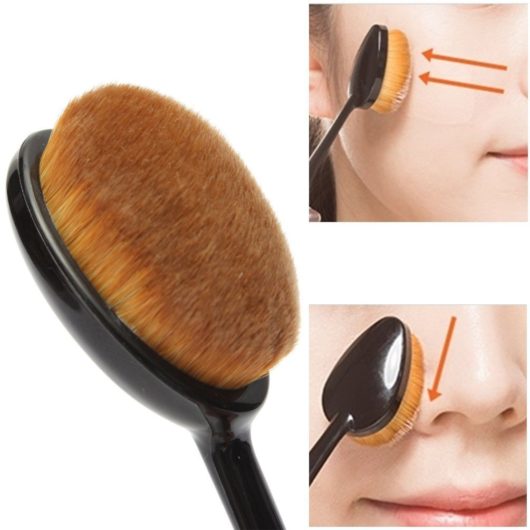 When you use the paddle brush, you will find that your foundation can really go a long way. This is because this brush does not absorb a lot of product. Its main job is to spread your foundation across the face and make sure you do not miss the deep set of your eyes, the corners around your nose, and the hairline.
Spreading your foundation is its main and only job. A paddle brush does not blend foundation so it looks like skin.
2. Stippling brush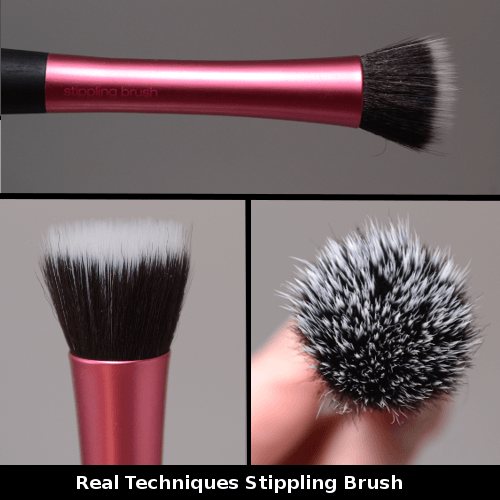 A stippling brush can perform the same function of a paddle brush, and you also do not need to use a lot of product when you apply your foundation with this brush. However, you can actually use it to blend the product better. It diffuses the thickness or coverage intensity of liquid foundation as you stipple and swirls the brush across your face.
3. Hybrid brush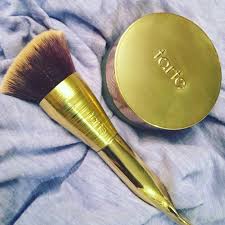 This performs quite similarly to a stippling brush but it is fantastic to use for different types of foundation. You can use it to apply and blend liquid, cream, mousse, and even mineral powder foundations. But like the other two foundation brushes, you also do not need a lot of product to create great coverage.
Make Foundation Brushes Work for a Flawless Finish
To create the perfect canvas for your makeup look, the right application method or technique is essential. Here's how you can achieve the look of perfect skin using the three kinds of foundation brushes.
1. Paddle brush application
As mentioned earlier, the only job of a paddle brush is to spread foundation across the face. Therefore, once it has accomplished this task, you may find the foundation too thick and streaky.
To take care of the thick mask of foundation, you use a damp makeup sponge to pick up some of the product and distribute it evenly on your skin, while also creating a skin-like finish. Dab the sponge lightly on your skin for even distribution and press slightly harder on areas where you have big pores.
2. Stippling brush application
When using a stippling brush, it is important to pump a small amount of foundation on the back of your hand first. Lightly dip the stippling brush to pick up some of the product before applying a thin layer of foundation.
The key here is to use a small amount at first before blending the foundation thoroughly and letting the product sit on the skin for a bit before going in with a second layer.
Additional Tip: Use a light hand when stippling. You do not want the bristles to bend too much because they will leave streaks.
You will find that with this application, you can achieve the desired coverage but it does not look heavy and cakey.
3. Dense hybrid brush application
You basically use the same application principle with a stippling brush but it is better to dab a small amount of product directly on your face — it does not matter if it's the liquid foundation, cream, mousse, or powder. Blend the product with the dense brush and buff in the product to create a natural-looking finish.
Another thing that you can do with the dense brush is you can blend your concealer, contour, and foundation for a chiseled base. What you're going to do is to apply your liquid or cream concealer and contour first.
Afterward, squeeze half a pump of liquid foundation on the back of your hand. Swirl the foundation on the back on your hand and then dip the dense brush into it.
After picking up a thin layer of foundation with the brush, stipple that on your skin — over the contour and concealer. The light tapping motion will keep the contour and concealer where they need to be but you will diffuse their color intensity and feather the edges out under the foundation beautifully.
The final result is a soft chiseled base that you can enhance with a powder contour and setting powder.
Combine the Right Tools and Techniques for Gorgeous Makeup Looks
To get your tools to work perfectly, you need to use them the right way all the time. This is the principle to uphold with makeup in order to achieve the look you want.
But, it is worth noting that being good with makeup is a continuous learning process. Expect to discover different ways of creating makeup looks as you do your makeup every day.
The key here is to have a good foundation on application techniques using the right tools to build upon your makeup knowledge.
Do you want to advance your makeup knowhow?
There are makeup programs available that can help you out in your quest to become a makeup professional. Sign up for makeup classes taught by industry experts and seasoned professionals to get started on your makeup career goals.
Hope you enjoy this article "How to use foundation brush and type". Please share your feedback with us!
Recommended Articles For you:
AUTHOR BIO
Toni Malt is the Middle East's leading international editorial makeup artist and the woman behind the highly anticipated Toni Malt Makeup Academy in the heart of Dubai, now training the next generation of key makeup artists. From minimalistic looks to freestyle artistic creations, Toni's creative work has been published in top international fashion magazines around the world including VOGUE, ELLE, L'Officiel, Marie Claire, Harper's Bazaar, Grazia and Cosmopolitan.