Best Places For Destination Wedding In India:
Tying the knot with your better half is undoubtedly the most important moment of your life. Marriage is a formally recognized union of two people as partners in a personal relationship. To make this Moment a best one, people plan their wedding in a Lavish and Grand way. It is truly said that Couples are made in heaven, but memorable weddings are made in India. People from all over the World come to India for getting Married. So, whether you love the beach or the mountains, the palaces or the forts, India has got all of it to make your wedding ceremony an unforgettable event.

So, we at Trabeauli have brought you some amazing and Best Wedding Destinations in India-
1. Udaipur –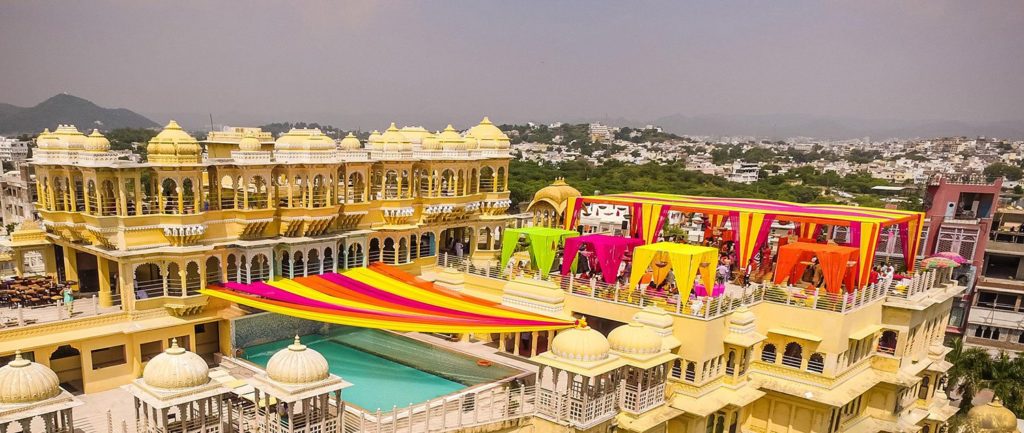 This place needs no introduction, it is a "Symbol of Royal Pre-eminence". One of the most stunning and loving place in Rajasthan. It is simply awesome for a traditional Indian wedding. And is also the most renowned Indian wedding destinations.
Top-Rated Reviewed Hotel In Udaipur-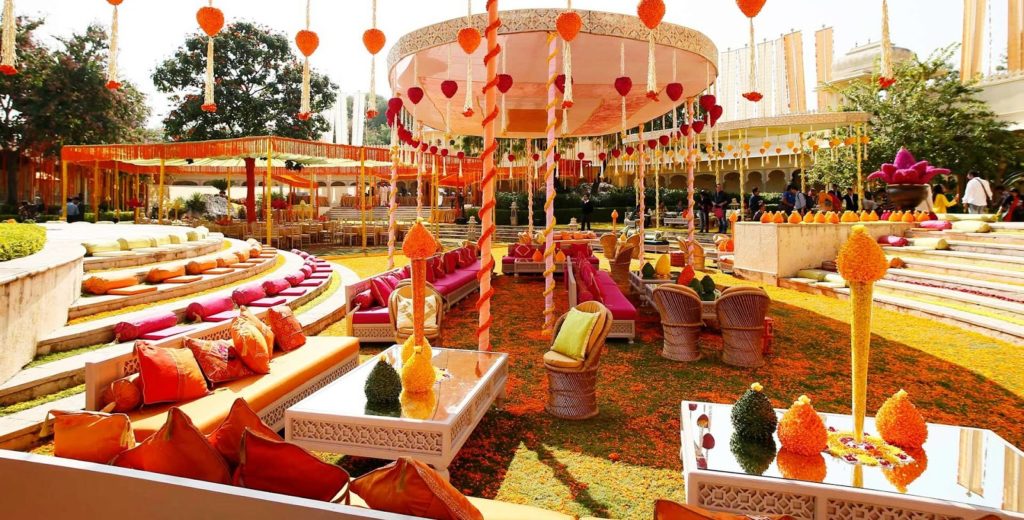 For having that Royal feels in your wedding, where you are the queen and your better half the king, The Taj Lake Palace, The Leela, and The Trident are some of the best options that you will like to consider.
Wedding Best Time – April to August is the most suitable time.
Booking Now-
2. Jaipur-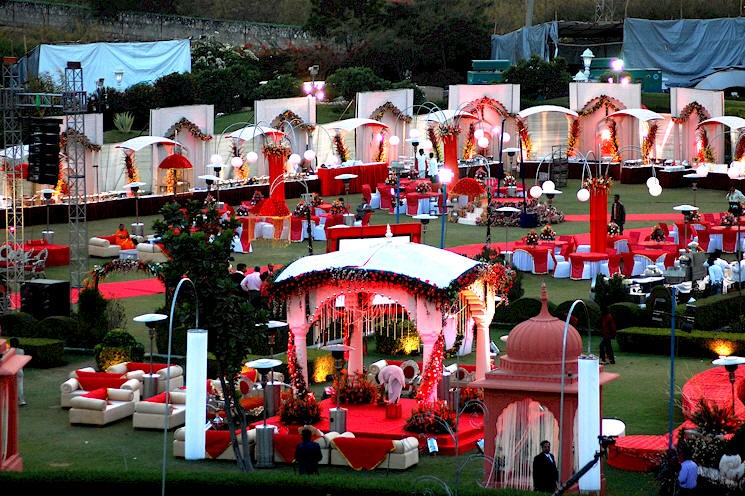 Our very own "Pink City" is another Best Wedding Destination in India. Celebrating the union of two families at these majestic venues in Jaipur is going to be spectacular and a royal affair. If you want the wedding in Forts and Palaces, this is the best place to fulfill your dreams.
Best Hotel-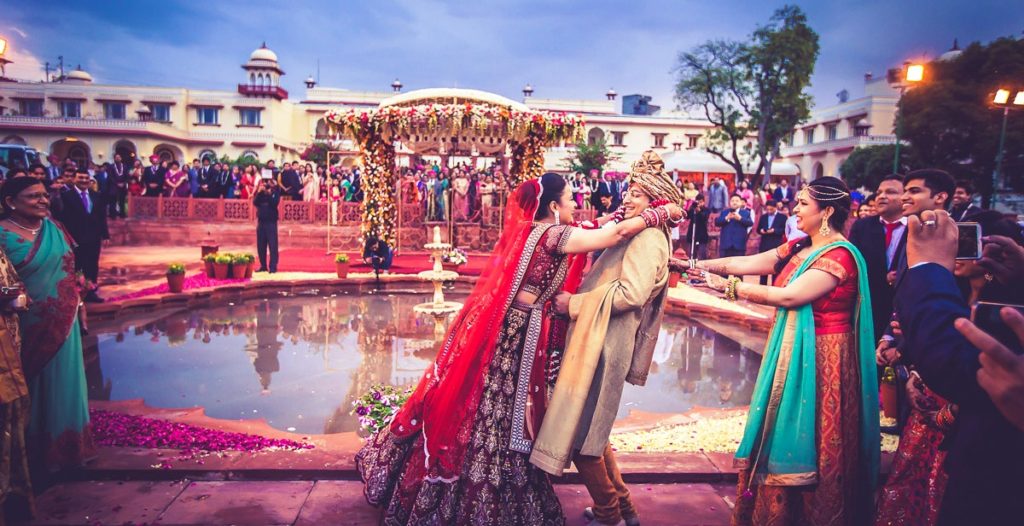 Jai Mahal Palace, the most popular one. Other than this Raj Palace, Gold Palace and Samode Palace also gain a great attention for the royal weddings.
Best Time- Winters serve the best time to have the wedding in Jaipur. November or late February.
3. Goa Wedding Venue: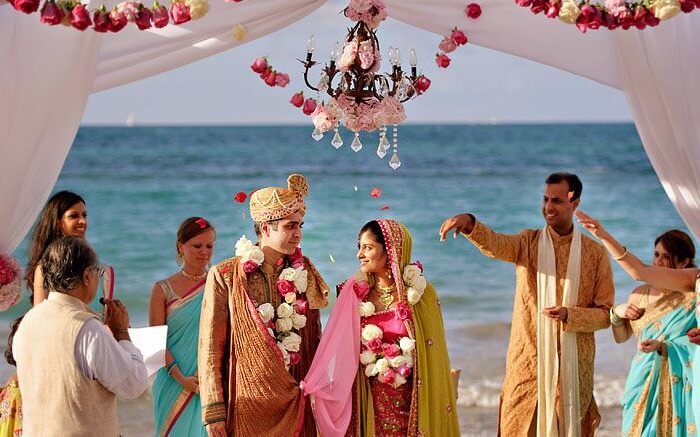 This is like everyone's favorite destination for the Wedding. Tying knot with your loved one at the beach is like living your dream in reality. Shimmering beaches, palm trees, peacefulness, and gentle waves of Arabian Sea together make this place a romantic destination.
Best Wedding Venues In Goa-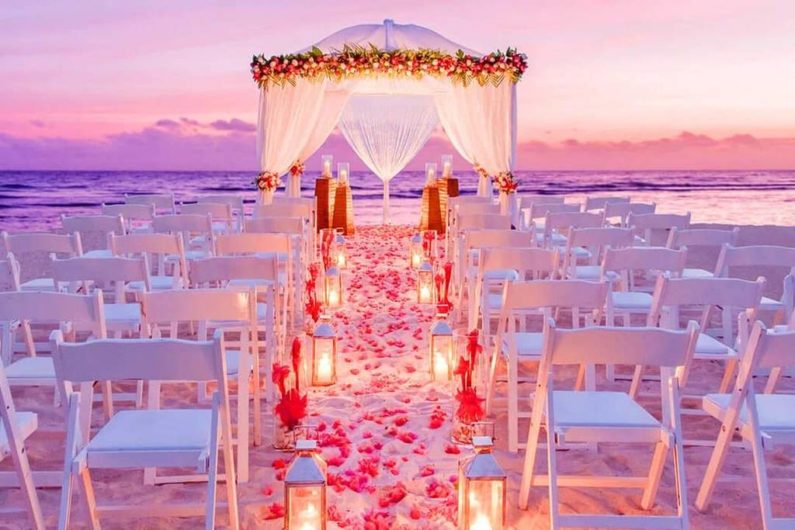 Park Hyatt Goa, Leela, Taj, and Radisson Resorts are amongst the most popular wedding venues.
Best Time- September end to late October is a good time in a moderate climate. March to May are also preferable as the rates are cut down of stays and are also less crowded.
Booking Now-
4. Best wedding venues in Kerala: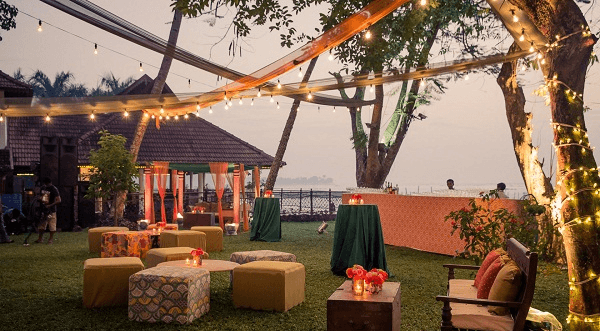 To get married in "God's own country" will be the best feeling. A total different beauty apart from Goa Beaches and Forts.  Filled with inland water bodies, it is known for its sprawling backwaters.
Destination PLaces In Kerala: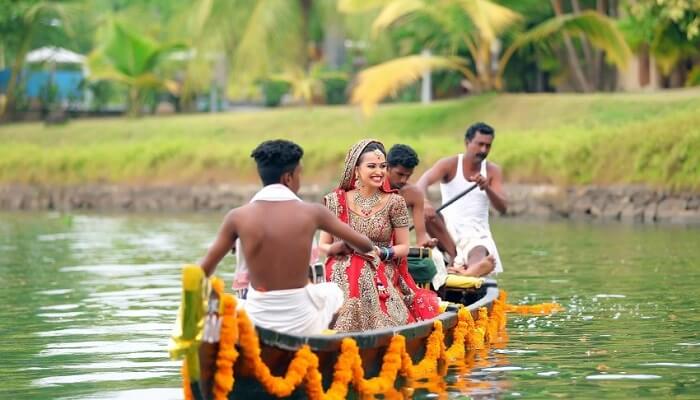 You have got a lot of options in Kerala, Beach Wedding in Kovalam, Straggling Tea Gardens of Munnar.
Best Time- September to March is a good time.
5. Andaman And Nicobar Islands Destination-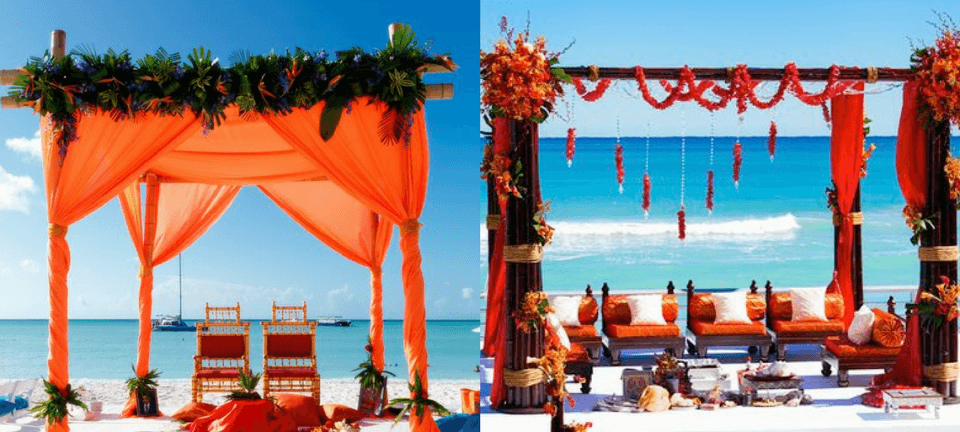 Blue skies, Clear waters and Golden sands what more one could ask for the amazing beach wedding, in one of the cleanest beaches in India. The soothing and pleasing climate of these islands is excellent for a romantic getaway.
Wedding Destination In Andaman and Nicobar islands: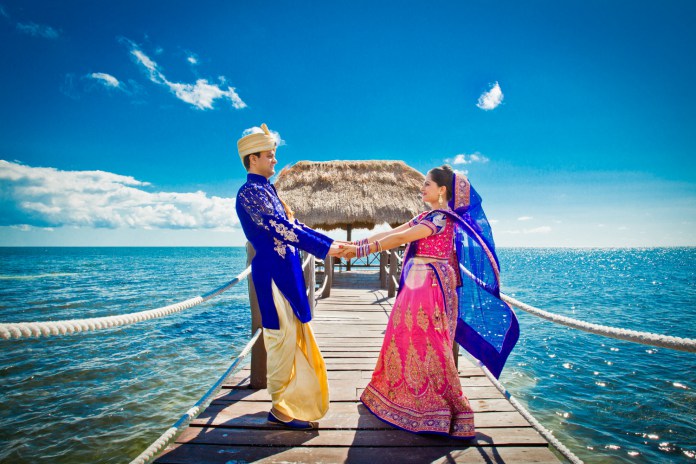 Munjoh Ocean Resort in The Havelock island and Ross island are best for exchanging vows.
Best Time- September to May
6. Hyderabad-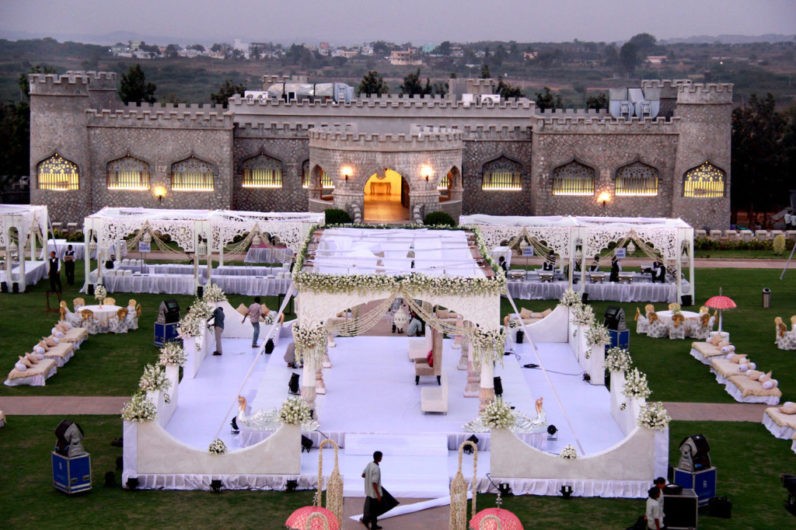 The city of "Pearls" and "Nizams", Hyderabad is a true beauty with a lot of historical monuments, lakes and palaces to organize a Lavish wedding.
Best Place- Taj Falaknuma Palace and Chowmallah Palace both these places are sure to reminisce about the Nizam's era.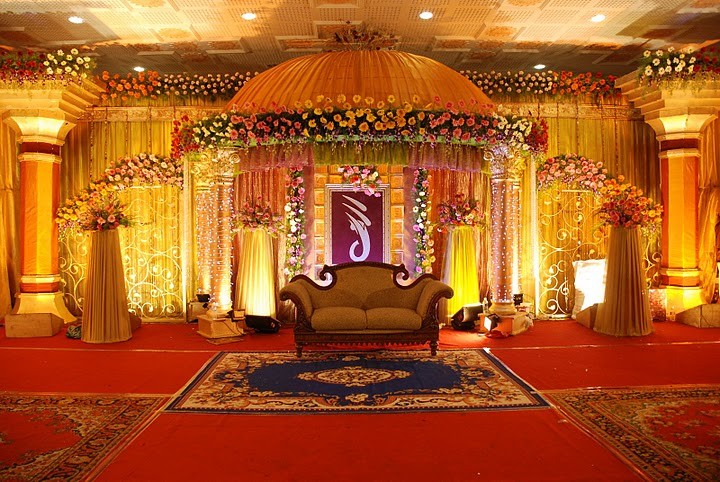 Best Time- October onwards would be the best time for celebrations.
7. Jodhpur-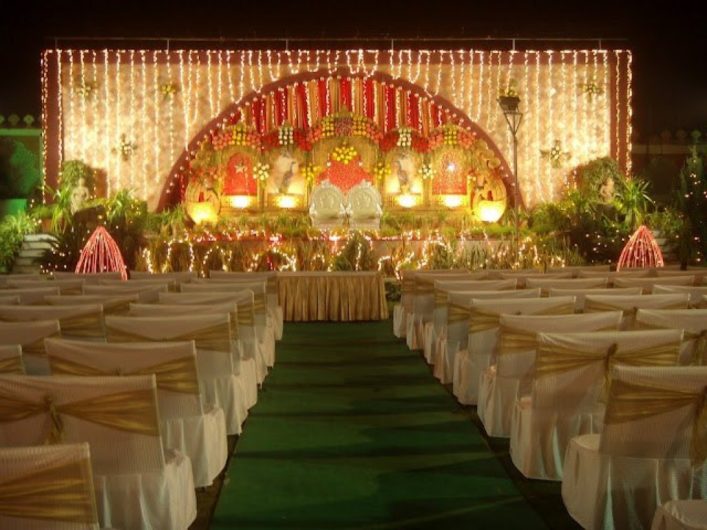 The Jazzy and Joyous Jodhpur much famed as the "Desert Capital of India" will add an iconic touch to your wedding with striking deserts and the blue shade of the sun city. There are various historical palaces and eye-popping havelis, which are perfect for a regal wedding. No Matter if you are looking for a theme based wedding or traditional Indian wedding, this city will simply meet your desire with its fascinating monuments, gardens, and temples.
Best Place-  Mehrangarh Fort and Umaid Bhavan, both will give you a Royal Feel.

Best Time- September is the best with Monsoon gone and Winter in.
8. Rishikesh

–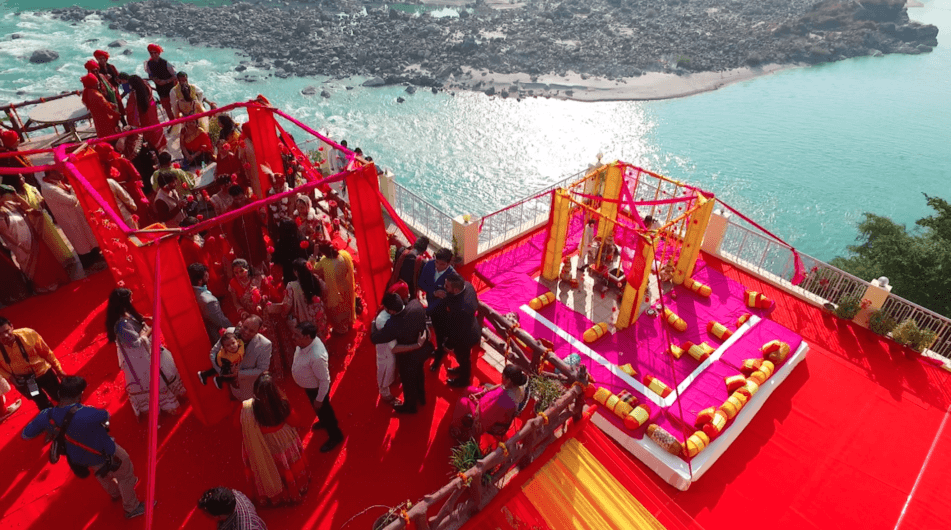 Imagine marrying your Loved one at the Banks of River Ganges. Rishikesh is an interesting holy paradise for exchanging vows. This destination is on the rise these days. As people feel relaxed performing rituals in the holy place.
Best Place- Rajaji National Park and The Hotel Ganga Kinare are one of the most popular wedding venues in Rishikesh.
Best Time- For Weddings, October to March would serve as the best time.
9. Agra Wedding Destination-
We all know about the Symbol of Love "Taj Mahal". So, what better way to get married in the living symbol of eternal love in the backdrop. With the exotic and pleasant ambiance of the place, couples love to tie the knot at this historical place.
Best Wedding Venues In Agra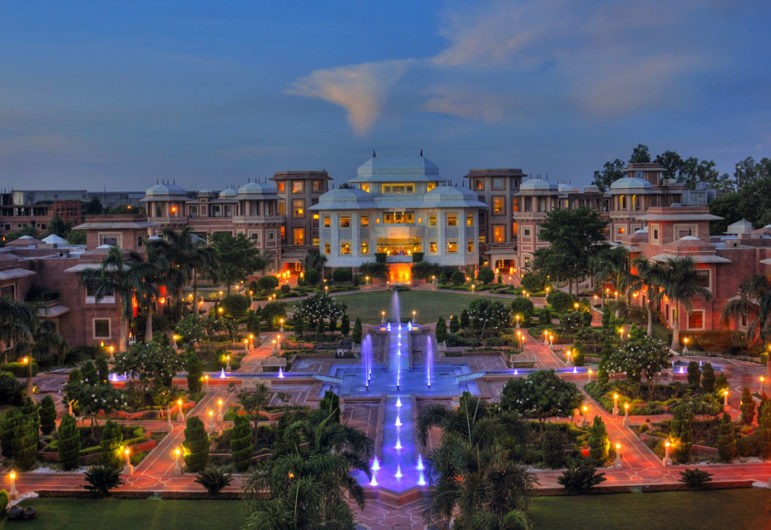 ITC Mughal, Courtyard by Marriott Agra is the best to take back memories to last a lifetime.
Best Time- October to December is the best time to get married here.
10. Nasik Wedding Venue-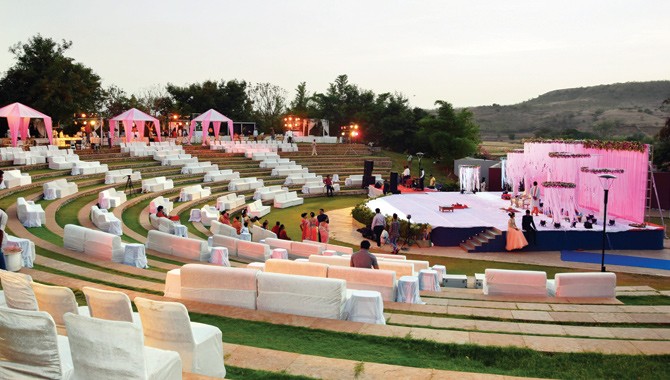 A place famous for its Vineyards and Kumbh Mela, which takes place in every 12 years. Exotic temples, Hills and Waterfalls Nasik has everything that is required to make the spot romantic.
Best Place-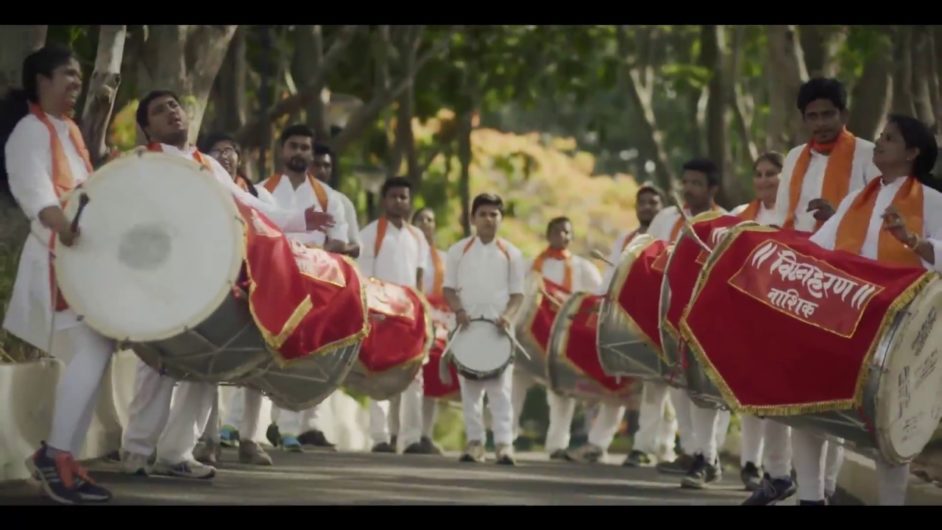 Sula Vineyards a scenic location. With open-air amphitheater and lush green vineyards against the mountain backdrop, the place creates magical moments forever.
Best Time- November to March
11. Kolkata-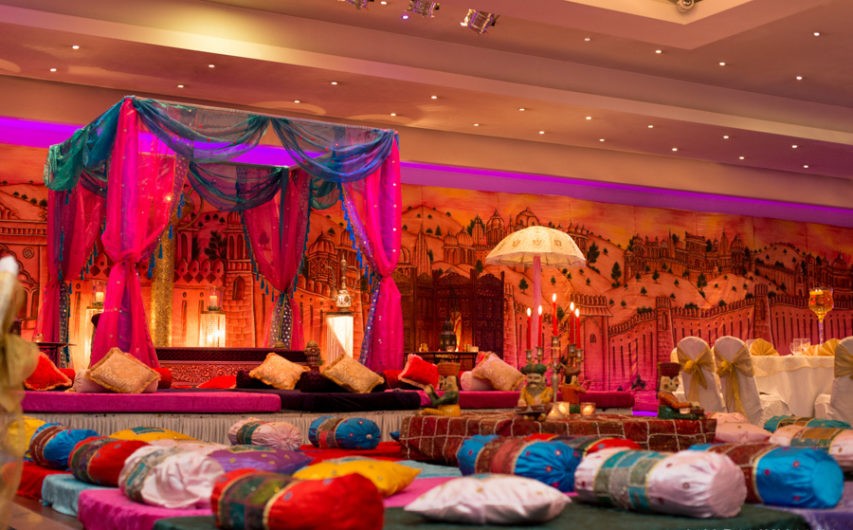 No one would have thought of this place as the best Wedding destination in India. But Kolkata is a city of joy. Victorian architectural style and British Raj culture, this city is a live example of this. Famous for its music, traditions, spicy food, sports, and rich culture, the place is a vibrant city to tie the knot.
Best Place- St. Paul, this is an old Anglican cathedral, which is famous for its Gothic architecture.
Best Time- October till February.
So, just explore these Best Wedding Destination in India before you finalize one. No matter which of the Indian wedding venues you choose to get married at, just makes the event memorable. As its one in a lifetime event.