This post contains
AFFILIATE LINK
to products. We may receive a commission for purchases made through these links.
Every woman once in her life has worn a blouse. Having a perfect blouse that matches your body type, has a good fitting and is also stylish and modern takes one great amount of research. I agree that the fitting depends on your designer, but there are many other things which you need to think about for a Latest blouse Designs for sarees.
In this blog, we have shortlisted some amazing Latest blouse Designs for sarees photos, so as to share your stress a little. It takes a lot to get a good blouse design, there are many things that can go wrong in the blouse stitching from neckline to fitting to back design.
Buying a saree is one thing, but getting its blouse stitched is a whole new different thing.
So, before deciding on your blouse design, you must look through our latest blouse designs for back. This will help you to enhance the beauty of your saree. Check out the blog-
Latest blouse Designs for sarees (Back and Front)
1. Full Work Heavy Blouse Design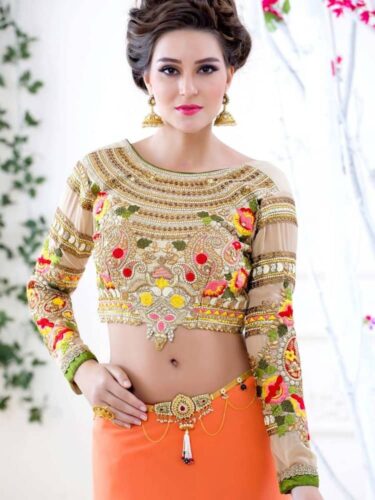 This hot but elegant design of blouse can be worn by every woman. The long sleeves fully heavy work pattern makes the blouse more beautiful. You can wear this blouse in contrast also.
2. Boho Blouse Design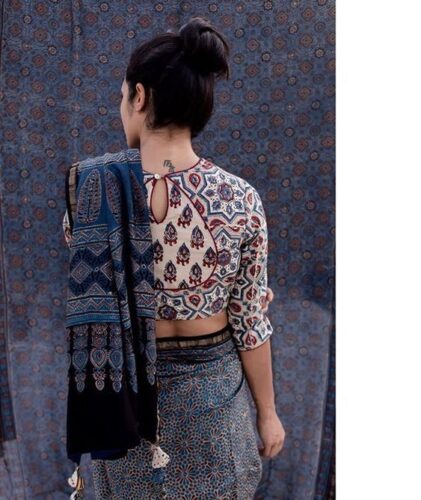 Boho print is the new trend these days. They look cool, stylish and have amazing print too. If you carefully look at the above blouse design, you will find it traditional yet stylish. I like the small slit given at the back and the combination of two prints. 3/4 sleeves have made the blouse look more beautiful.
3. Cotton Blouse Design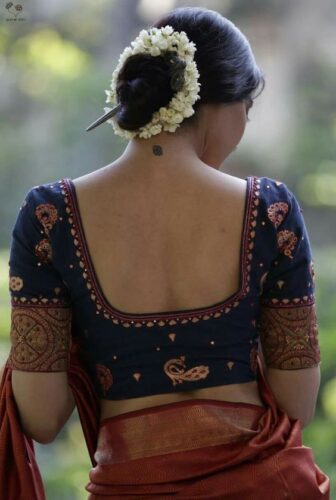 Square back necks are my favorite. They look both modern and traditional. For the front neck design, you can go for both square or even round, whichever suits you.
4. V-Shape Blouse Design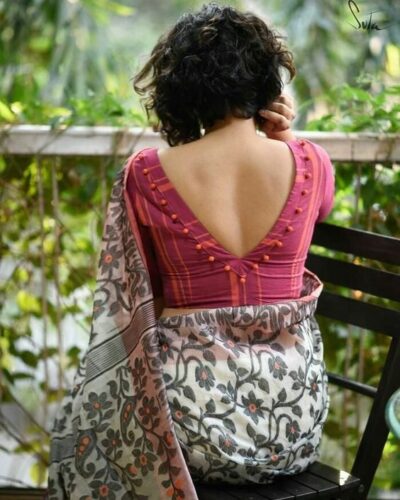 This V-neck design really looks attractive, the small pom-pom added throughout the neck design has added charm to the blouse.
5. Boat Neck Blouse Design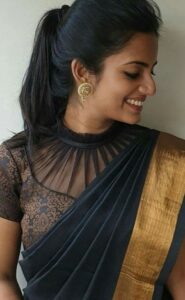 This is the boat neck with a totally different back design. As you can see, instead of adding the Dori work on the top of the back neck, it is added to the bottom. Also, the sleeves have got a dual colour frill at the end.
6. Open Back Design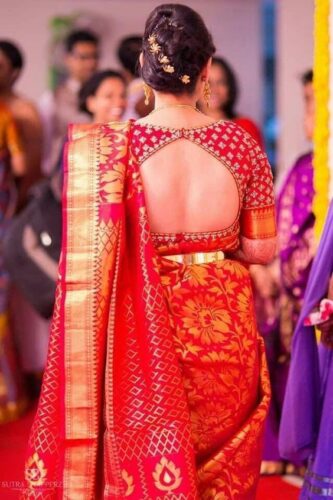 This open-back blouse design is for all those bold ladies, who like to stand out. With the saree being so heavy, you can try this temple back open design.
7. Net Blouse Design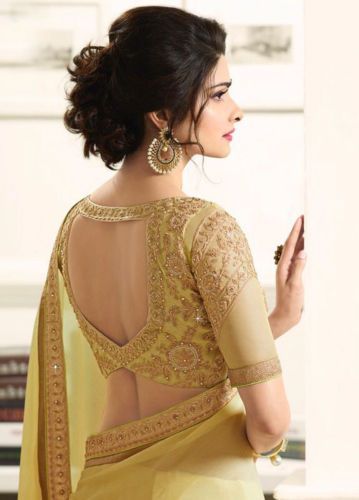 If in your saree there is a net work or even if the saree is in sheer design, then this is the perfect blouse for you. Having net sleeves will add the delicate design to the blouse.
8. Back Slit Blouse Design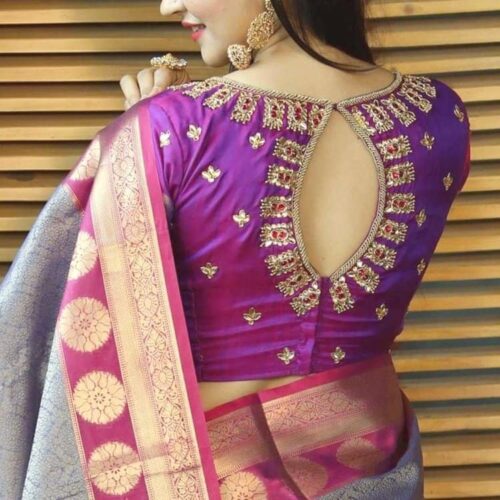 This blouse design is for those who want to show off a little but not much too. The best and most secure way to show off is to have a back slit. Now, you can have this back slit in any shape, but the oval shape trends a lot.
9. Latest and Modern Design for Blouse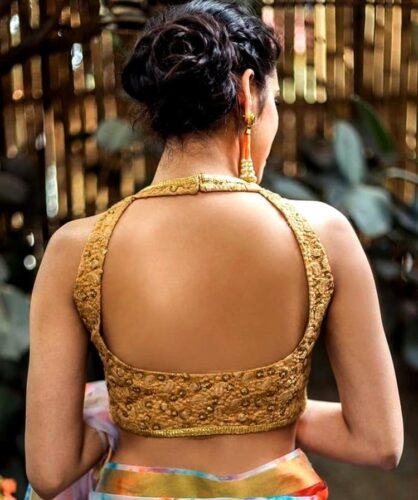 A perfect blouse design for all those brides-to-be who are bold and do not hesitate to show off. You can carry this sexy blouse design to any party and wedding.
10. Collar Blouse Design Latest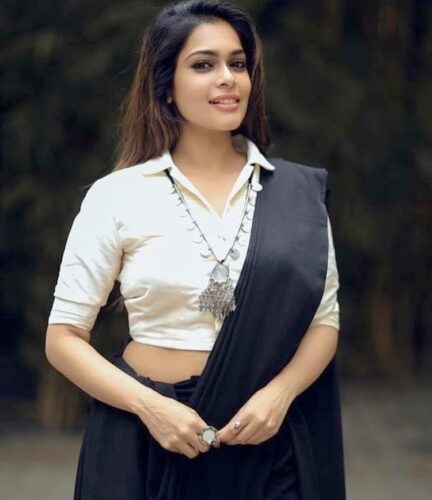 Well, recently I attended a party where the bride has worn a collar style blouse design and I must say she was looking all beautiful and gorgeous. A perfect design of blouse where you can meet both traditional and modern way. You can carry this blouse for any saree and even for a lehenga too.
11. Sheer Net Blouse Design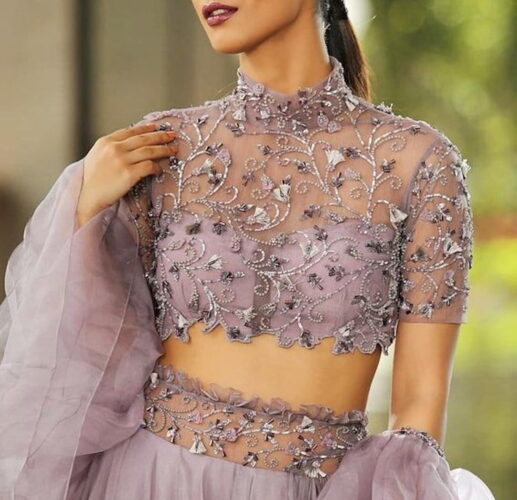 If you have got a saree that is delicate looking, then go for this blouse design. The sheer net neck design and the net sleeves too. Having this blouse, you won't need any neckpiece.
12. Blouse with Heavy Neck Design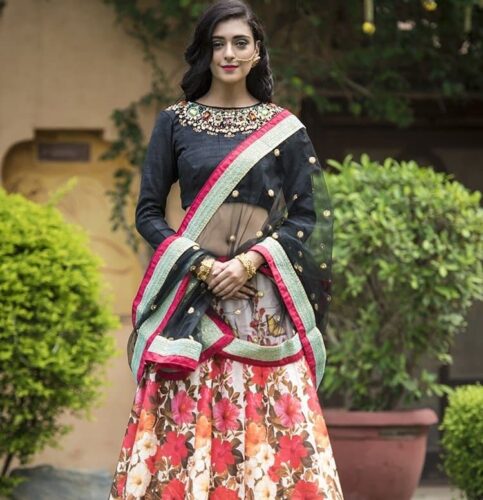 I love the simplicity and the heavy work of the blouse. With all the embroidery done on the neckline, it makes the blouse look heavy. The long sleeves add to the charm of the blouse.
13. Jacket Design Blouse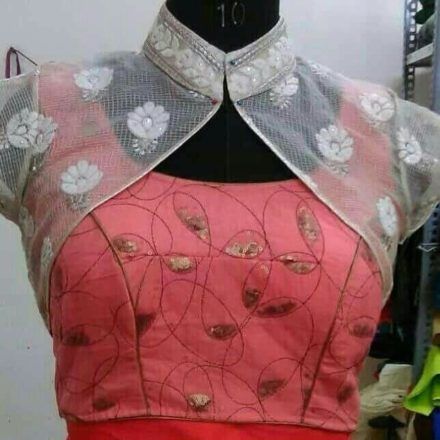 If you wish to try something new and trendy, then go for this blouse design. You can wear it two ways: sleeveless and with the net jacket too. The collar jacket design gives the blouse a modern look.
14. Frill Sleeves Blouse Design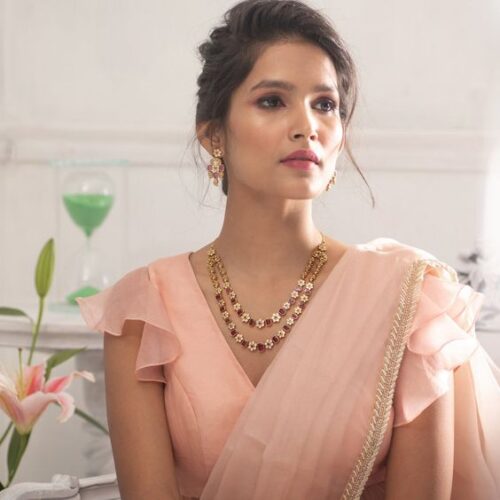 If you really want to try a sleeveless blouse design, but you cannot then go for this frill sleeves design. This gives the blouse a delicate and modern look both. For the frill, you can have either in contrast or the same colour as the saree.
15. Loose Sleeve Blouse Design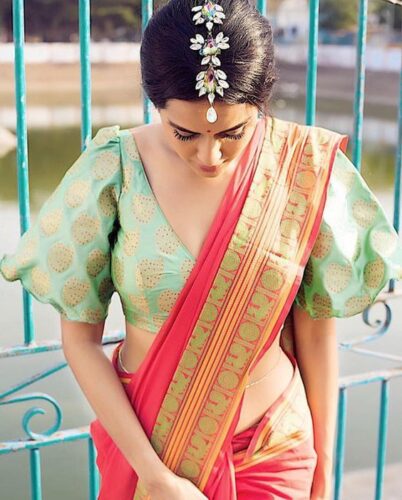 Since the day I have seen this blouse, I just wanted to share the design and also have the same design as this. The way this blouse gives the feel of both modern and traditional touch is just jaw-dropping. The loose sleeves and the deep V-neck both go amazingly well together.
16. Covered Net Blouse Design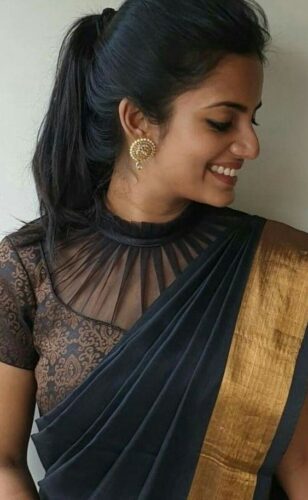 To give totally different look to your saree, go for this blouse design. It gives you both a covered neck and a little bit of show off with the net design.
So, above are some amazing blouse design latest 2022. We ladies, always like to try something new with our blouse so as to enhance the beauty of our saree.
Which blouse design you like the best?