If you are one of the souls brave enough to vacation on the east coast during winter, we salute you. And, because we're so impressed with you, we've compiled a list of nine things to do in Boston this winter that will keep you entertained, well-fed and yes, cozy, as you visit the infamous Beantown.
1. See The Nutcracker at the Boston Ballet
Whether you're a fan of the ballet or not, it's hard to resist that pesky Christmas spirit when you hear the music of The Nutcracker and then watch people dance around in rat costumes. Ah, the holidays. On a list of things to do in Boston in winter, seeing this infamous show at the Boston Ballet makes for a festive evening out for the entire family.
2. Be wowed by the Boston Christmas Tree

Every year since 1941, the good people of Nova Scotia have bestowed a giant Christmas tree upon the city of Boston to commemorate Boston's assistance in the Halifax Explosion. And boy, does Nova Scotia deliver. The Boston Christmas Tree stands tall in the Boston Common (which also happens to be America's oldest park) throughout December and will make you feel all the feels with its brilliant lights.
3. Try local restaurants with Bites of Boston
Bites of Boston is a year-round food and neighborhood tour that puts on emphasis on fully enjoying local cuisine through an appreciation of its context. Bites of Boston carefully curate their tours to highlight the neighborhoods and their history surrounding the restaurants, cafes, and bars you will indulge in. Choose from the sweet and savory tour, the arts and eats tour, or Chinatown's culture and cuisine.
4. Warm up with hot chocolate
What could be a cozier thing to do in Boston in winter than ensconce yourself in a cafe and drink hot chocolate? L.A. Burdick is infamous for its hot chocolate, which they refer to as their drinking chocolate (and this sounds even better, for some reason). Or stop into Met Back Bay restaurant and indulge in a full-on hot chocolate flight.
5. Skate at Frog Pond Ice Rink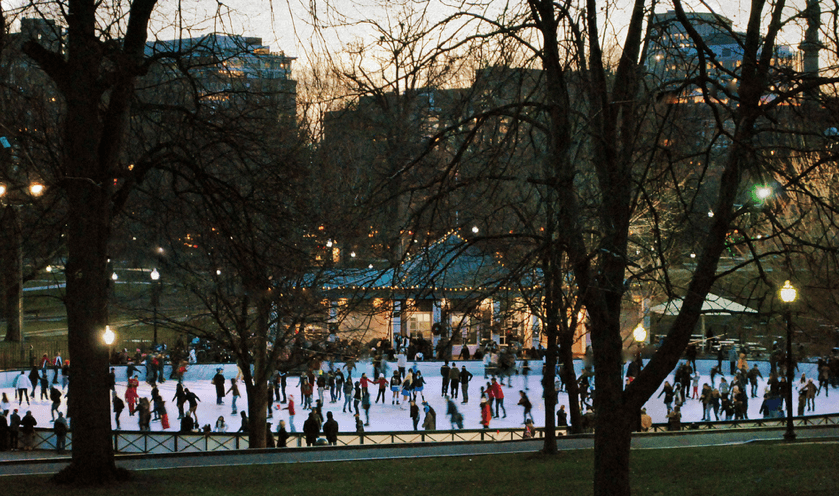 As long as you're at the Boston Common, take the opportunity to go skating at Frog Pond. This rink is an immense pond at the heart of the public park and was voted best outdoor ice skating rink in the U.S. by USA Today!
6. Check out the sports Boston sports scene
While a hockey rink isn't exactly the best place to warm up on a Boston winter night, cheering for the Bruins will get your blood pumping real quick. If hockey isn't exactly your thing, you can catch a Celtics game and finally cross "going to an NBA game" off your bucket list. And if that's not on your bucket list, at least you can eat a ton of popcorn.
7. Shop at Faneuil Hall Marketplace
Browse local and national shops while strolling along cobblestone promenades as you wind your way through the historic Faneuil Hall Marketplace. Sample cuisine from restaurants and pubs, including a variety of quick and delicious bites from the Quincy Market Colonnade with such eats like ramen, chowder, macaroni, and cheese, and baked goods. Faneuil Hall also puts on a Christmas light show during December that you'll want to add to your list of things to do in Boston in winter.
8. Stay downtown
Because there are so many things to do in Boston this winter, make sure you have easy access to all the festive fun by staying downtown. Plus, staying downtown means you'll get to have a full experience of living the Boston city life for a few days. While Boston offers a variety of Airbnb-type accommodations, you can also take the opportunity to stay in your very own luxury apartment (bonus: you don't have to worry about sharing any "common" space with a chatty backpacker). When searching for where to stay in Boston, make sure you check out some of these great options.
9. Spend the day at Blue Hills Ski Area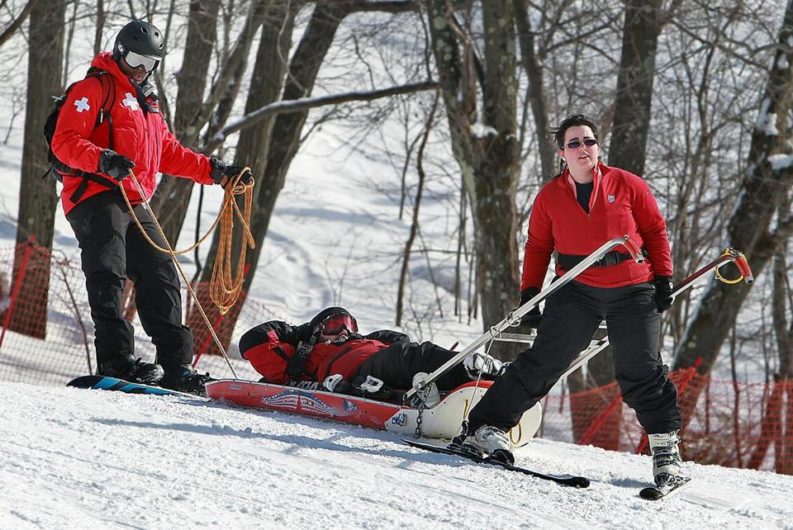 If you're in Boston long enough to take a day outside the city, strap on your skis and hit the slopes at the Blue Hills Ski Area. Located just under an hour from Boston, Blue Hills has been operating since 1950 and is the outdoor enthusiast's destination during winter in Boston. Blue Hills also makes their own snow when the weather gets cold enough, so you can be sure that you won't miss out on snow during your winter vacation.
Whether you're visiting Boston to see the city for the first time, or specifically to take in the winter activities,
Boston offers a variety of fun and festive things to do that will make for a memorable winter vacation.