Best weekend getaway ideas in India
We really need to get a weekend break, don't you think so? Our life is totally acquired by College, work, projects, assignments, submissions, clients, and what not? Gradually, the alarm starts ringing, you really want some time for yourself, but there, is your client's call, you actually want to go offline, but you cannot your conference is waiting for you.  Want to spend some time with your loved ones, no, there, again, you have to manage projects and meetings. Life gets hectic and scheduled. Sometimes, you may just want to switch off every gadget, pack your bag and leave home, but you actually can't do that. It is not necessary to go on a long holiday, but you can at least think of a weekend trip.
Be ready to pack your bags because-
Here, are some weekend getaway ideas that I have found for your weekend entertainment- Trust me you this will be your memorable weekend.
1. Khyber Resort & Spa
This Himalayan resort in the lands of Gulmarg is accounted as the most unique places among the rest, to spend a weekend calmly. Your weekend will become an experiential holiday, really. You ought to travel around 65km from Srinagar airport, and a short walk from Gulmarg Gondola-The world's highest ski-fits, to reach this destination.
You will see the best view of Gulmarg from this resort. The rooms here are designed and decorated out of Kashmiri Carpets and Walnut Timber, which ultimately makes you feel, and gives you the essence of Kashmiri lifestyle. Take in the pleasure of Wazwan, the traditional Kashmiri meal served, rejoicing the view of green, fresh and snow-clad mountains around you.
You can do an en number of things here, such as a Trek to Khilanmarg Valley, also known as spring flower valley. Skiing on Kongdoori Mountain in winters, Trout Fishing, ATV rides, and horse ridings in summer.
Want to go? Don't wait, just book your weekend package on MakemyTrip.com and avail exciting coupons on your bookings.
2. Travancore Heritage, Kovalam
This resort is located in the south of Kovalam, one of the unique and traditional places in Kerala to stay. This hotel is built in the traditional architectural style of Tharavadu culture of Kerala. The views become awesome with Beaches, coconut palm trees, and that fresh breeze, with the local cuisines of seafood and other popular local foods at the beach restaurants. You can reach your destination from Trivandrum Airport is about 15km from there and can reach Kovalam.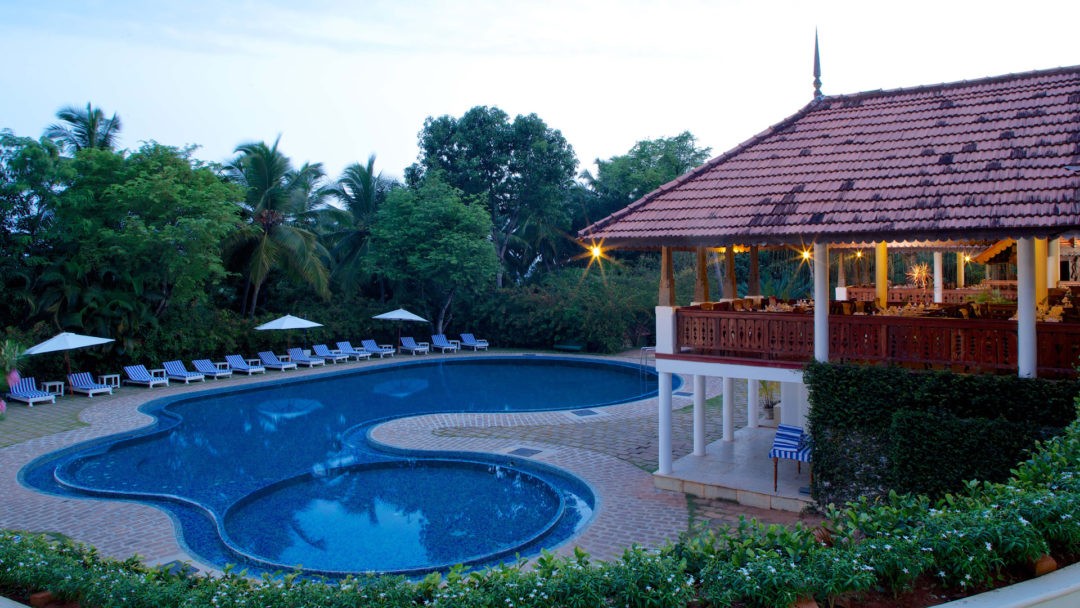 You can go alive with an Ayurveda Therapy at the traditional therapy centers in the location. This also trips around the herbal gardens and parks nearby. You will get to rejoice the traditional performance and art forms like Mohiniattam, Kathakali, and other forms.
There are offers available on MakemyTrip.com at a reasonable price, and you can rejoice this weekend.
3. Neemrana Fort Palace
You will find this resort as one of the most luxurious and ideal ones for a perfect weekend getaway. It is very nearby from Delhi. This Neemrana Fort palace will give navigate you to de-stress yourself, and lounge in peace, by the amazing culture in Rajasthan. The scenic views from the palace are exotic and I am sure, you will enjoy it.
You can absolutely enjoy your weekend in this luxurious palace being a king with the delicious and colorful cuisine and performances by the locals in the resort.
Avail MakeMyTrip coupons and book your weekend package with up to 40% discount.
4. Aman-i-Khas
The most luxurious wildlife resorts in Ranthambore, Rajasthan. This resort becomes available only from October to April every year and not throughout the year. This one is the best for those who enjoy luxury camping.
Being located in the brushwood forest, in the corners of the Ranthambore National Park. This one should be exotic and adventurous for those who love wildlife. It offers 10 luxurious air-conditioned tents, in the Moghul style. You will find the restaurant, spa and relaxing areas in the three other separated tents.
You can spot wild animals such as Hyenas, Tigers, leopards, and cheetahs in the forest. I am sure, animal lovers and wildlife lovers are going to love this place and visit soon. To visit this exotic and unique resort, avail MakeMyTrip coupons and book your package soon.
5. Neeralaya, Raison
The most peaceful and amazing resort for nature lovers. It is located in the Himachal Pradesh near Kullu. It is built on the banks of the Beas and is the part of the Raison village. This one is perfect and suitable for nature lovers, who really want to go alive for a weekend leaving all their work and tensions back.
The resort has three mountain villas dotted in it. A tangled, dining shack and a breakfast bandstand. The kitchen garden and the wide and long landscaped gardens deliver a bird's eye view of your surroundings and ambiance.
Every villa in the resort is made from timber, slate, and stone, having bedrooms, halls, and kitchen, and yes, you will have a lot of outdoor seating options. This should be a perfect and a relaxing weekend for you.
Choose the best resort for your weekend, and enjoy the days. Work and other stuff will be there until you retire, but this is the time to enjoy and make memories. Carry your cameras, Trekking things and other light snacks with you. Let us enjoy these exotic places, with no limits and boundaries. This one's going to be an amazing weekend for you and your family. After all, you only live once!