This post contains
AFFILIATE LINK
to products. We may receive a commission for purchases made through these links.
The new face of Bollywood. Alia Bhatt. She has won everyone's heart with her acting and her cute looks. Started her career with Student of the year, she has come a long way. She has also tried many different roles like the one in Udtaa Punjab or Gully boy or in Raazi. And undoubtedly, she has done justice to every role of her.
But if see her off-camera, we won't notice much of the change in her. She looks same on camera with makeup and off-camera without makeup. So, what keeps her skin looks soo young and fresh every time. 
I did some research and found out the ways in which Alia keeps her skin natural and baby soft and Alia Bhatt daily routine. Check them out-  
Alia Bhatt daily routine about her beauty secrets:
1. Block out all noise:-
 This is the advice my father gave me, that no matter the trolls and negativity, always be positive and happy. Block all the noises when you are acting and be your best. That way, you can perform well and also look you best.
2. Beauty sleep:-
This is very important. Alia makes sure she gets enough sleep, which helps her rest and gets energized for her shoot.
3. Take multivitamins:-
Sometimes, even having a proper diet we miss on many nutrients. Alia makes sure, she takes all the vitamins needed for the skin. Our upper and lower layers of skin need Vitamin A to prevent us from sun damage and Vitamin C is important for collagen and is also a powerful antioxidant. 
4. Hydration:-
She drinks at least 8 glass of water daily, which removes all the toxins from your body keeping it clean and giving your skin a natural glow. Water is important for the smooth functioning of processes which include digestion, circulation, absorption, and excretion.
5. Always Cleanse:-
 Since they are a full day in makeup. It is necessary for your skin to breathe at least at night. She always cleanses her face in the night and does not use any night cream. She likes to keep her natural beauty.
Whenever she gets the time she uses honey with papaya or orange face mask for 15 minutes. This helps in tightening of the skin and removing acne.
She also trusts Multani Mitti, or Fuller's Earth, for her skin.
7. Ice:-
She always puts ice on her face in the morning, which removes away all the puffiness and helps in the natural glow of the face.
8. Stay happy:-
This is the World Secret Mantra, to always stay happy. Being happy gives you positive vibes and makes you feel energized.
Alia Bhatt Makeup Products
Alia has always kept her baby skin alive. She makes sure, that her natural look never goes away. She believes in minimal makeup. She is the face of many big brands like Maybelline, Lux, etc. So let us check out what she likes in the makeup–
She just loves "Baby Lips and Colossal Big Shot Mascara".

She likes to use Highlighter over blush and bronzer.

Uses Kohl kajal most of the times.

Maybelline Colossal Kajal

is her favorite choice because it stays on long.

She mostly uses the herbal products, to keep the natural look of her skin.  
She trusts Garnier Pure Active Neem + Tulsi High Foaming Face Wash.
Alia Bhatt workout routine
Alia also keeps her body fit and toned, let's check her exercise routine–
Day 1
5-10 minutes warm-up which includes stretching and slow jogging followed by cardio

3-4 sets of Push-ups, dumbbells and bicep curls.
Day 2
Warm-up with jogging and stretching then followed by Power Yoga session of one hour.
Day 3
Warm-up exercises

3-4 sets of Ab, bicycle and reverse crunches.
Day 4
Take a day off from exercise – Just a warmup with walking or slow jogging.
Day 5
Warm-up of 5 minutes including stretches

Run-on the treadmill for 10 minutes at 6mph

Focus on forwarding and backward lunges, squats
Day 6
Start with the normal warm-up routine (stretching or jogging)

Yoga session
Day 7
Allows her body to rest for the day
Alia's inclination towards yoga is due to flexibility and strength which Yoga offers. She likes to perform anti-gravity yoga-like Sirsasana.  She also performs
Chakrasana,

Surya namaskar,

pranayama,

Bhujnagasna, meditation, etc.
Alia Bhatt Diet Plan
She also revealed that she consumes alkaline foods to remove the acidity in her body.

Consumes a lot of fresh juice which is rich in anti-oxidants. The detox drinks help to accelerate the metabolism and remove bad content from the body.

Avoid junk foods and prefers homemade foods.

For the deserts, she takes it on the days when she has consumed fewer calories.

She always eats meals regularly and ensures that the meals are proportioned in size.

She keeps a one or one-and-a-half hour gap between each meal.
Her daily routine-
She usually starts her day with herbal coffee or tea

without any sugar, a bowl of Poha or egg sandwich.
For lunch, she eats roti sabzi and some snacks.
Dinner she keeps it minimum, with just one roti without ghee and vegetable or a bowl of rice and dal.
To keep herself hydrated she drinks coconut water and some fresh juices.
If she is hungry in the evening, she eats snacks and has tea or coffee
KNOW ABOUT  Haircare-
She washes her hair, once every two days.

She does not use any hair product when she is not on the shoot.

She trusts Philips [hairstyling products] to style her hair.
Alia's Fitness Secret-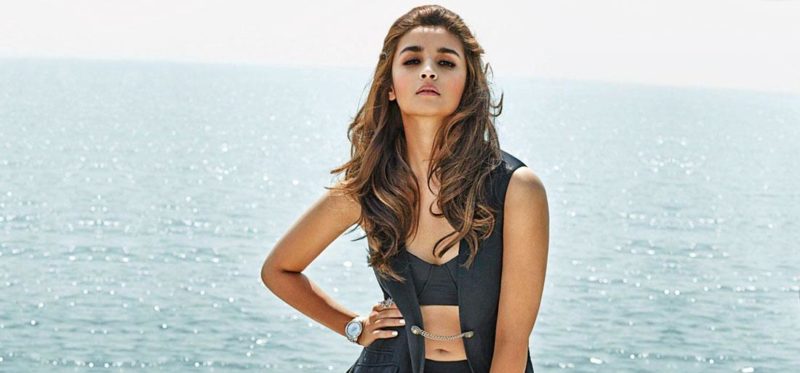 Alia's gorgeous and amazing looks tells us all about her fitness mantra. She is very disciplined and strict about her diet and her exercise. She always stays happy and keeps her natural look alive. Her fitness tips include-
Have proper sleep

Drink plenty of water

Skip oil

Start yoga and meditation

Eat your dinner 2 hours before going to bed

Cardio is the best exercise

Avoid junk foods and packaged drinks

Eat-in small intervals.
So, this was the whole coverage on Alia Bhatt daily routine, diet, workout, skincare, and haircare. I got inspired by her workout plan, which I think I can also start.
What do you think about her routine and plans? Do comment.
Recommended Articles For You:
1.  10 CELEBRITY NATURAL BEAUTY SECRETS REVEALED 
2. Lipstick Brands Used By Celebrities
3. Best Mascara Brands Used By Celebrities
4. Kareen Kapoor skincare routine and lifestyle