This post contains
AFFILIATE LINK
to products. We may receive a commission for purchases made through these links.
During the 80's and 90's era, long hair was considered as blessings. Women blessed with long and beautiful hair never thought to cut it or give it a new look and shape. But that stereotyped thinking has been changed and given a remarkable place to Short Bob Haircut. But now, the huge dilemma starts with what haircut is suitable or should be taken up to look stylish.
Despite the fact that many of us don't like the short hair but these trendy haircuts will drive you crazy and give you a finished look. Women with short hair draw more attention than long hair.  So if you are willing to heighten up your look, here are some super trendy haircuts for short fine hair to elevate and entirely change your look. 
Cool Short bob haircuts Hairstyle Step By Step In  2020:
Here is some Trendy Short Bob Haircut Hairstyle for Short Hair :
1. Plume Short Bob –
This type of haircut is simple yet stylish. It will add volume to your hair and will give perfect look. In this haircut, sharp hair strands fall on one another and give you a catchy look along with adding volume to your hair. 
2. Bob with Bangs –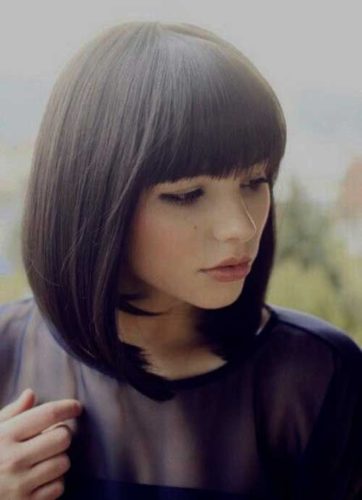 This is another amazing haircut to be taken to look stylish and beautiful. In this hairstyle, you will have chin-length bob with bangs. Specially designed for women want to highlight their cheekbones. You can add curls and different variants of colours to look gorgeous. 
3. 

Straight Bob –
Straight bob haircut is always in trend. Suitable for all and easy to carry. Try this with different colour variations for a classy look. 
4. One-sided Long Pixie –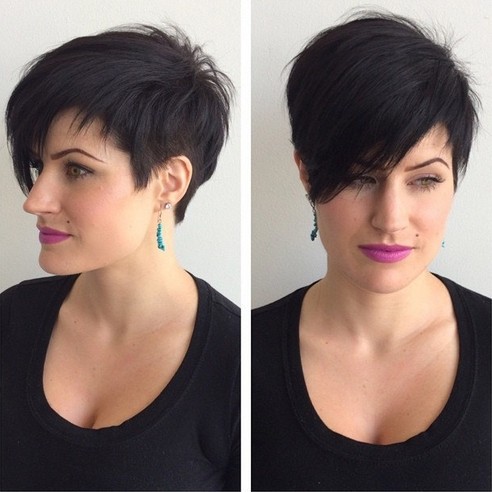 This is another cool haircut, which will give you a sassy look. Keep your pixie longer and add glamour to your look. 
5. Undercut Pixie –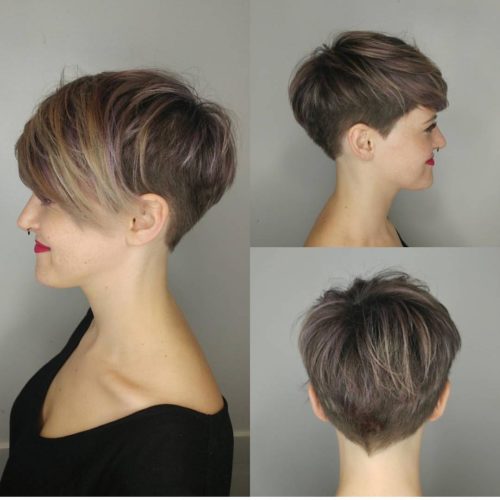 Stop being shy and try this cool haircut. This haircut will make you draw attention and look bold. This haircut is designed for self-confident and courageous women. This haircut has only one side pixie with an undercut on the other side.
6. Messy Pixie with layers –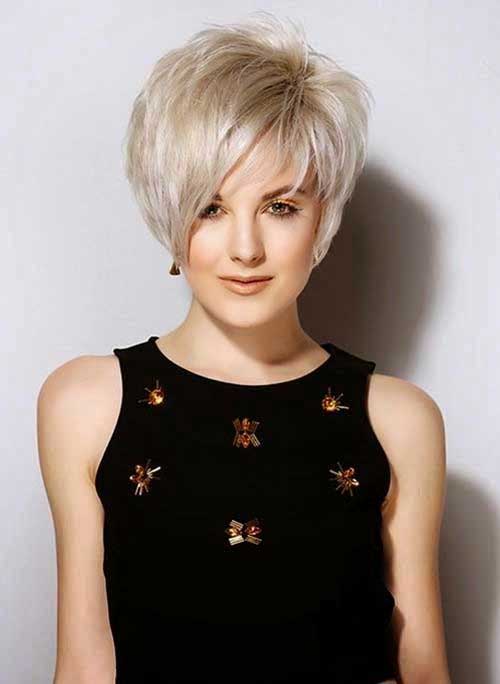 This haircut is quite popular for those with thin hair. Messy pixie with Layers will give you a sophisticated look. This will also add volume to your crown and give a stylish look. You can also try out these pixies in different shades. 
7. Short and Spiky –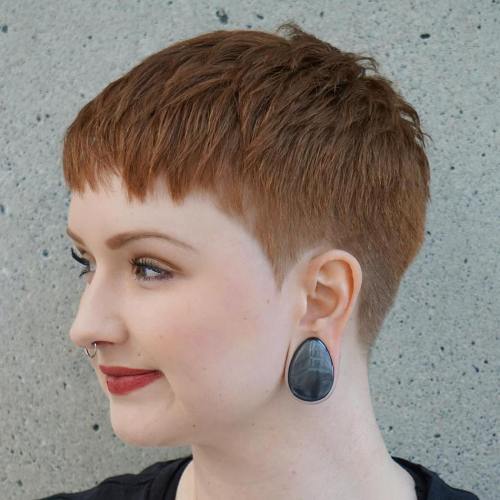 Sounds unfeminine! The short and spiky pixie is quite different from other haircuts but definitely cool like others. Short spikes will keep you cool throughout the summer and make you look younger. 
8. Wavy Pixie –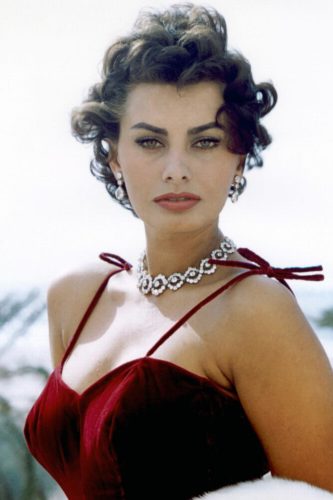 Wavy pixie is a super cool haircut, where wavy pixie flowing downward and giving a sassy look. It goes best with different colours. This wavy pixie will add volume. Try this haircut for a celebrity look.
9. Centre Parted wavy pixie –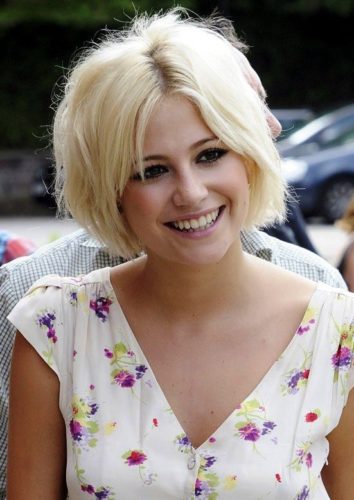 Women with short hair often complain that their hair looks bushy rather than polished. This centre parted wavy pixie will give polished soft wavy curls to define your look. A good eye makes will enhance your haircut and add confidence. 
10. One side falling curls –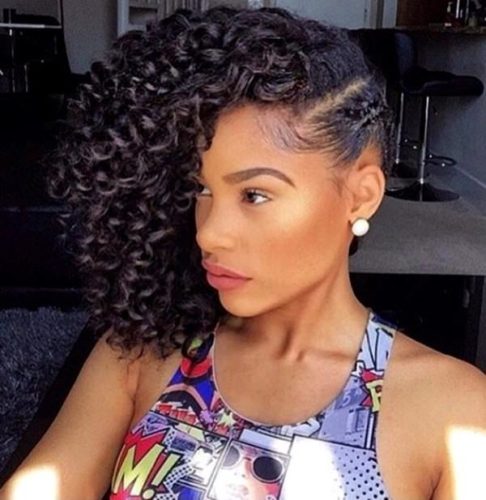 Struggling with curly hair? Here is the trendy haircut to define your curls and boost your confidence. Keep your curls falling on the one side and short or undercut on the other. This will make you look pretty and beautiful. 
11. Short Layered Bob –
Short layered bob is another haircut to look cute and innocent. It is a long-lasting and easy to carry haircut. Try this for a natural look. You can hide your forehead by covering it with the pixie.   
Keep short hair length has many benefits :
Reading these benefits will help you to chop off your hair without any second thought.
Easy to carry –

Short hair is always preferred by many of the ladies as it is easily manageable.
Less dead ends –

Short hair always has the benefit of less dead ends as compared to the longer one. This will make them healthier and smooth.
Looks Thicker –

Short hair looks thicker than the longer hair due to less dead ends. It adds volume to the hair. 
Keep you cool –

Short hair saves you from scorching heat in the summer and keeps you cool. 
Look Sassier and younger –

Short hair looks sassy and makes you look younger. 
Easy to brush –

It is easy to brush short hair and get ready on time without thinking much for the hairstyle.

Less Oil/ Shampoo and other Haircare products –

Short hair is always affordable. You need not spend much on hair care products.
Bous Tips for healthy Short Bob Haircut hair :
Wash your hair twice or thrice a week.

Keep your hairbrush clean.

Eat healthily and avoid junk food.

Use herbal products for hair.

Use a homemade hair mask.
Give a warm and good oil massage before shampooing.

Avoid too much ironing and blow-drying. 

Avoid washing hair with hot water.
Hello folks! Above is some cool and trendy Short Bob Haircut hairstyle. Do try them and let me know your views and suggestions regarding the same.
Hope you all like the article. I tried to keep short and simple if you need more information kindly write in the comment section. If you like my article, please like and share with your friends. Also, check my other articles only on trabeauli.com 🙂 
Image Credit- Pinterest