This post contains
AFFILIATE LINK
to products. We may receive a commission for purchases made through these links.
From being more inspired by your wardrobe to getting a top-notch facial from the best beauty salon in Dubai, here are five excellent resolutions geared towards revamping your look for the coming New Year. 
How To revamping your look in 2020?
1. To feel more inspired when getting dressed 
One of the best ways to start revamping your look for the New Year is to gather inspiration from a variety of sources. You can do this digitally by creating a new personal style board on Pinterest or a saved folder on Instagram and then adding outfits and beauty looks that you like. Save looks by your favorite street style stars or celebrities, as well as editorial images and pieces of clothing that you would like to add to your wardrobe. 
Social media is undoubtedly the easiest way to stay inspired, so make sure you are following content creators who align with your style goals and who provide a quick dose of style motivation that is right for you. 
However, don't let yourself fall down the rabbit hole of comparison. Instead, remember that you are following these creators for inspiration!
2. To buy pieces that you are actually going to wear  
Instead of buying lots of different pieces on a whim, allow yourself to get a little more analytical when it comes to your purchases. Utilize your inspiration board and see what the similarities between many of the looks are. 
Generally, you will begin to see a pattern. Perhaps all the outfits you saved were on the feminine and vintage side, or there may have been a significant number of comfortably classic ensembles. Giving yourself time to analyze your inspiration will enable you to make better purchasing choices. 
Additionally, pay attention to the colors and textures that repeatedly appear. Some people crave colorful prints and plenty of embellishment, while others get more wear out of more unadorned, tailored items in muted tones. 
That being said, you don't need to only stick with one style. If you see an outfit that you really like but is different from what you usually wear, you can always start by adding elements of it into your outfits without committing to the entire thing.
3. To wear more color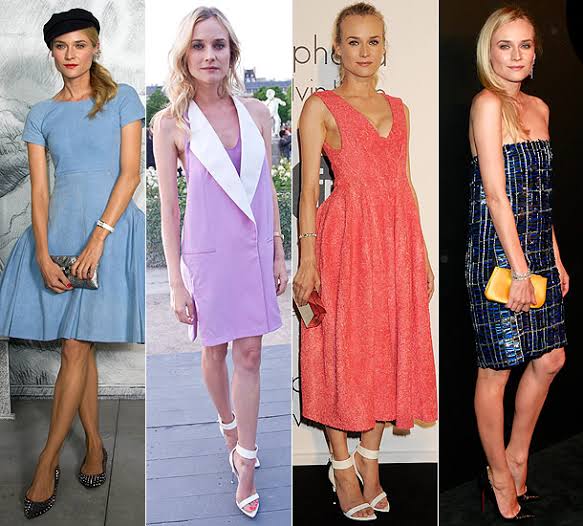 Even if this is the year that you have decided to wear more color, it can still feel unnerving to get started. The first step is to start bringing in a subtle color that's similar to a neutral, such as blush, or wear a colorful accessory, such as shoes, a handbag, or sunglasses. In the colder months, a bright coat can easily be paired on top of an all-black outfit. 
If you want to push yourself a little more, opt to wear one color from head to toe. Navy is a fantastic option for those who usually only wear black, while red is a brilliant hue for the days you are feeling slightly bolder.
On the other hand, makeup is an excellent way of bringing in more color to your ensembles while still looking chic and polished. Keep in mind that when opting for bold makeup, you should ensure that it remains the focal point of the look, and keep color to a minimum in your clothing. 
A bright eyeshadow (apply on the center of the lid and blend outwards) can be a striking look. Try yellow for a weekend outing and red for an evening soiree. Keep the rest of your makeup more neutral, but don't skip several coats of mascara. 
4. To take better care of your skin 
One of the best resolutions you can make is to take better care of your skin. You must find treatments and products that work for your skin while also reducing the suffering that comes from overexposure to elements, stress, and everyday activities – all of which take a toll. 
For this reason, a morning and evening skincare routine is crucial. The most important thing is to protect your skin from harmful rays by wearing a safe, breathable sunscreen. 
Additionally, never go to bed with makeup on. No matter how tired you are, commit to washing your face before bed and using an anti-aging serum and moisturizer. Your skin renews while you rest, so you want to help it get the best results.
Furthermore, get into the habit of treating yourself to a skincare treatment regularly. The Dermalogica facial is recommended for all women as it is highly personalized and suitable for all skin types. The treatment includes a face mapping skin analysis as well as cleansing, toning, scrubbing, massaging, masking, and moisturizing steps. 
If you are suffering from frequent acne breakouts, consider the deep cleansing Dermalogica Purifying Facial. Or, if you want to focus on hydrating and firming the skin, the Dermalogica Age Smart Facial may be the one for you.  
5. To invest in body care 
In addition to creating a foolproof skincare routine, you also want to be taking care of your body. Therefore, this should be the year that you commit to investing just as much time into the skin on your body as you do the skin on your face. 
First, find a cleanser that is created for the body. Look for one made from gentle ingredients and then use a loofah to lather it up. To remove dead skin, two or three times a week, use a sugar scrub and gently massage it into your skin. Spend extra time on your elbows, knees, and heels, as these are areas that usually benefit from some additional exfoliation.
After cleansing and exfoliating, you want to ensure that you are also moisturizing your skin. While your skin is still wet, apply a hydrating cream or lotion all over your body, and wait a few minutes before getting dressed. If you are looking to take your body care to the next level, purchase a dry brush and use it two to three times a week before you get into the shower. You will be feeling like the most beautiful version of yourself – every single day!
What resolutions do you have for revamping your look in the New Year? Share them with us (as well as any tips and tricks you have) in the comments below!
Recommended Articles for you: