This post contains
AFFILIATE LINK
to products. We may receive a commission for purchases made through these links.
Rakshabandhan is just around the corner and we all are busy preparing for it. Gifts to give our cousins and siblings, to apply for the leaves, book the tickets, buy rakhis and what not. The main thing which always confuses us is the attire to wear and the latest trend in ethnic wear.  Which look should we carry to rock this festival and look like a perfect diva?
After all its all the memories and trend which we keep for life. So, not to worry, I at Trabeauli have brought you some amazing Celebrity looks which you can carry this Raksha Bandhan. Check them out the latest trend in ethnic wear:-
Indian latest trend in ethnic wear 2019
1. Kriti Sanon Look-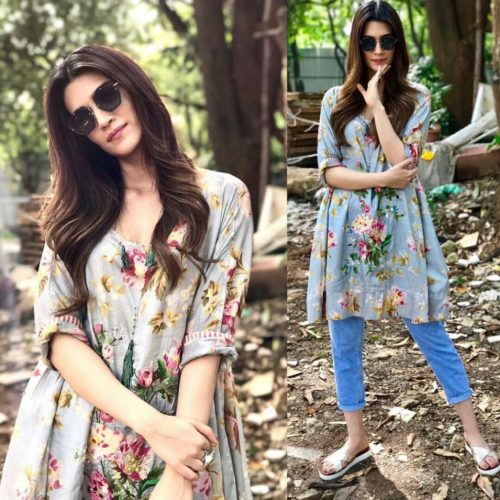 For all the cools and tomboy girls out there, this is something you can carry amazingly. This would give you some festive look without compromising with your cool attitude. A loose kurta and you can carry it either with ankle-length jeans or legging. Both will look amazing.
             A loosely fitted kurta and ankle-length jeans
2. Shraddha Kapoor-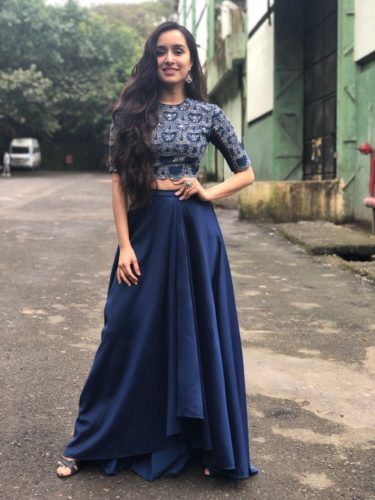 How about this uneven skirt and the crop top. This girly and stylish look is all you need to make the rakhi memorable. You can have the silk skirt and worked crop top to give it a perfect look. The crop top can be contrasting and matching both. The choice is yours.
            A skirt with the crop top is always in fashion
3. Alia Bhatt-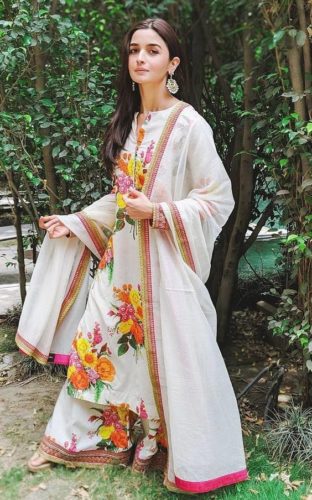 For the girls who like to keep it little casual yet stylish. This same pattern palazzo and kurta makes you look simple and elegant. A perfect for a day out celebration on rakhi AND Indian ethnic trends 2019.
A palazzo kurta set is a new trend
4. Deepika Padukone-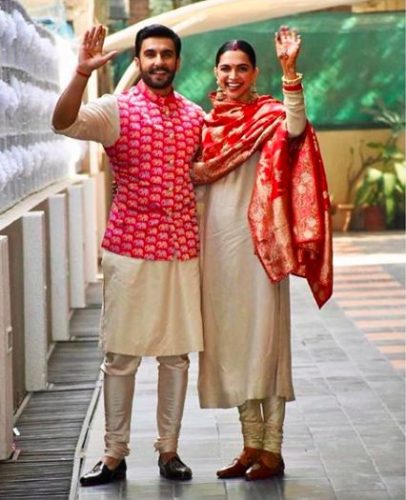 She just looked like us in her wedding. A girl is super cheerful at her wedding and all the brides in the world feel the same. Deepika's every look at the wedding and after the wedding was just classy. A contrast silk dupatta is like a real classy look.
These days with any of the same colour Kurta and churidar you can have the amazing design silk dupatta, which will give you the beautiful look.
                        A contrast silk dupatta
5. Anushka Sharma Kohli-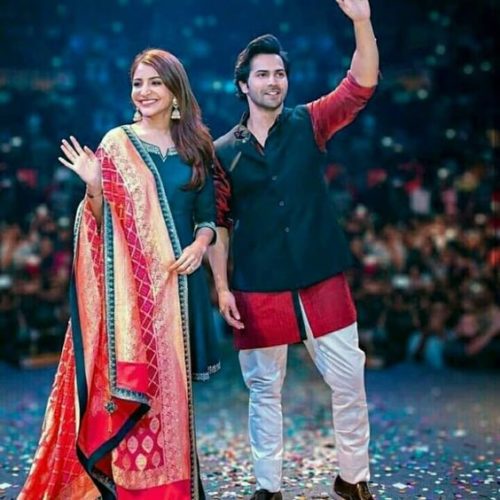 She carries all the look so elegantly. A perfect look for a newly married girl for rakhi. A short kurta with sharara and the colourful dupatta. Sharara was in fashion before and now they are back again. You can style them with the colourful dupatta or also with a Banarasi dupatta.
Sharara is the new ethnic wear, which you can carry gracefully
6. Karishma Kapoor-
The white Anarkali, makes you look, full traditional Indian girl. Style it with a messy bun or the braided ponytail to give it a new stylish look. Anarkali's have always been on top in the suits. They give you an amazing classy and party look.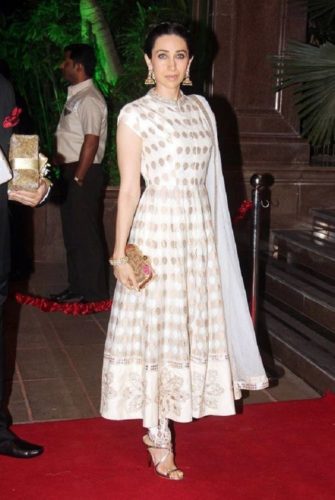 Anarkali is always in for the traditional look
7. Shilpa Shetty-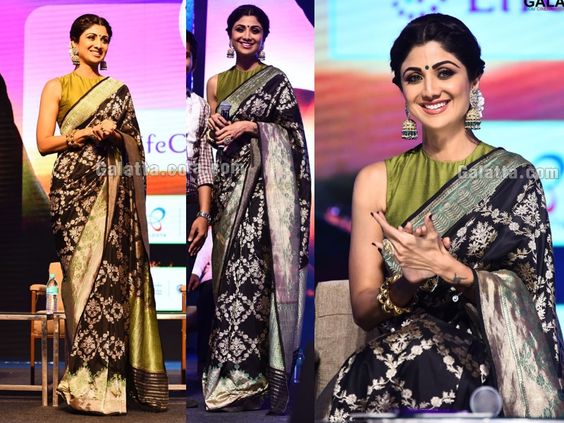 The fittest actress in Bollywood always inspires us with her fitness and also with her looks. Saree makes every girl look traditional and amazing.
A Banarasi saree is evergreen fashion. The Banarasi saree with the bun is like the perfect Indian girl and it sure will surprise many of your family members. To give it a little stylish look, wear the saree with the sleeveless blouse.
A Banarasi saree with the traditional earring.
8.  Jhanvi Kapoor-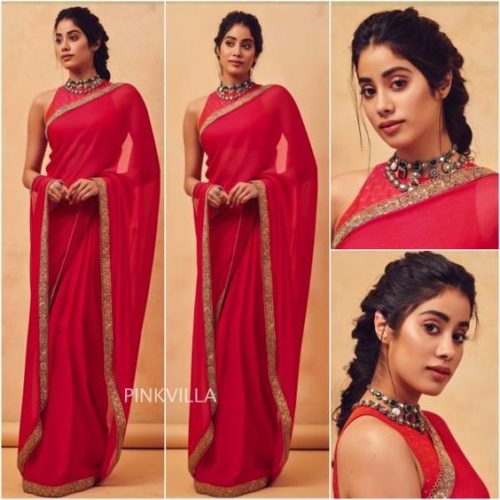 For the young girls who want to wear saree on this occasion and not to look old also.  Sarees are never out of fashion and a girl looks her best in these nine yards.
This red simple yet beautiful saree clubbed with amazing contrast jewellery will give you the perfect celebrity look. For the hairstyle, you can either keep them open and take their own style or you can have the braided ponytail just as Jhanvi.
One colour saree with a sleeveless blouse and contrast neckpiece.
9. Kareena Kapoor-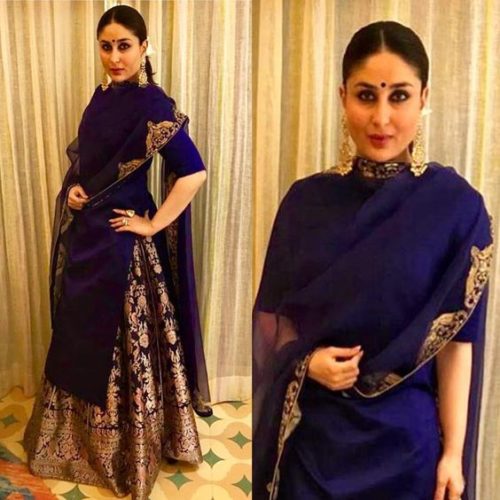 The queen of Bollywood, she always amazes us with her looks. Be it her zero figure look or the to be mom look, she carries everything with style and grace. A blue plain kurta with the Banarasi skirt styled with the tight bun and the earrings.
Banarasi print has been in fashion from few months. From Banarasi lehenga to saree and now the skirt the fashion has come a long way.
Style this with big earrings and a tight bun to give the same look like Kareena.
A Banarasi skirt with a plain kurta.
10. Tapsee Pannu-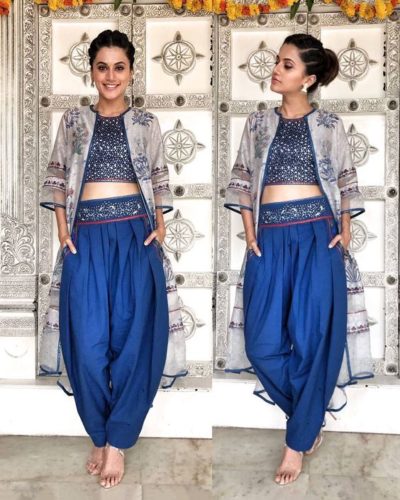 Something totally different and out of the blue always makes a fashion statement.  If you do not wish to wear a traditional outfit, and also want to look decent and girly.
Here's the perfect outfit for you. Dhoti pants with a crop top and a jacket to add to the little traditional touch. Tapsee has worn the same colour dhoti and crop with the jacket of tissue material.
You can even do something different here, by having different colour dhoti and crop top. Wearing a jacket or not is totally your call.
Dhoti pants with a matching crop top and the jacket.
11. Sonam Kapoor-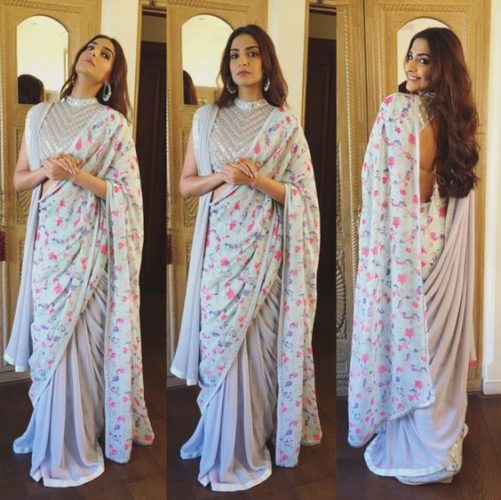 An actress with her own fashion style. She is one of the most fashionable actresses in Bollywood. The way she carries herself is just fascinating. Her this look of a floral saree is something different and unique to be carried on this Rakhi.
For a real fashion freak and different look, carry the pastel shade floral saree. You can accessorize them as you wish, and the blouse can also be made accordingly. As everything goes with this type of floral saree. 
A floral saree with a sexy blouse and the big earrings, the way Sonam likes it. Simple yet Elegant. 
So, girls, these are some of the looks we shortlisted for this rakhi season and trending beauty product used by celebrity. Of course, you can mix and match them according to your style and choice.
Hope you enjoyed this blog 'latest trend in ethnic wear 2019′
These are just the guidelines to help you decide what to wear this rakhi. Which one you like the best and would love to carry? Do comment in the chat.
Image source- Pinterest.com
Recommended Articles For You: