This post contains
AFFILIATE LINK
to products. We may receive a commission for purchases made through these links.
Giving your hair a new look, is something which every girl want. Who doesn't like to style their hair in a hairstyle? But what if you have short hair. Well, do not worry we have brought to you some easy bun hairstyles for short hair. We agree that having hairstyle for long hair is different, but styling your short hair is no different.
Check out the blog to see how you can style your short hair in easy bun- 
Stylish Bun Hairstyles For Short Hair
1. Boho Double Knot Hairstyle-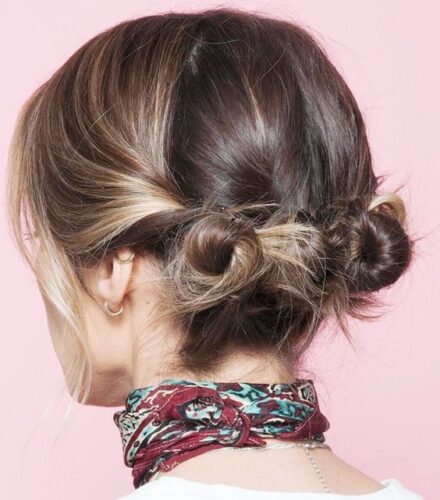 How cute this Boho double knot hairstyle looks? Giving a perfect chic look, this bun is great for summer and beach vacation.
For this look, part your hair in four sections.
Two in front and two in back.
Twist the back section and tie them into low bun.
Now the two untouched sections in the front are left.
Bring one section at the back bun so that it drapes over your ear, Coil the hair at the back and secure it with bobby pin.
Do the same for the other section.
2. Center Parted Low Bun-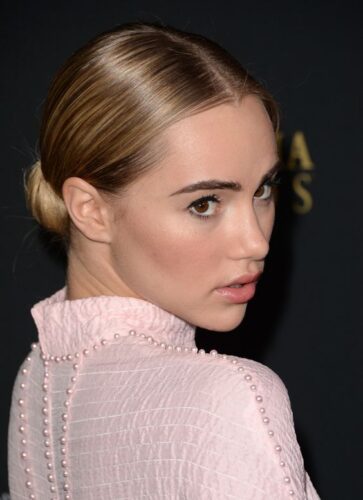 This is another classic and favorite hairstyle of many actress. If you see, the hairstyle more look like the ballerina.
For this hairstyle, part down your hair till the back.
By using hairspray and hair smoothening, tie your hair into a ponytail.
Twist your ponytail hair into a bun and secure it with a bobby pin.
3. Curly Bun Hairstyle-
Curly hair looks perfect for any occasion, now just imagine having a curly hair bun. Curly hair bun looks amazingly stylish and sexy on any women.
Gather all your tresses together.
Take the tresses back and tie them in a bun.
Secure the bun with the bobby pin.
Let some hair in front to be loose, it will add on to the look.
4. Low Bun with Bouffant-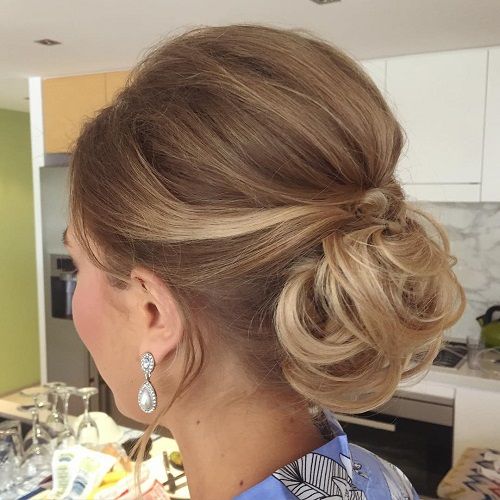 This low bun with bouffant looks hot and one of the easy bun hairstyles for short hair. The best thing about this bun is how elegant it looks. The hairstyle just takes few minutes to complete, but it looks so chic and beautiful.
Part your hair into two from one ear to another.
Clip the front section and tie the back left hair into a bun.
Take the back of your hair and tie them into a ponytail
With the help of this ponytail, tie them into a messy bun.
Now take some hair from the front section and tie them up at the back with the help of bobby pin.
Take rest of your hair and secure them with bobby pin at the top.
5. High Sleek Bun-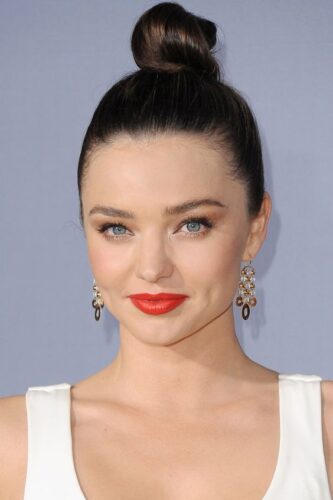 You must have seen many actresses in this hairstyle in award functions mostly. This High sleek bun looks sophisticated and gives a classy look. Very easy to make, this bun is perfect for any high end occasion.
Gather all your tresses together and tie them high in a ponytail.
Now start twisting your ponytail from the root. Keep doing it, until full length of ponytail is covered.
Roll that twisted ponytail in a high end bun.
Secure the bun with bobby pins.
You can use smoothening serum for this finished look.
6. Messy Side Bun-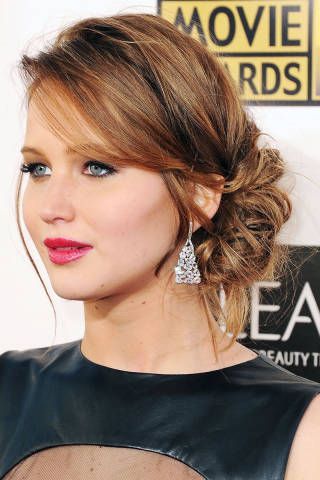 This messy side bun looks perfect for your bridesmaid role. To enhance this messy side bun more, you can adorn it with a headband.
Part your hair on your fav. Side.
Use a curler to curl the hair in front of you.
Divide your hair in three sections. Gather strands from everywhere and tie them into a bun.
The bun made has to be loose.
Hair in the front you can style them up or tie them with a bobby pin.
7. Low Rolled Bun-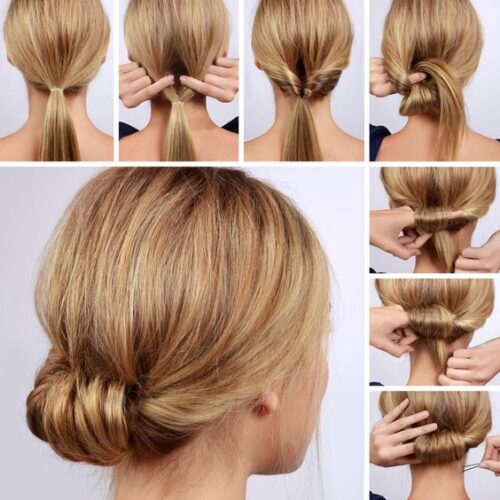 Elegance does not only come from the way you dress; your hairstyle also plays a very important role in it. This low rolled bun is super easy to make and looks amazing with any dress and is also perfect for any occasion.
8. Retro Twisted Bun-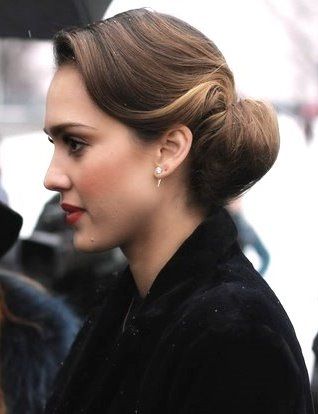 Retro hair bun is sophisticated and modern. It strikes a perfect balance between the retro and classy look. This hairstyle is perfect for everyone, even if you have short hair. You can style your hair in this retro style bun irrespective of your hair type and texture.
Part your hair on one side. Use a medium barrel curler for curling your hair.
Start by curling larger part. Now start making the bun, braid a loose rope braid. Add more hair as you proceed forward.
Make a small bun at the nape and tuck your braid with it.
Secure your bun with the help of bobby pins.
9. Side Braided Bun-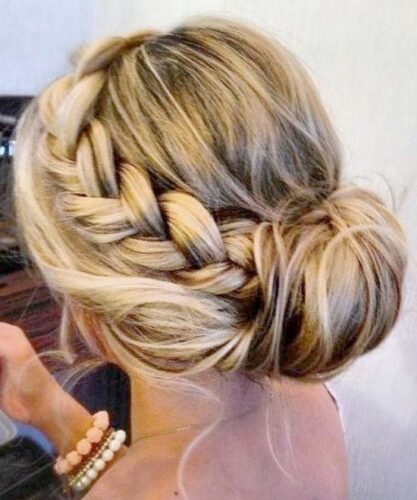 Braided bun are very easy to make and also looks very classy. You do not need to use any heating tool for this hairstyle.
Part your hair sideways.
Take a section of hair and start braiding it. Take more hair as you move forward. Make sure your braid rest at your nape.
Now you can also braid the rest of your hair. Tie your braided hair in an elastic band.
Roll them into bun and secure any loose ends with bobby pin.
10. Sock Bun Hairstyle-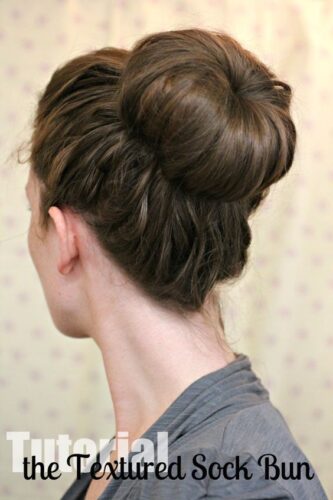 Sock bun is perfect for those girls, who have very thin hair. This bun gives off the illusion that you have more hair than you actually do. Also, the bun looks extremely sophisticated.
Brush your hair properly and tie them into a ponytail.
Secure the ponytail with a elastic.
With the help of hair donut accessory, you can get a perfect finish.
11. Messy Bun with Bangs-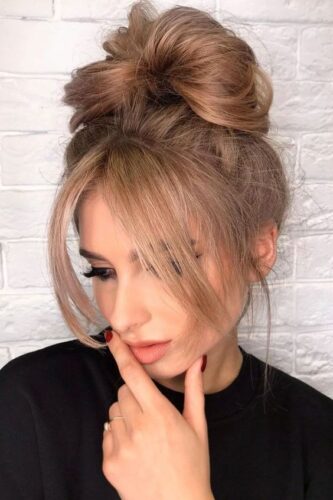 This bun hairstyle looks perfect with boyfriend shirt and denim shorts. Just imagine the look with this messy bun, you will see how cool it looks.
For this bun-
Start by spraying volumizing spray on your hair.
Gather all your hair together at the head of the crown.
After all the hair is up, tie them loosely around the base.
As you made the bun, secure the bun with a hair tie.
This bun is special, as it can be made very effortlessly and the all the loose hair becomes the style.
12. Volumized Short Hair Bun-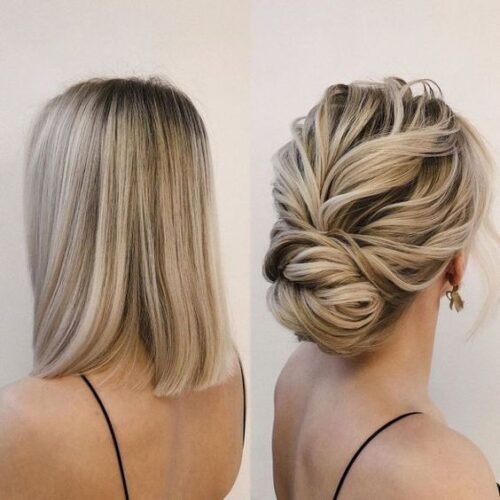 With the name we can understand that the bun will let others know that we have a large volume of hair. Having the under layer of hair or losing one or two hair loose helps to create the illusion that you have more hair. This bun style is perfect for any brunch date. If you like to wear bun, but do not know which style will look good on you, then always go for this bun.
13. Formal short hair bun-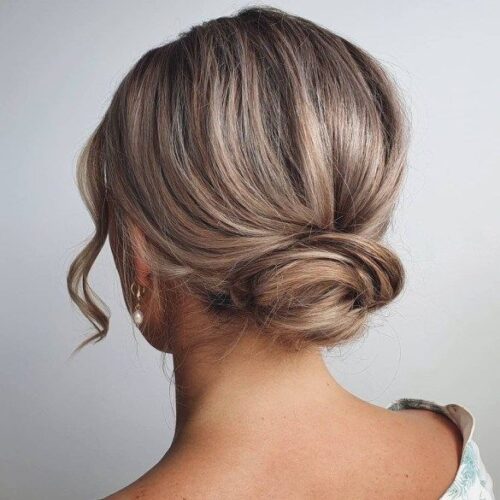 The thing about Formal Short Hair bun is that you can try this hairstyle only if you have hair till shoulder. This formal and classic Bun you can pull off not just in gym but also for any function.
So, above are some of the easy bun hairstyles for short hair. Just because you have short hair, does not mean you cannot have a hairstyle. From sleek bun to messy bun to retro bun, you can tie your hair in any style you want. Choose any of the above hair bun you like, and practice it.
Which hair bun would you like to style your hair with?
Recommended Articles For You: