This post contains
AFFILIATE LINK
to products. We may receive a commission for purchases made through these links.
We all love long hair and the hairstyles we can do on that hair. But just growing hair is not enough, if they are not healthy. Yes, having long and healthy hair accounts for those beautiful hairstyles which you have been seeing. Just like we need vitamins, proteins, and minerals to grow ourselves and keep our body healthy. Similarly, our hair also needs enough nutrients for it to grow.  But only nutrients are not enough for hair growth, So, this blog on How to grow hair faster in one month will share some tips with you in order to grow long and healthy hair.
Check out the blog-
Natural Tips To Promote Your Hair Growth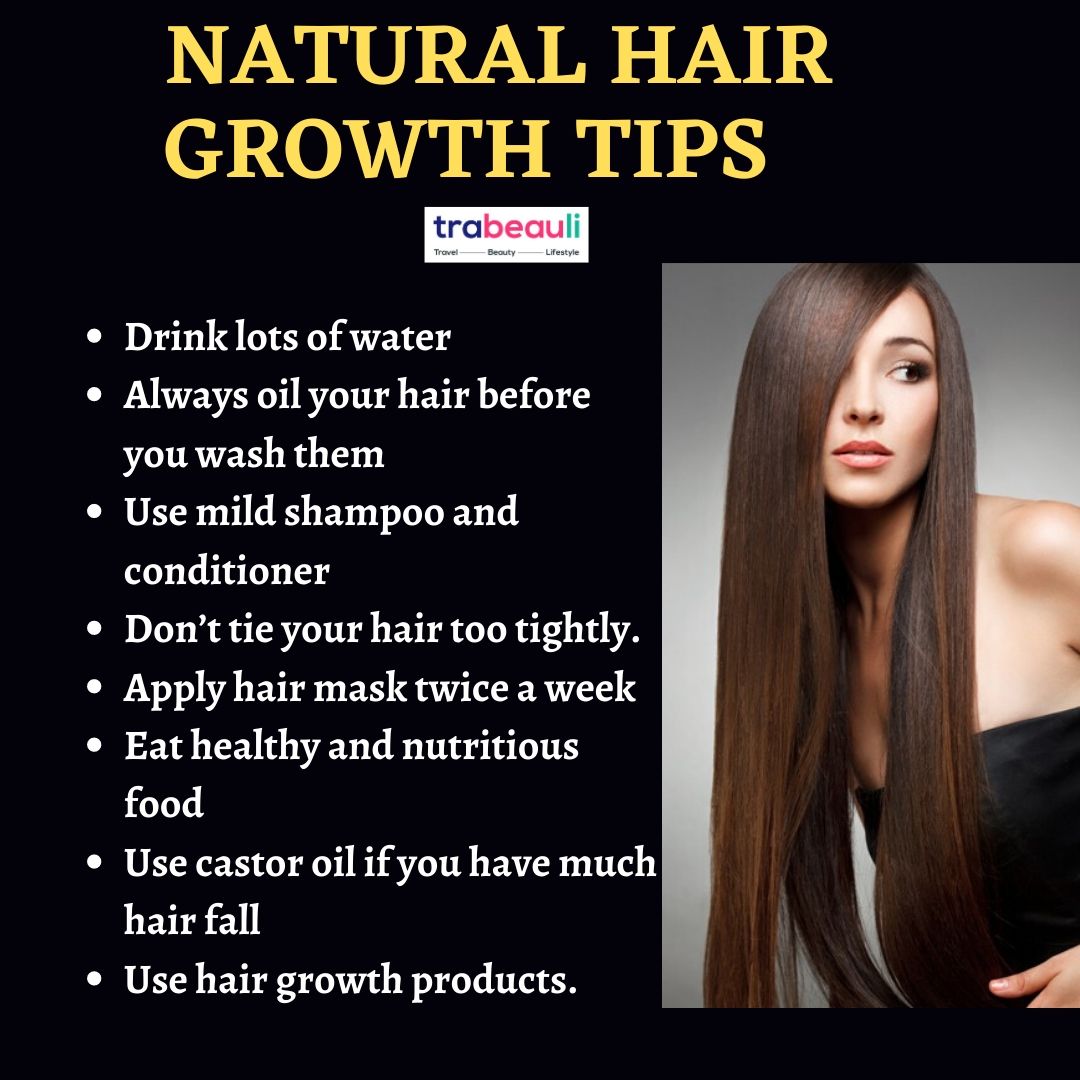 To maintain the proper growth of hair, you need to take care of some basic home remedies. Such as-
Drink lots of water

Always oil your hair before you wash them

Use mild shampoo and conditioner

Use silk cushion cover while sleeping, in order to avoid hair breakage.

Don't tie your hair too tightly.

Do not use heating iron frequently

Apply hair mask twice a week

Do not use a towel, to dry your hair, instead use a cotton t-shirt

Eat healthy and nutritious food

Use castor oil if you have much hair fall

Use hair growth products.
DIY Homemade Hair Mask for Hair Growth
Hair masks are the best way to increase your hair healthily. Hair masks can be easily made at the home and are purely organic. Some of the best DIY hair masks for healthy hair growth are-
1. Vitamin E for Hair Growth-
Vitamin E is also considered as Hair vitamin. It provides nourishment to the hair and helps in hair growth.
DIY Vitamin E Hair Mask:
Take 2 vitamin E capsule

1 tbsp. of Almond oil

1 tbsp. of Coconut oil

½ tbsp. of Argan oil

Mix them all in a bowl

Apply the oil on your hair with the help of cotton

Leave it overnight

Rinse it off in the morning
See more-  Amazing benefits of vitamin E for Hair
2. Egg Masks for Hair Growth-
An egg is very beneficial for hair growth. It helps to tame the frizziness of the hair and provides nourishment to it.
DIY  Egg Hair Mask:
Take one egg

1 cup of milk

2 tbsp. of lemon juice

2 tbsp. of olive oil

Mix the egg's white part with milk, lemon juice, and oil

Apply the mixture on hair

Leave it for 40 minutes

Wash it off with cold water
3. Banana Hair Mask for Hair Growth-
If you have frizzy, dry hair this mask is for you. Banana hair mask helps to soothe, and moisturize the hair. It also helps to control the hair fall.
DIY Banana Hair Mask:
Take a banana and blend it in the grinder

Make sure there are no lumps in it

Add 1 tbsp. of olive oil and coconut oil in it

Apply the paste on hair

Leave it for 30 minutes

Wash it off with lukewarm water
4. Green Tea for Hair Growth-
Green tea is good for both hair and health. It makes us slim and toned and our hair shiny and smooth.
DIY  Green Tea Hair Mask:
Take one egg yolk 

2 tbsp. of green tea

Mix them properly to get a consistent paste

Apply the mixture on your hair

Leave it for 30 minutes

Wash it off with cold water
5. Hair Growth with Rice Water
Since ancient times rice water has proven its worth, that how effective it is for hair growth.  Women in Huangluo Yao Village of China used to have very long hair and they used to wash it with rice water. 
Rice water is rich in minerals and vitamins, it helps to protect the hair from damage and also promotes hair growth.
How to use Rice Water:- 
Take a bowl of Rice and wash away any impurities from it.

Now soak the rice in water for 30-45 minutes.

Now rub the rice in water, so that all the starch comes out

Extract the water in a different bowl by straining the rice.

Store the liquid in a jar and keep it out for 24-48 hours for it to ferment.

When you wash your hair, shampoo, and conditioner the hair.

Then rinse it with this rice water (dilute it with fresh water, before using)

Massage with it for one minute

Wash it off with fresh water.
See more- 2 Simple DIY rice water for long hair
Home Remedies for Curly Hair Growth
It is a little difficult and tricky when it comes to Curly hair. Curly hair products are very different from normal hair products. Some of the home remedies for curly hair growth products are as follows-
Never comb your hair, it makes them more frizzy.

Always use a cotton t-shirt to dry your hair

Untangle your hair, when you apply conditioner.
Hot Oil Treatment:-
The reason curly hair is so frizzy and dry because they lack nutrition.  By massaging your scalp, with hot oil, you give the scalp and hair both nourishment. 
Use 1 tbsp. of almond oil, coconut oil, and olive oil

Mix them in a bowl and warm it

With the help of cotton, apply the oil on your scalp

Leave it overnight, wash it away in the morning.
Fenugreek Hair Mask
Use a

hair mask

at least twice a week. For Curly hair, you can use the Fenugreek Hair mask.
Hair Mask:
Take 2-3 tbsp. of Fenugreek seeds

Soak them in water overnight

Grind them n the mixture, to make a fine paste of it

Add 2tbsp. of curd and 2 tsp. of olive oil

Mix them properly and apply it on your hair

Leave it for 30 minutes.

Rinse it with a mild shampoo.
Best Hair Growth Products
Apart from using a hair mask and all the above home remedies to make sure your hair grows, it is also important to use good hair growth products. Yes, using good quality hair products will help you to give nourished, soft, and shiny hair. Some of the hair growth products are-
Hair Oil- Hair oil helps to nourish the hair, they avoid drying the scalp and stimulates hair growth. If you are thinking, which oil is best for fast hair growth. Check this out
Shampoo-

A good shampoo helps to cleanse the hair and scalp properly. It removes all the dirt from the scalp and makes it healthy. There are many hair growth shampoos, which are beneficial for hair.

Conditioner-

Conditioner is a very important hair product. It forms a barrier on the hair and locks down the moisture. It helps to make the hair soft, smooth, and shiny.

Hair Serum-

Serum makes the hair soft and manageable. It helps in removing the hair frizziness and dryness.

Hair Growth Supplement-

There are many hair growth supplements available in the market. They help to fulfill the deficiency of any nutrients in the body and make the hair growth possible.

Shampoo Brush-

The one thing, many people don't think about. But having a good shampoo brush is very important. As it keeps your scalp clean and clear and also stimulates blood circulation in the scalp.

Best Hair Vitamins-

Hair growth requires a different kind of vitamins, and it is not possible to consume all kinds of vitamins just through diet. Therefore, taking some of the hair vitamins are good for hair.
Hair Oil for Faster Hair Growth
Applying oil on the scalp is very necessary, it helps to nourish them and keep them healthy. Oil does not dry out the scalp, prevent hair loss and hair breakage. It provides hair the nutrients it needs for proper hair growth.
Some of the oils, which help in proper hair growth are-
1. Castor oil-
Castor oil is one of the best oil for reducing hair loss, and improve the scalp circulation. It helps to remove any scalp infections and also ease on dandruff. Massaging your hair and scalp with castor oil helps to clear the pores and regulate blood circulation.
2. Olive oil-
Name a property you want for hair growth and olive oil will have it all. Olive oil is used in cooking, in massaging, and also in keeping your hair soft, silky, and shiny. Olive oil is best for dry hair, as it moisturizes them.
3. Coconut oil-
Coconut oil is like the universal oil and always tops the chart. It is a soothing, moisturizing oil that helps to grow the hair and also maintain its thickness. With its anti-fungal and anti-bacterial properties, it helps to keep the scalp healthy and free from infections.
4.  Argan oil-
Argan oil or Liquid gold is full of fatty acids, it helps to lubricate the hair shaft and also maintain the hair moisture. It improves scalp health and prevents it from any damage. 
Mix a few drops of argan oil in coconut oil and apply it on your hair.
See more- 15 Best hair oils for healthy hair
Exercises for Faster Hair Growth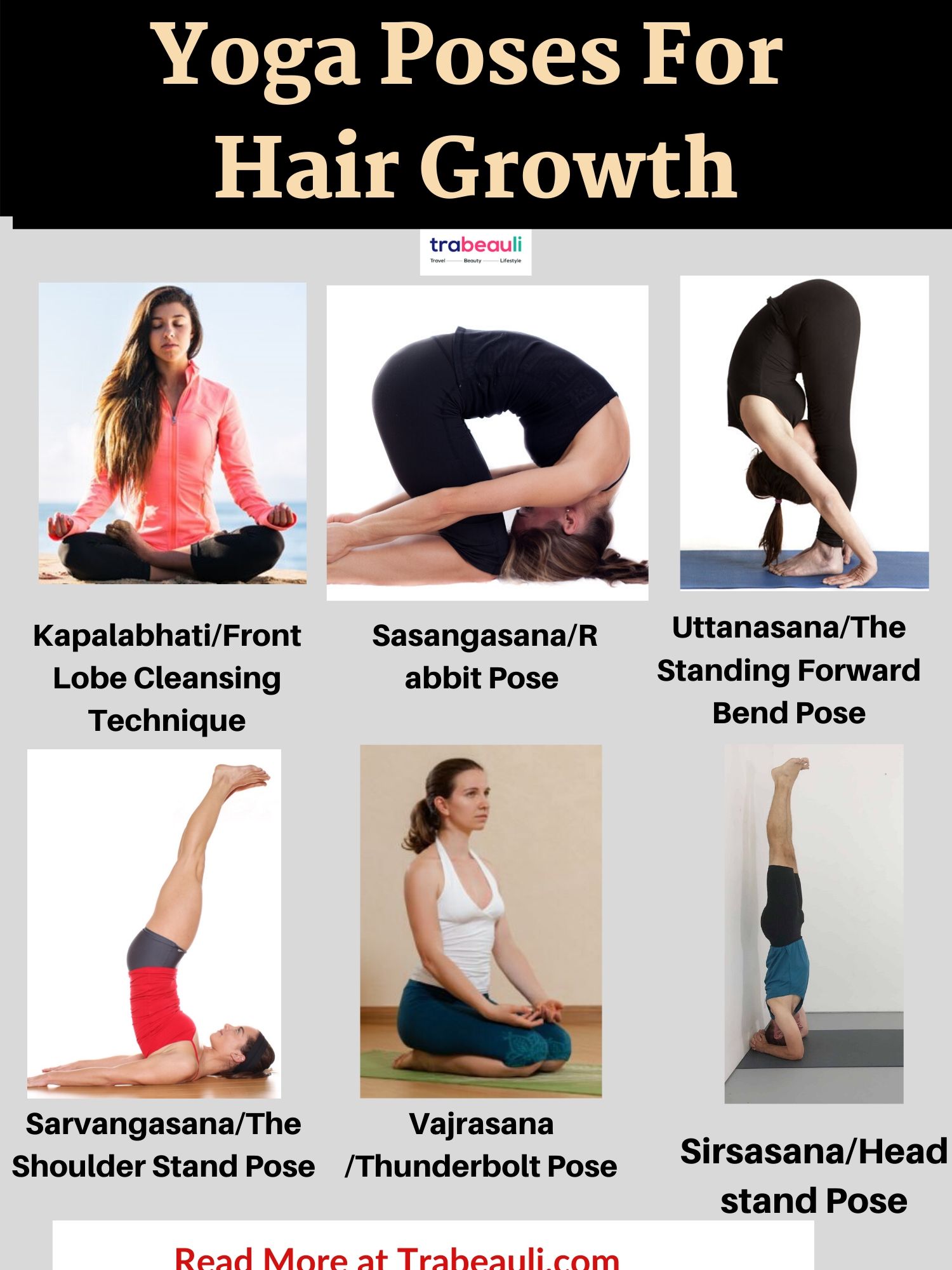 Exercises like yoga and meditation help to improve blood circulation and keeps us away from stress and anxiety. Some of the yoga poses, for faster hair growth are–
Headstand Pose-

This is one of the best poses for faster hair growth. It helps to increase the blood circulation in the scalp and makes it healthy. This asana also helps to calm your mind and relieve you of any stress.
Yoga pose:
Invert your whole body and stand on your head.

Perform this pose, under strict supervision.

Make sure you have not eaten anything before this.
Camel Pose-

Camel pose helps to open the heart chakra, it increases your digestion process and helps you to get relieved of any stress, hence increasing the hair growth.
Yoga pose:
Sit on your knees, with your spine straight.

Now slowly try to bend backward with your hand touching the feet.

Make sure you are looking backward with your head.
The Standing Forward Bend Pose-

The standing forward pose helps to rejuvenate the body and keep your spine strong and flexible.
Yoga pose:
Stand straight, with your feet shoulder-width apart.

Slowly bend towards your feet, without bending your knee

Try to touch your head with the knee and your hands around the knee.

Maintain the balance and stand in this position for a while.
Downward Dog Facing Pose-

This pose is very beneficial, as it helps in the stretching of the whole body. This yoga pose also helps to improve blood circulation and reduces the hair fall.
Yoga pose:
Stand straight, with your feets shoulder-width apart.

Now bend downwards, making a triangle structure with your arms and feet on the ground.

Try to touch your head on the ground.

This helps in increasing the blood circulation in the head.
Healthy Foods To Promote Your Hair Growth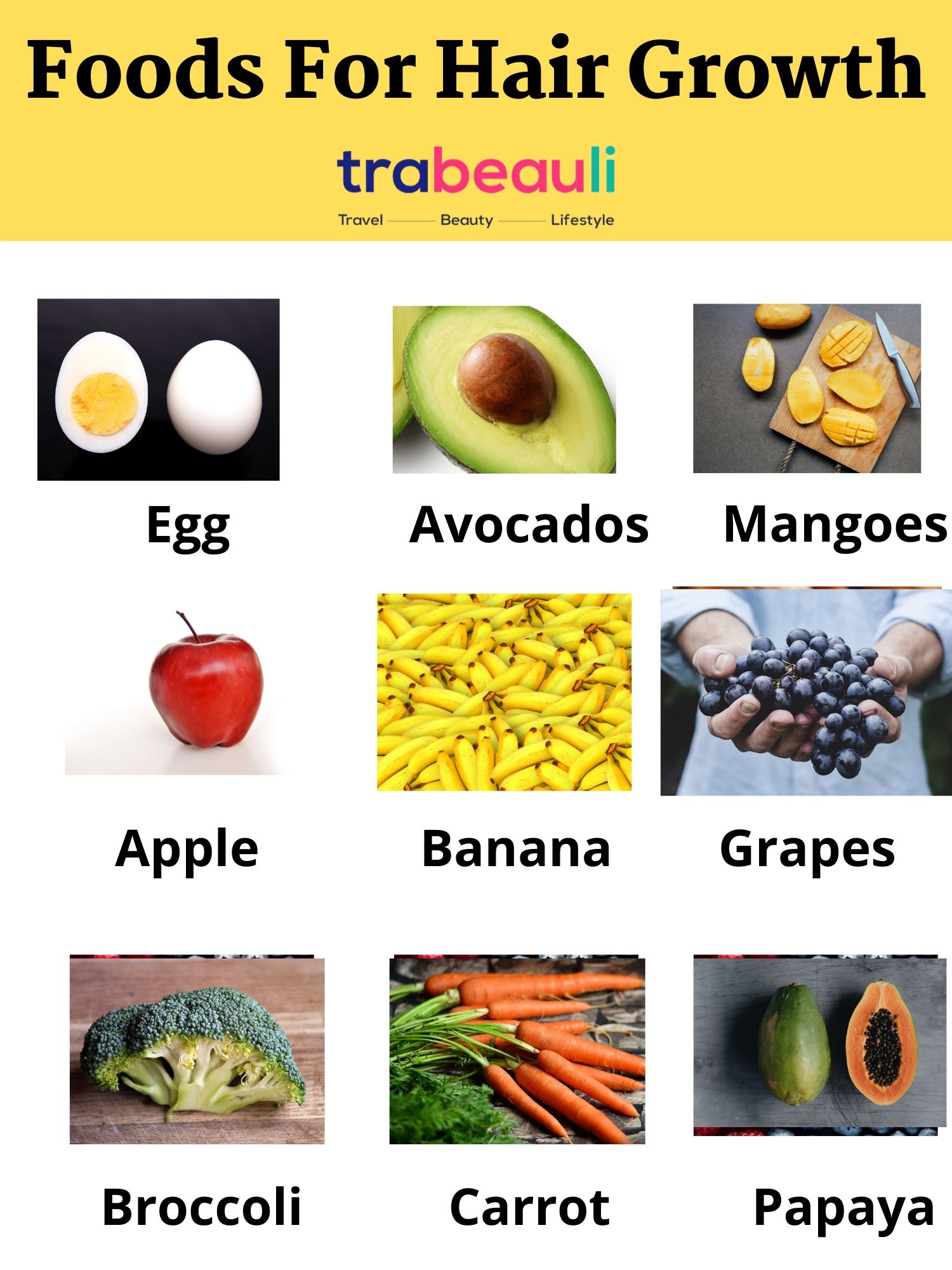 Diet plays an important role in the health of our hair and skin. No matter, how much exercise and homemade masks we apply, but if we do not eat healthy food, all the hard work goes in vain. So, some of the fruits which one should eat for hair growth are-
Apples-

Apples contain procyanidin B-2, which helps in the proper growth of hair follicles and also removes any kind of scalp infection. Apples increase hair density and protein quantity in the hair.

Banana-

Banana, helps to stimulate hair growth. They remove the frizziness from the hair and makes hair shiny. Bananas contain potassium, vitamins, carbohydrates, and natural oil which protects the hair elasticity and prevents split ends and hair breakage.

Grapes-

Grapes are rich in antioxidant properties, which protect the hair from free radicals. They also contain procyanidins, which helps in hair growth and also promote hair regeneration.

Peaches-

Peaches are rich in antioxidants, antimicrobial, and anti-inflammatory properties. They help to promote the scalp and hair health and increases hair growth.

Guava-

Guava is rich in antifungal properties, it helps to remove dandruff and also any other scalp infections.

Coconuts-

As coconut oil is good for hair, so is coconuts. They contain lauric acid, that promotes hair growth and also nourishes the hair.

Mangoes-

Mangoes- the king of fruits, is rich in vitamin C and vitamin A. It stimulates the hair growth and the production of sebum, which keeps the hair moisturized and healthy. It also makes the hair soft and shiny.
So, these are some of the ways in which you can grow your hair in just a month. Make sure, you use all the good hair products and keep your scalp and hair clean, this helps in increasing hair growth.
FAQ
How much hair growth in a month?
Hair growth depends on your hair quality and also your hair products. But, it will be difficult to say how much hair can grow in a month. But if you follow, all the above methods, it is possible for you to grow 1 cm hair in a month.
Will estrogen help hair growth?
The estrogen hormone is responsible for hair growth. High estrogen level leads to long and thick hair and low estrogen level leads to hair loss.