Skin and Hair Care Tips, Guide for Monsoon
Come monsoon and most of us feel that subtle romance in our heart! Monsoon is that one time of the year when going out is something that we dread of, rather we prefer staying locked indoors while we have fun with our friends and family over endless cups of coffee and crunchy fries. But the rain comes down with its set of woes. For instance, maintaining a healthy skin and hair during the monsoon season is really tedious and it requires quite an effort. However, it does not mean you need to spend long hours in front of the mirror with those scrubs, and pastes, and what not. Instead, you need to be a little careful and plan a little ahead of time.
Let us have a look at some of the quick and easy tips that will take care of your skin and hair care tips as it pours outside.
Skin Care tips for Rainy Season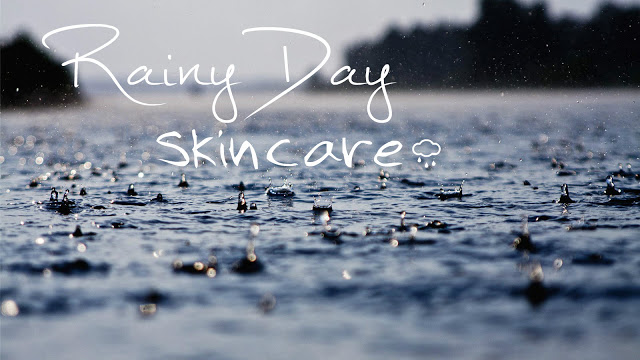 Beauty experts are of the opinion that you should keep your face moist by using soap-free cleansers and scrubbers. You can try herbal products. A routine clean-up of your skin helps in the unclogging of the skin's pores and removal of dead skin at the same time.

Always keep in mind that you should not allow your skin to go dry during the monsoon, in order to prevent drying of the healthy skin, use an alcohol-free toner.

Just because the humidity is high in the air do not forget to moisturize your skin. But keep in mind to use a good quality moisturizer as per the skin type.

Just because you cannot see the sun does not mean you do not require a sunscreen. In fact, sunscreens are mandatory when the skin is exposed to the rains.

You need to opt for routine manicure and pedicure so that you can keep your hands and feet adequately clean.

The skin must be kept during the monsoon season and the best way to do so is through waxing. As it rains outside you can try fruit as well as chocolate waxes, as they do not cause any side-effects even on a sensitive skin.
Dos and Don'ts During Rainy Season
It is never a good idea to keep your skin wet for long because that can cause fungal infection and pimples.
While the rain comes down heavily on Mother Earth pay attention to your clothing. Try to avoid synthetic clothes instead wear the cotton outfit because that will give your skin the scope to breathe.
Taking bath in cold water during the monsoon is not recommended rather you should soak yourself in lukewarm water.
Avoid rubbing your face harshly with a towel; rather gently dab the towel on the face.
Monsoon Skin Care Products
Moisturizer: – One should use the type of moisturizer, which contains Calamine and is Oil-free, As it should be light and should get absorbed soon. You can have Neutrogena- Oil-free Moisturizer or Lakme.
P.S.: – Do check if they suit your skin.
Toner: – One of the most essential product for every girl. It helps to remove the dirt and clean the pore, which is must in Monsoon. You can use Alcohol-free toner to prevent Dryness of the skin.
P.S.: – Do consult the doctor, if it gives you irritation.
Sunscreen: – it is not necessary, to use sunscreen only in summer. It should be used once a day.
P.S.: – Chose a Sunscreen with SPF 30.
Face Wash: – Keep your skin clean; by using Face wash to avoid dryness of the skin. Try using the Face wash, which suits all types of Skin.
P.S.: – It should be oil-free.
See More Top 6 essential skin care products
Hair Care in Rainy Season
There is no one who does not love her tresses, whether you wear it short or you wear it long, you would like to have a bouncy and lustrous hair. However, as comes in the monsoon your hair starts looking limp and frizzy and you feel disappointed but you can keep these bad hair days at bay even during the monsoon. Learn how!
It is not a good idea to wash your hair too often because that takes away the natural oils from the hair making it dry and limp. Two to three times a week is a perfect balance.

After you have shampooed your hair do not forget to condition your hair. This is because deep conditioning nourishes the tresses thoroughly thus preventing the frizzy look.

As far as drying your hair concerned stay away from heat, rather use finger drying, or blow dry the hair on the low or medium heat on damp hair so that hair looks smoother.

Your hair becomes a little brittle during the rainy season no so you need to be a little gentle on them. Hence, do not rub the towel harshly on your hair neither use your hairbrush very vigorous. Go slow and soft to get better results.
See more – Beauty tips for hair growth
Monsoon Hair Care Products
Know how to take care of frizzy hair in monsoon.
Best Shampoo for rainy season: – Use shampoo twice a week, to avoid any dirt accumulation in your hair. The hair gets frizzy during this time of the season, so one should use the Shampoo, which prevents damage, and avoids fizziness.
Try using L'Oreal shampoo, Garnier Ultra blend is some good shampoos.
P.S.: – Use shampoo from root to tip and do read instructions before using any shampoo.
Oil Massage: – In this busy schedule, people forget the benefits of Oil Massage.  It is a must for moisturizing your hair and avoiding dryness.
Use Almond hair oil, it is light and nonsticky.
Conditioner: – Always use conditioner, after shampoo. It protects your hair from dryness. Avoid using too much Conditioner and never apply it on the scalp.
L'Oreal hair mask is proven to be very effective.
To conclude, it can be said that monsoon is the season when the immune system of the body becomes weak and the water-borne and the vector-borne diseases easily attack the body. Hence, the best thing is to prevent before it occurs and leave you with a bad health, skin, and hair. A must do a thing during the monsoons is to drink plenty of water and keep yourself hydrated. It helps your skin glow and stay healthy. When you are eating always remember to wash your vegetables very well and steam them before consumption. At the same time, try to include food items like ginger and garlic in your diet that enhance the immune system of the body.