This post contains
AFFILIATE LINK
to products. We may receive a commission for purchases made through these links.
It is truly said, that people often notice the feet of people. Yes, your feet make a perfect impression of your personality, therefore, it is very necessary to keep them soft and smooth. Your feet have fewer oil glands, this is the reason you need to keep them moisturized. The daily wear and tear lead to dead skin cells. Dead skin causes the Feet to look bad and embarrass us. We have brought to you 7 Home Remedies to remove dead skin from feet.
Home remedies help to remove dead skin cells from feet and make feet softer and smoother. It is necessary to take care of your feet, to avoid the build-up of dead skin cells.
So, now is the time to say Bye-Bye to your dead, dry and damaged feet. Check out the blog to welcome your super soft feet.
Symptoms and Signs of Corn
Some of the signs and symptoms of corn are as follows-
Dry, flaky and thick areas of skin.
Foot Pain while walking or doing any physical activity.
Rounded hard-shaped structure on foot skin.
With the help of these symptoms, you can know about the hard skin on the Feet.
What Causes Dry, Cracked Feet and Heels?
Lack of Moisture- Your feet do not have oil glands, therefore lack of moisture is a common problem. You may see your feet as hard, dry and cracked.
Ageing– Just like our facial skin loses its elasticity with ageing, or feet skin also becomes thin and loses its ability to retain water. Therefore, old age people experience dry and hard skin more frequently.
Irritation- Wearing ill-fitting shoes for long hours or standing for long hours, both of these can cause irritation as there is constant pressure on our feet.
Heat and Humidity- If you wear closed shoes like sneakers and boots a lot, then your feet do not get proper air creating a humid environment around the feet. This heat and humidity draw out the moisture from your skin making it hard.
Excessive use of Soaps- Soaps takes away the natural moisture from our skin as they are hard and contains irritants.
7 Home Remedies to Treat Dry and Dead Skin from your Feet
1. Exfoliate your Feet-
Exfoliation is very important to remove dead skin cells.
Physical Exfoliators-
Chemical Exfoliators include Foot peels, Lotion or Thin liquid. These exfoliators include alpha-hydroxy acid, which is responsible to dissolve the dead skin cells.
2. Moisturize your Feet-
Since your feet have fewer oil glands, it is very necessary to moisturize your feet. The regular moisturization helps to reduce dry and dead skin cells. After you have exfoliated your feet properly, do not forget to moisturize them. You can take the help of a Pumice stone to seal the skin's moisture.
Before you chose a moisturizing product for your feet, check out for these ingredients-
Humectants- these include such as aloe vera, urea and hyaluronic acid.
Emollients- such as plant-based butters and oils.
Occlusives- like coconut oil, petrolatum and lanolin.
3. Use a Pumice Stone-
What better than using a Pumice stone to remove dead skin from feet. A pumice stone or metal foot flies help to remove hard and dry skin. This stone is a natural lava stone, which is perfect to remove dead skin and calluses from feet.
How to use Pumice stone:
Soak your feet in warm water.
Warm water will soften the dead skin cells.
With the help of wet pumice stone rub the feet with dead skin.
Rub it gently in a circular motion.
Rinse off the dead skin cells from feet.
Dry your feet and then moisturize them with cream and lotion.
4. Soak your Feet in Warm Water-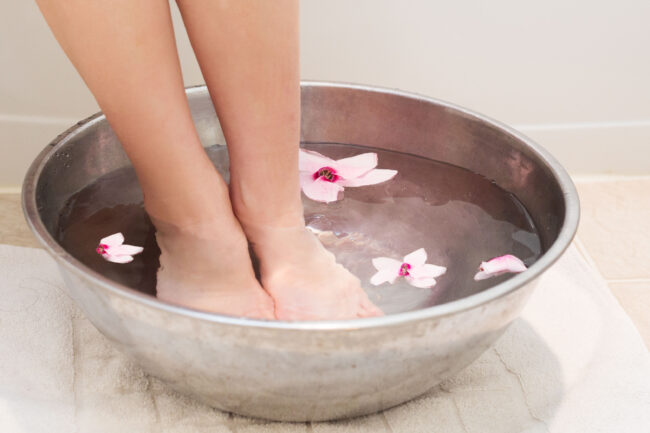 Soaking your feet in warm water will give you a pedicure experience. Warm water helps to soothe and loosen hard and callused skin. It also helps to improve the blood circulation and keep your feet away from getting dry soon.
Along with warm water you can add following ingredients in it, to double the result-
Lemon Juice: The citric acid filled in Lemons helps to break down the dead skin cells from foot. Lemon helps to soothe and smoothen the skin, but avoid it if you have any injury, cracks or open wounds.
Mix two parts of lemon juice with one-part sugar. Gently rub the mixture on the dead skin cells of feet. Let it stay for 5-7 minutes. Rinse it off with warm water.
Oatmeal Scrub: Try this amazing scrub to remove the dead skin cell and improve the quality of feet.
Take Oatmeal and Rose water in equal parts. Apply this scrub on the dead skin of feet and rub it gently. Leave it for 20-30 minutes. Take a foot brush to exfoliate the feet. Rinse it off with cold water.
Epsom Salt: Epsom salt is nothing but a crystal form of a mineral compound called magnesium sulfate. It helps to remove the dead skin from feet and keep it clean, clear and soft.
Take a little Epsom salt and dissolve it in water. Soak your feet in it for 20 minutes. Exfoliate with the help of pumice stone. This will remove your dead skin and also boost skin hydration.
5. Use Paraffin Wax-
This home remedy is a little tricky. It is better to give your feet a treatment of Paraffin wax at the salon or take the help of a professional. Paraffin wax is a soft wax melted at a temperature of 51 degree Celsius. It helps to remove dead skin cells from feet and make them softer and smoother.
6. Use Aspirin-
Yes, Aspirin not only gives you relief from severe headaches, but it also helps to keep away the dead skin from your feet and make it softer.

How to use:
Crush 4-6 Aspirin pills into powder.
Add few drops of lemon juice and water to it to make a paste.
Apply the paste on your feet and leave it for 5-10 minutes.
Rinse off the feet with warm water.
7. Wear Socks-
Socks prevent your feet from getting dry and make sure that your feet are always hydrated and moisturized. But if your feet are very dry, then you should use good quality moisturizing gel-lined socks. These socks have natural oils in them and also ensure extra hydration.
If not then after applying a good amount of moisturising cream on your feet, wear socks for some time until the cream or lotion gets fully absorbed.
So, above are some of the ways to treat dead and dry skin of feet. Standing for long hours or wearing tight shoes can result in dry, hard and itchy feet. Therefore, it is very necessary to take proper care of your feet, to avoid extreme condition.
How do you take care of the dead skin from feet?
FAQ
1. Can Pedicure help to remove dead skin?
Yes, what facial is to face, a pedicure is to feet. Pedicures help to soften the dead skin and gently removing them, making feet soft and smooth.