Recently, I came across this WOW Apple Cider Vinegar  Shampoo. We all know how effective ACV is for our hair, skin, and health. It makes our hair shiny and reduces hair loss and dandruff too. Till now, we used to apply ACV by diluting it. Having a shampoo filled with ACV is like a dream come true. 
Many of our followers asked us to review this product. So, here it is-
WOW Apple Cider Vinegar Shampoo Reviews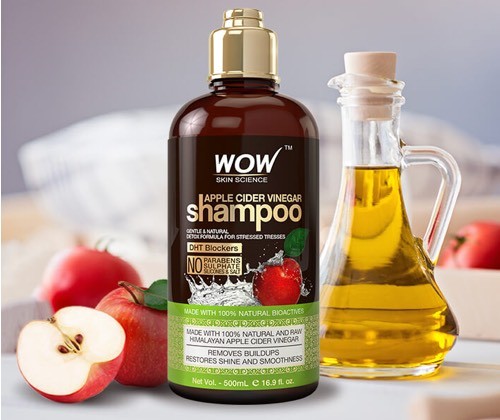 WOW, Apple Cider Vinegar Shampoo is free from paraben, sulfates and other harmful chemicals. Paraben and Sulfate are harmful chemicals that dry out the hair eventually, they damage it and make the hair frizzy.
Packaging-
The shampoo comes in a convenient bottle with a pump, which makes it travel friendly and also easy to use. It avoids any kind of wastage. The bottle is thick plastic, with dark brown color, the plastic makes it handy.
While traveling you can just twist the pump and lock it, which avoids any kind of leakage and is easy to carry along. The shampoo is golden yellow in color and is available in a clear gel formula. It is thin enough and gets easily absorbed.
Ingredient List-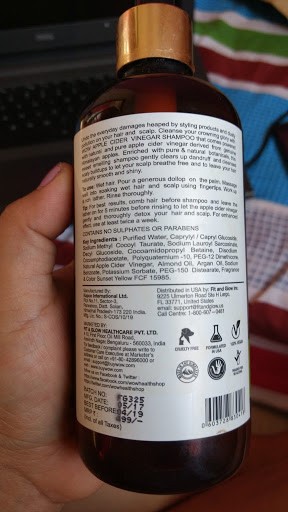 Purified water, sodium methyl, cocoyl taurate, decyl glucoside, pro-vitamin B5, natural apple cider vinegar, almond oil, argan oil, sodium benzoate, saw palmetto extract, nettle leaf extract, sodium lauroyl sarcosinate.
What the Product claims?
WOW Apple Cider Vinegar shampoo claims it is free from Paraben and Sulfates. It is also stated to be made of Ecocert certified ingredient. It claims it is made up of 100% natural Himalayan Apple Cider Vinegar. ACV is known for its detox property and is effective in removing dirt and product build-up.
The shampoo is also alcohol and cruelty-free.
Fragrance and Product Texture
The shampoo has a smell of fresh apples, which is mild and not extreme. If you are bothered about the smell, don't worry it vanishes off pretty soon after you wash it. The product is neither too thin nor too dry and it spreads easily on the wet hair.
It is golden yellow in color and comes with balanced texture.
Why use Apple Cider Vinegar Shampoo?
This shampoo makes sure the scalp is clean and clear. It sterilizes and cleanses your scalp. The Apple Cider Shampoo has the ability to treat parasites, lice and other issues by keeping your scalp clean and healthy. It absorbs build up particles from your hair and makes the hair healthy. WOW Apple Cider Vinegar shampoo removes all the dry ends of your hair and maintains the moisture level. It makes the hair soft and shiny and removes the dandruff issue as well.
It retains all the vital lipids which are needed to make your hair soft. Made with essential oils it nourishes every strand of hair and rejuvenates the weak, thin and damaged hair.
Is WOW Apple Cider Vinegar Good for Hair Fall?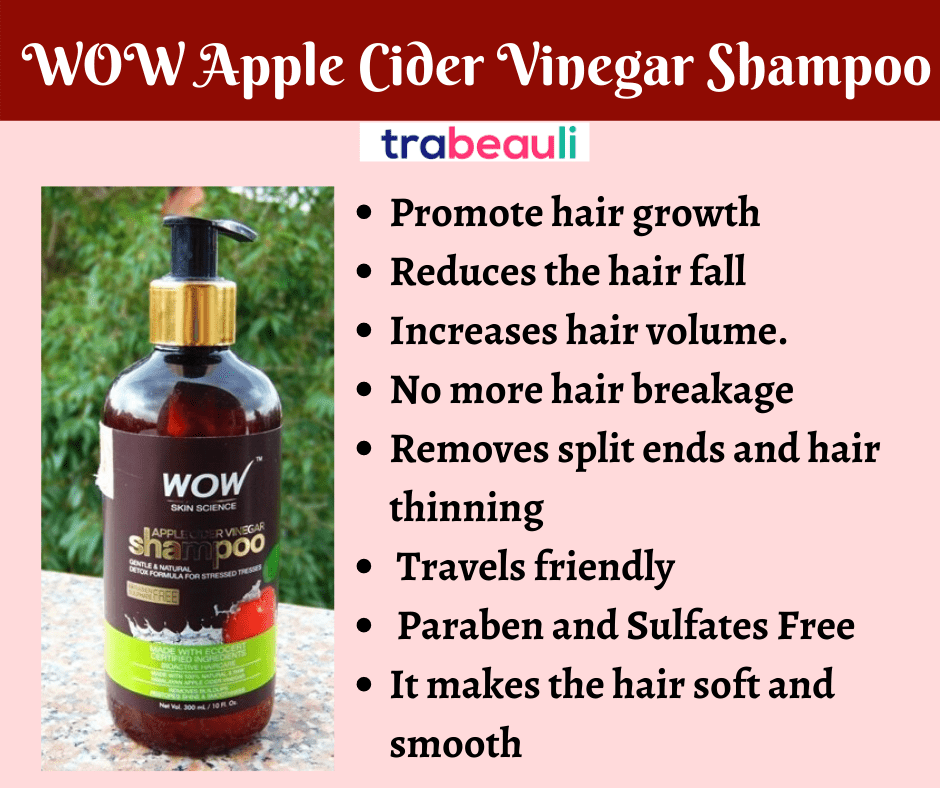 Yes, WOW Apple Cider Vinegar is a good choice for reducing hair fall. It helps to increase the blood circulation in the hair follicles and strengthens it. It promotes the growth of new hair and shampoo has been proven to prevent hair loss.
By using both shampoo and conditioner, you give your hair the benefit of strengthened roots. The shampoo provides enough nutrients to your hair follicles. It prevents hair loss, you see while brushing your hair.
Pros-
It removes all the build-up caused by dirt and filth.

It improves hair cleansing and also maximizes hair strength

Saw palmetto in it reduces the hair fall and increases hair volume.

No more hair breakage

Removes split ends and hair thinning

The packaging is excellent and travels friendly

The shampoo is free from Paraben and Sulfates

It makes the hair soft and smooth
Cons-
If you have a sensitive scalp, it can cause a burning sensation.
The WOW Apple Cider Vinegar Clarifying shampoo and conditioner set is hypoallergenic and a must buy.
Where to Buy-
You can buy both WOW Apple Cider Vinegar Shampoo and conditioner from Amazon.

Our Recommendation
After researching a lot about this shampoo, I finally used it. And according to me, this shampoo actually helps in cleaning your scalp in just one wash. It removes the dirt and filth from the scalp and makes it healthy. As per the smoothness of hair, as my hair is frizzy, it took some time for the shampoo to make it soft and smooth, but in the end, I finally got my hair frizz-free.
In fact, if the area you live in is full of humid climate, buying WOW Apple Cider Vinegar shampoo will be a great choice. It prevents the hair drying and also repairs the damaged hair cuticles by providing them enough nutrients.
I can finally say that this shampoo and conditioner duo worked for me and it gave me great results. WOW Apple Cider Vinegar Shampoo and conditioner is a must buy. So, just click on the link and grab it soon.
Recommended Articles For You: