This post contains
AFFILIATE LINK
to products. We may receive a commission for purchases made through these links.
Once you reach a certain age, your hair begins to go out, and there is no turning back. It is essential that you maintain your hair with sufficient care and affection. There is no age restriction on having a different haircut. Today, we will discuss hairstyles that make you look younger. These hairstyles are basic and easy to maintain, and they continue to look nice as the wearer ages.
You care for your skin with homemade face masks, facials, night cream, and day cream, among others. But we often overlook our hair, which may dramatically alter our personalities. Check out these incredible hairstyles that reduce your age by a few years.
Hairstyles that make you look younger
1. Shoulder Length Hair-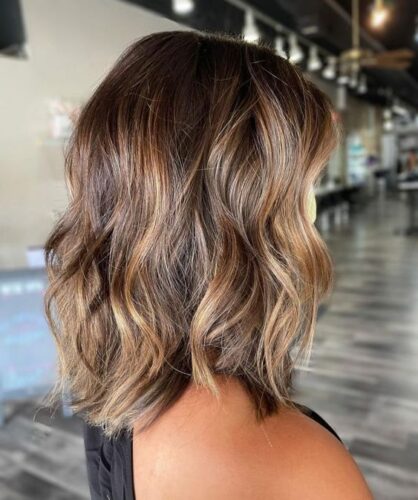 Shoulder Length haircut is always flattering and looks amazing. Many women tend to think that after a certain age they cannot have long hair, well that certainly is not true. In fact, Shoulder length haircut is face-framing and it looks great on everyone and with any colour.
Now, if you wish you can have transitions in this hairstyle too.
You can go for asymmetrical length.
If you wish you can opt for hair length below or above the shoulder, so that hair does not rest on your shoulder.
2. Hair Bangs-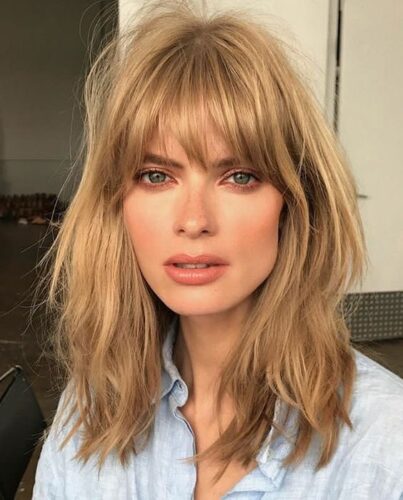 Well, we are not talking about the cute bangs which your mom did in school and you still regret that decision. Hair bangs have taken a turn, now they make you look younger than stupid. These new and improved hair bands make you look fabulous.
Bangs add a youthful look to your face. It helps to hide those fine lines around your eyes.
Even in these new improved hair bangs, you can add your own creativity-
Ask your hairstylist to have playful, bouncy bangs.
Your bangs should create a V-shape around your face.
If you want, you can pick up a side for your bangs.
3. Bob Cut-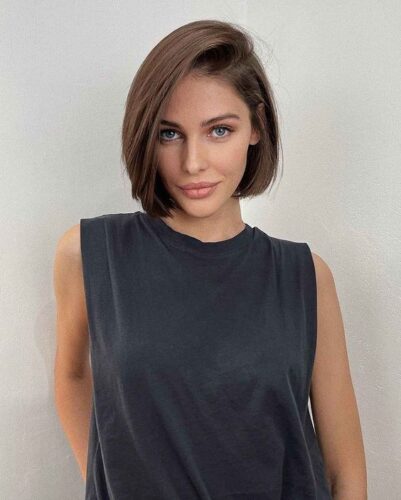 Well, now if your think that Bob's haircut used to be old-style, you are wrong. Just like fashion changes, so is the haircut looks. With this new bob haircut, no matter your face style you look younger. Have those bob hair rest just below your chin. This hairstyle can make you look younger immediately.
This bob cut will frame you with a perfect jawline and make you look younger than ever.
Ways you can change Bob's haircut-
Go for a bob hairstyle, which has upward movement.
You can have a curly bob with blended layers.
4. Pixie cut-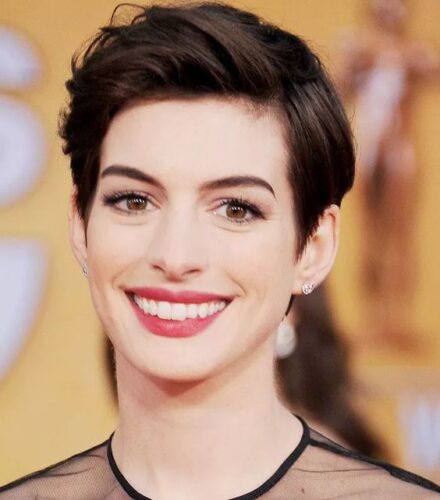 Just look at the above picture and see, how amazing this Pixie cut looks. It gives your face a fresh and young look. A pixie cut is mainly for those who want to show off their earrings and also their facial features. A pixie cut highlights your cheekbones and eyes mainly. But if you decide to go with a Pixie cut, it is necessary you use good and desired hair products to make your pixie cut just the way you want.
5. Braid your hair-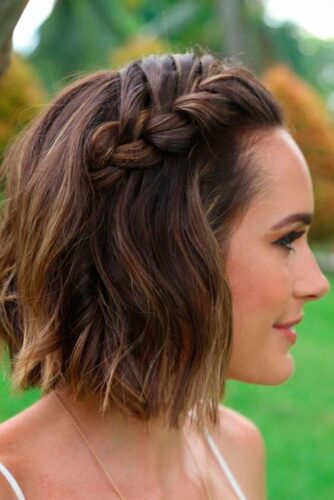 Braids can never go wrong. No matter the age and face cut, Braids are perfect to give you that young and fresh look.
Braids are not just for weddings or brides. Braided hair can be carried by anyone and it makes you look dynamic and young. These days even older women are pulling off the braided hairstyle with a bang.
Things you can do-
You can have a side-braided hairstyle.
Make the braid messy.
You can also have a clean braid style; this makes you look polished.
6. Side-Swept Curls-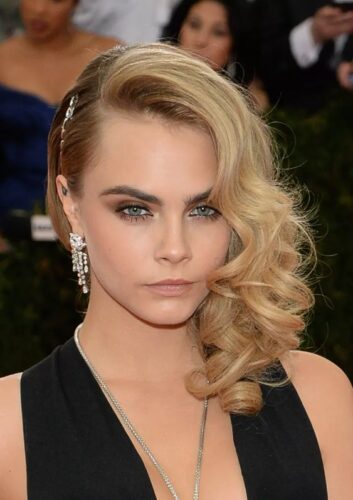 Just look at this amazing and gorgeous hairstyle. Side-swept hairstyle is a perfect red carpet hairstyle. It is a perfect combination of both side parting and curls. This hairstyle apart from making you look young also, accentuates your facial features.
7. Layered Hair with Blunt Ends-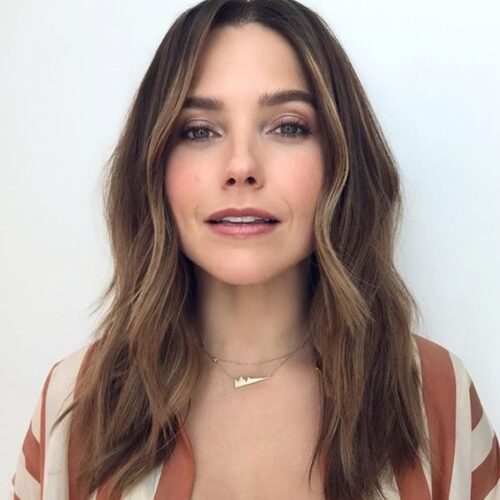 These days blunt ends are very much trending. The layered hairstyle is already in style, but this time it has come with a twist of adding blunt ends. Do not end up having too many layers, instead have the right kind of layers and you will end up getting your desired look. Get your haircut in layers and give it a middle parting look, the perfect hairstyle to look young.
8. Wavy Bob cut-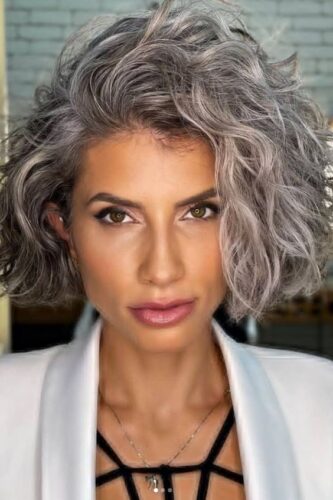 If you just look at the above hairstyle, you would want to have one for yourself. The dynamic and fresh look this wavy bob hairstyle gives is just one to have. With this hairstyle, I can see confidence and attitude of capturing the world coming with it. Giving this haircut a new look with a grey colour is perfect
9. Low Messy Bun-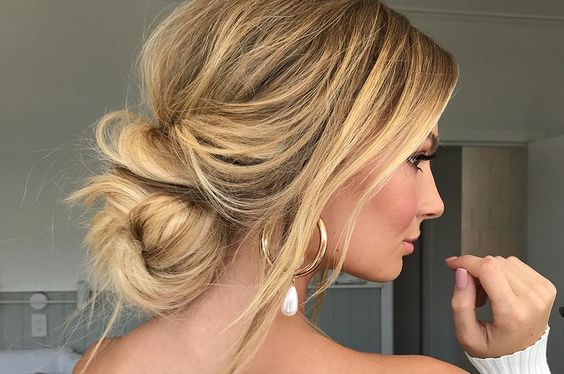 Well, a low messy bun is a go-to hairstyle. Whenever you are confused about any hairstyle, just pick up this messy bun, it is an imperfectly perfect hairstyle that makes you look young and classy as well.
10. Light waves in Ponytail-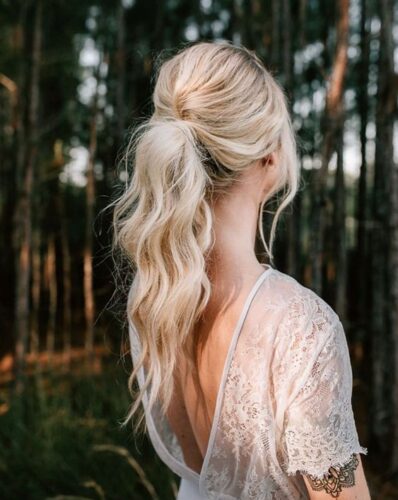 Having a ponytail is a pretty common hairstyle, but have you ever thought of having waves in your ponytail. Yes, a wavy ponytail is one great hairstyle for all women above 40 years. The light wavy curls in the ponytail also make your face look slimmer.
11. Straight Hairstyle-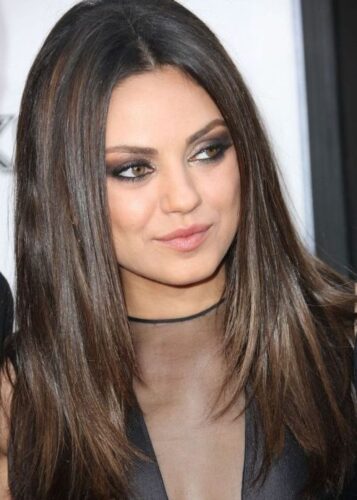 This uber-straight hairstyle looks amazing on people with round faces. But other face style people can also pull this amazing straight hairstyle. With a middle parting, poker-straight hair makes your face look slimmer and younger. With this hairstyle, you can add hair color, and this will draw attention to the lower half of the face.
Things to Keep in Mind
As you age your hair becomes weaker, that is why it is necessary that you do not put on any tight hairstyle. Apply some hair mousse if you want to give your hair a tight and sleek look.
For hair color, it is good if you go for lighter shades, rather than contrasting ones.
Bangs would never ditch you. You can have side bangs, front bangs, and side-swept bangs. All these types tend to hide any wrinkles or fine lines on your forehead.
Layers look good on any face type. Be it oval, round, square or triangle. Layers would always compliment you.
No one can stop getting old, but one thing which you can do is age gracefully. If you are young by heart, you will never get old. Keep experimenting with your hair, it's never too late to have good gorgeous hair. Above are the Hairstyles that make you look younger. Bangs and Layers are sure to take some years from your face.
Which hairstyle would you like to have to get that younger look?
Related blogs