BB creams are one of the best skincare products which every makeup girl and artist uses. They are considered Godsend. Therefore, today we have brought to you the best drugstore bb cream to use in 2022. BB creams or Beauty Balm Cream are easy to use, they nourish the skin from within and hide all skin imperfections. It is not only used in makeup, but it is a multi-tasker.
You can use BB cream in daily use, it is a moisturizer, primer, and sunscreen too. It blends in easily in the skin and gives your skin a flawless and radiant look.
These BB creams are the first step in the makeup look. They are applied after you have cleansed your skin and used any moisturizer or serum. So, check out the best drugstore bb cream which you can think of using and adding to your makeup box-
Best BB Cream For Dry Skin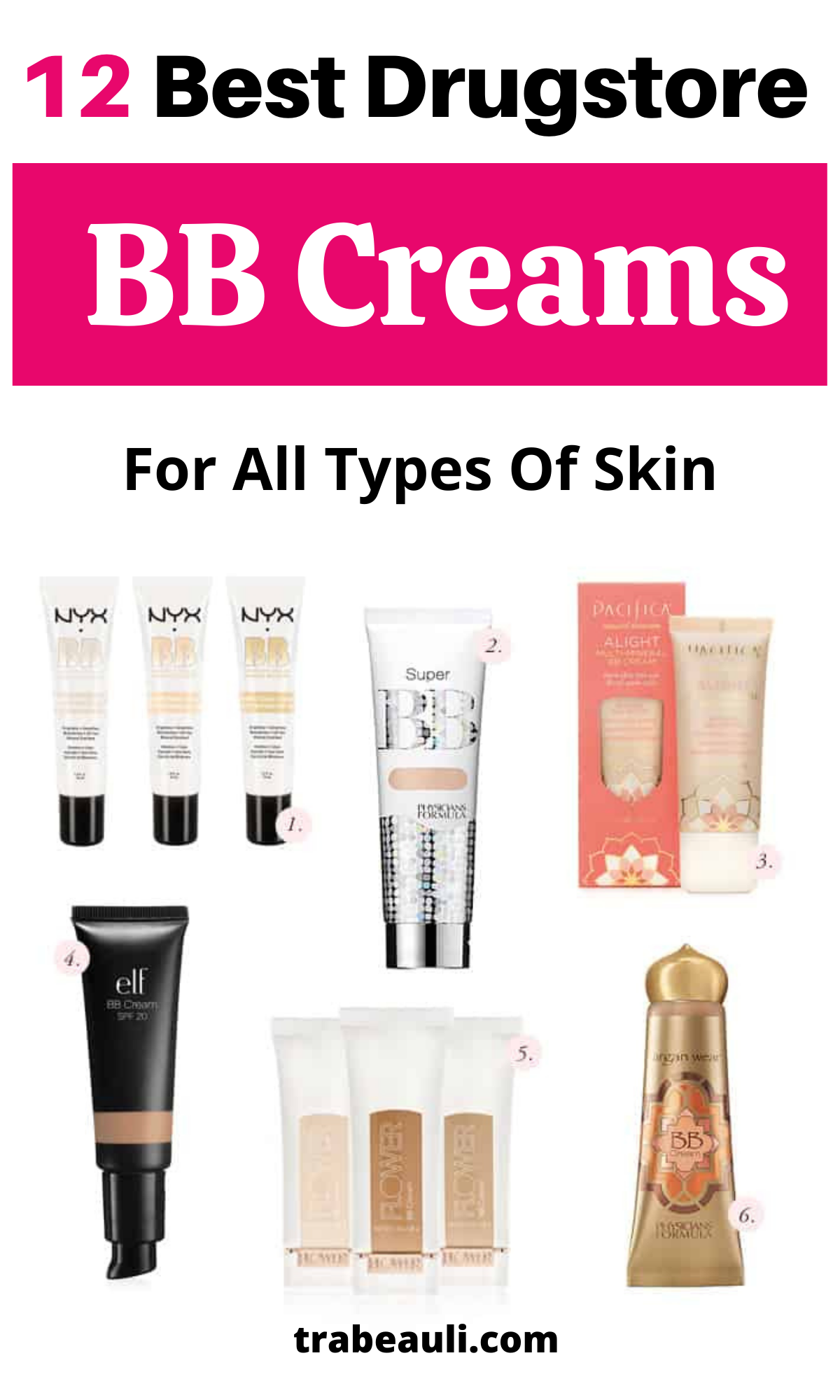 1. Maybelline Dream Fresh Skin Hydrating BB cream-
Best BB cream for dry skin. Maybelline Skin Hydrating BB Cream provides sheer to medium coverage to the skin. It gets easily blends in the skin and provides hydration to it. This 8-in-1 BB cream not only provides Sheer tint coverage but also protects it from harmful UV rays with broad-spectrum SPF 30.
Pros:
Tinted Coverage
Brightens and hydrates the skin
Protects the skin
Oil-free
Reduces fine lines and wrinkles
Cons:
2. Garmier SkinActive Miracle Skin Perfector BB Cream Anti-Aging SPF 15-
This affordable BB cream is known to give great coverage to the skin, and not give any cakey look. With a pleasant smell and texture, this BB cream is a 5-in-1 Skin Perfector. It helps to control any artificial shine in the face, minimizes skin pores, evens skin tone, and helps to prevent sunburn.
Pros:
Prevents sunburn
Evens skin tone
Pleasant fragrance
Infused with antioxidants
Cons:
3. Neutrogena Healthy Skin Anti-Aging Moisturizer SPF 20-
Loaded with antioxidants, vitamins, retinol, and SPF 20. This Neutrogena anti-aging moisturizer helps to reduce the appearance of wrinkles and fine lines. It moisturizes the skin and provides an even skin tone. Using it will give you healthier and younger-looking skin with a dewy finish.
Pros:
Provides an even skin tone
Contains SPF 20
Reduces wrinkles and fine lines
Smoothens out the skin texture
Gives skin a dewy finish
Tinted Moisturizer
Cons:
4. Bare Minerals Complexion Rescue Tinted Hydrating Gel Cream SPF 30-
Formulated with Marine botanicals, Fatty acids, Glycerin, and Nourishing Squalane, this amazing BB Cream hydrates your skin and gives your skin a natural coverage. Magnesium and calcium in the cream help to replenish the skin and promote its moisture balance. A perfect BB cream for extremely dry skin, it makes your skin complexion soft, smooth, and comfortable.
Pros:
Gives your skin a radiant look.
Hydrates your skin.
Provides natural coverage.
For medium skin tone
Protects skin with SPF 30.
Cons:
Best BB Cream for Oily Skin
5. Dr. Jart+ Premium BB Beauty Balm SPF 45-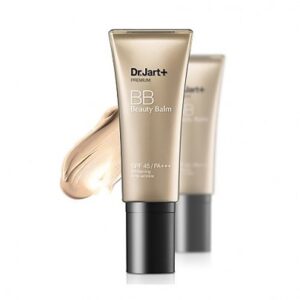 With amazing reviews on Amazon, this best drugstore bb cream is perfect for acne-prone skin. Loaded with SPF 45, it not only protects your skin from harmful UV rays but also provides it with a natural finish. The BB cream helps to hide the slightest fine lines and blemishes and gives dense coverage.
Pros:
Gives an even skin tone
Provides dense coverage
Protects skin from UV rays
Hides any fine lines and wrinkles
Cons:
6. COVERGIRL Clean Matte BB Cream-
Show off your beautiful skin with this matte BB cream. This oil-free BB cream gives perfect coverage to the skin and removes all kinds of blemishes and fine lines. It keeps away the artificial shine away from your face and gives you a natural, radiant glow. With the mattify look, the cream helps to improve skin elasticity and keeps skin hydrated for a long time.
Pros:
Enhance the natural radiance of the skin
Improves skin elasticity
Keep skin hydrated
Removes blemishes and fine lines
Gives an even skin tone
Cons:
7. Clinique Acne Solutions BB Cream Broad Spectrum SPF 40-
This amazing BB cream made with broad-spectrum SPF 40, helps to control your acne and has the ability to soothe breakouts and remove any scar and blemishes. Clinique BB Cream is easy to apply and blends in the skin very smoothly. With its lightweight coverage, it helps to provide a dewy look.
Pros:
Lightweight
Natural coverage
Gives a dewy look
Remove any scars and blemishes
Cons:
8. Tarte BB Tinted Treatment 12-Hour Primer-
If you are looking for a BB cream with no harmful chemicals and 100% vegan, then you should try this Tarte BB Tinted cream. It is lightweight, with oil-free formula, and helps to provide a natural look to the skin. Free from any harmful chemicals, the cream slides over blemishes smoothly. This anti-aging treatment provides your skin with a youthful look.
Pros:
Oil-free primer
Free from chemicals
100% vegan
SPF 30
Minimizes fine lines and wrinkles

Cons:
Best BB Cream for Combination Skin
9. Lancomé Beinfat Teinte Beauty Balm-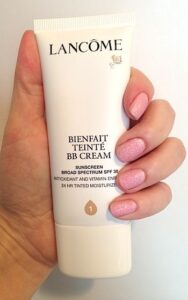 Formulated with Moringa seed extract and Chestnut seed extract, this beauty balm helps to prevent breakout and calm skin inflammation. It easily gets absorbed in the skin and does not give a cakey or greasy feeling. Providing 24-hour hydration to the skin, this is one of the best BB creams for combination skin.
Pros:
Provides hydration to the skin
Gets easily absorbed
No greasy feeling
Calms skin inflammation
Prevents skin breakout
Cons:
10. Bobbi Brown BB Cream SPF 35-
This BB cream is fully loaded with hydrating ingredients. It helps to improve the skin's moisture level and protects the skin from harmful UVA/UVB rays. Feels light as a feather, the Bobby Brown Cream gets easily absorbed in the skin and does not give the greasy feeling.
Pros:
Promotes hydration
Gets easily absorbed
Eliminates skin-discoloration
Minimizes fine lines
Cons:
11. IT Cosmetics Your Skin but Better CC+ Cream-
Loaded with Hyaluronic acid, antioxidants, and SPF 50, this IT Cosmetics BB cream offers full protection to skin from harmful UV rays and other aging signs. It is one of the award-winning CC+ creams which gives your skin beautiful coverage and also helps to reduce the appearance of acne, wrinkles, fine lines, dark circles, and large pores.
Pros:
Infused with hydrolyzed collagen
Reduces aging signs
Protects skin from harmful radiations
SPF 50
Provides full coverage
Cons:
12. Erborian BB Cream Tinted Moisturizer-
If you live in humid weather, then this is the BB cream for you. A moisturizing BB cream that is both creamy and gives your skin a matte finish. Made with traditional herbs, it gives you light to medium coverage. Apart from coverage, it also helps to make skin soft, smooth and gives a silky feel. Helps to reduce the appearance of blemishes and dark spots.
Pros:
Makes skin velvety and ultra-soft
Reduce the appearance of blemishes and dark spots
Gives your skin a matte finish
Stimulates and Revitalizes skin
Controls excess oil production
Cons:
Conclusion On Best Drugstore BB Cream
So, above are some of the best drugstore bb creams to use in 2022. BB cream helps to enhance your makeup look and hides away all the skin imperfections. It is not only used in makeup, but you can also use it to give your skin a fresh and flawless feel.
Which BB cream 2022 would you like to try?
Related Article-