This post contains
AFFILIATE LINK
to products. We may receive a commission for purchases made through these links.
Red nails are a game of classic manicure. It is versatile and goes with every colour dress, even the red nails look good on all age group. Whether you want to go for a classy and sophisticated look at office, or have to go to a party in night. If you are in doubt, just go for Red Nail Art Design. We have brought to you Best Red Nail Ideas. Also, you do not need to worry about your nail shape. Red Nail Design goes with Square, Opal, Diamond all types of nail design.
There are still many designs which red nail paint can have; we have shortlisted some of the best Red nail art design to choose you from.
Check out the blog-
1. Red Candy Nails-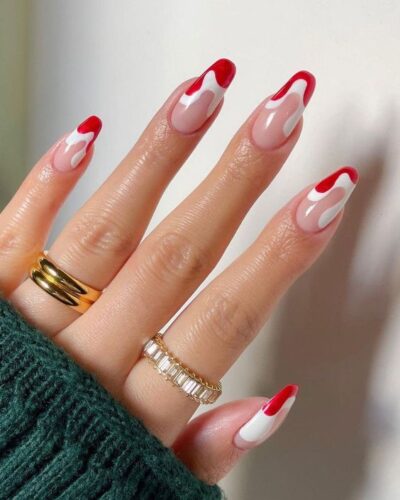 Well, once in a lifetime we all have eaten candy and most of the candie are of red and white colours. So, if you are a fan of candies, then this is another way to tell people about it. Have a red and white nail art design which depicts a perfect candy nail.
For this design, you will need small thin brush to paint the design.
2. Red French Manicure-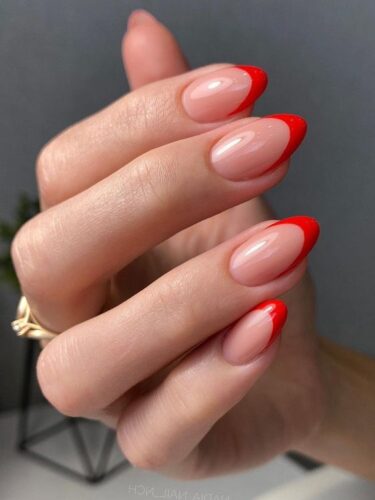 French manicures have never gone out of trend. They just keep changing from time to time. Like how about these red french manicure, don't they liven up the game. One of the best Red French Tip Nails, which you should try.
3. Red Cherry Nail Art-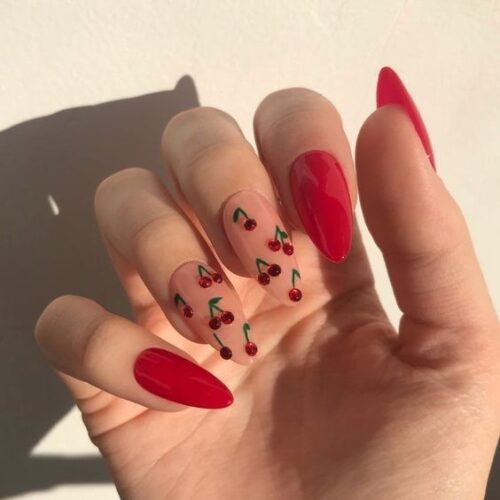 Whenever we hear the word red, we think of all those amazing Red things which we see in our daily life. One such are the cherries. Cherries look amazingly refreshing and they also taste good. How about having those cute cherries in your nail art design.
4. Red Metallic Nails-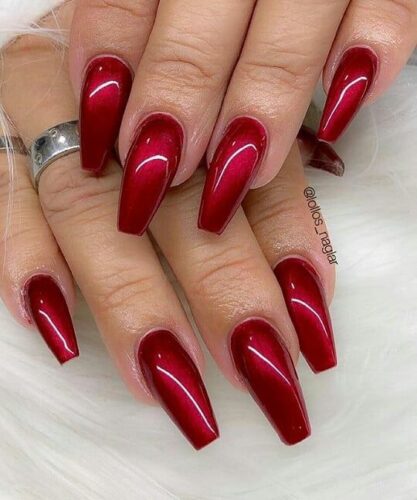 Just like Matte finish has its own style and look, similarly Red Metallic finish has its own way of attracting people. This cool chrome metallic look gives you one amazing red nail art design which will surely attract crowds attention. Just try to use right nail polish tools, for that finest finish at home.              
5. Red Matte Finish-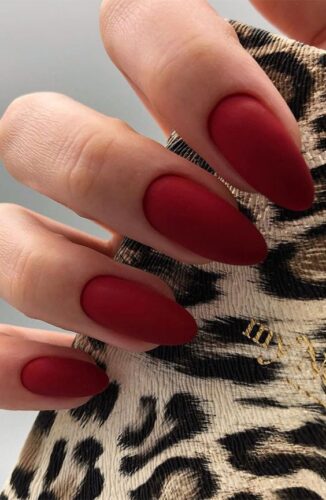 Red nails look great but they look just amazing when it has got a matte finish. A matte finish gives a rich look to any colour. They help draw attention to your nails, because they look extremely good and unusual as well.
6. Red Minimalist Design-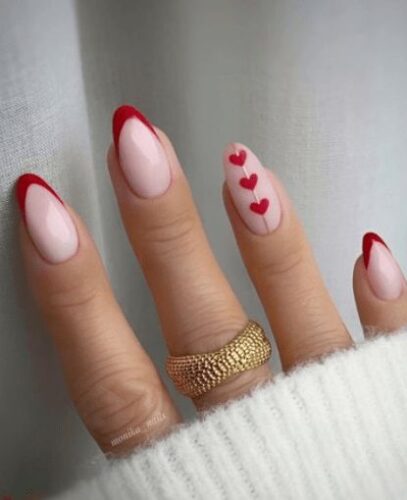 Not everyone likes to go all board with red colour. How about this Minimalist design, with french manicure on all the nails and a cute heart design on one of the nails. It will go perfect with your any attire and look gorgeous. A great simple Red nail design.
7. Simple Red Colour Nails-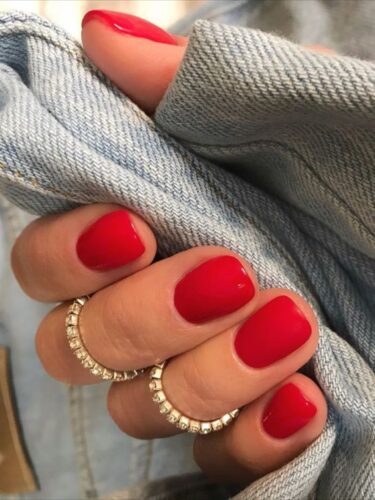 If you do not really like to go for any nail art design, you can just simply have short red nail colours. These red nail designs short look cute and stylish both. Having just a red nail paint is often underrated, but look at how attractive it looks.
8. Red Tiger Nails-
9. Red Pink Nails-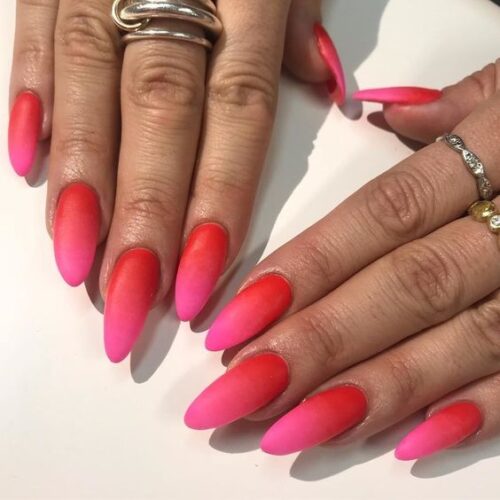 Red and pink nail art will reveal your pretty and feminine look. Both these colors are related to girls and look amazing in the nail art. To make sure you get this perfect look. Apply a white base coat first and then apply both the colors. With the help of damp sponge, blend both the colors to get you this look. To get the shine, apply a transparent coat above.
10. Red Glitter Nails-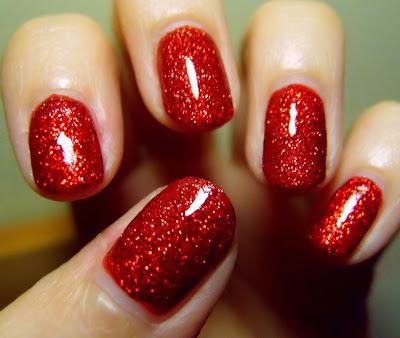 Glitter nail paint have never lost their charm. Many women use this glitter nail art to decorate their nails during festivities like New Year and Christmas. However, now-a-days this glitter nail polish trend has become very common. These days you can see girls preferring glitter over matter and metallic finish.
11. Red Dragon Nails-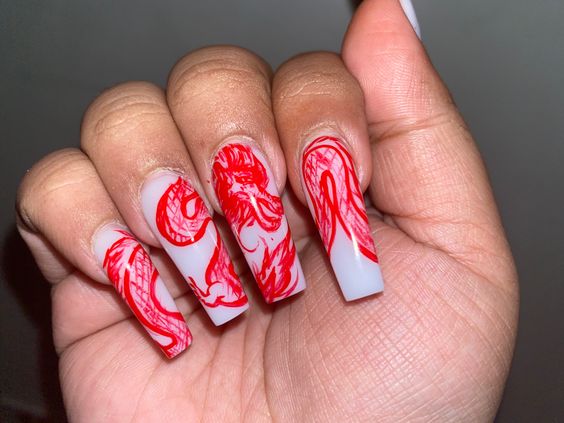 If you are a GOT fan or you just like Dragons in general, then why not try them in your nail art design. Although having this type of Dragon Nail art will require a great perfection, but once you are done it will look amazing.
12. Red Strawberry Nails-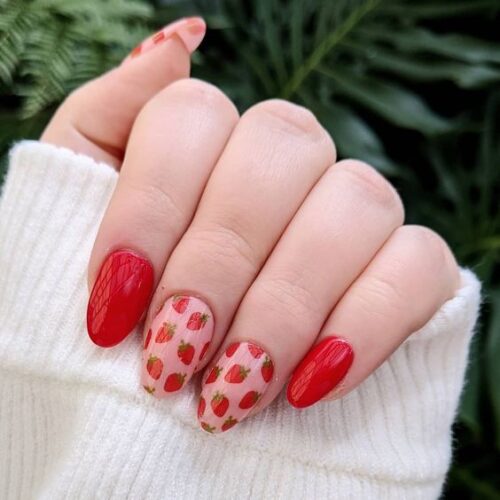 If from red colour, you start thinking about cherries, then how can you forget about strawberries. Yes, even strawberries are more romantic and cherries. So, how about a nail art with strawberry design. You can chose any two fingers to have the strawberry design.
13. Holiday Red Nails-
Red nails not only depict energy and romance, but they also depict the festive season. Yes, if we see Christmas, it is mostly red and white colour. Also, some of the most beautiful flowers are red colour. So, why not try having one of the flowers as your nail art design? It will look beautiful and will also give you the holiday vibes.
14. Red Glitter Nail Polish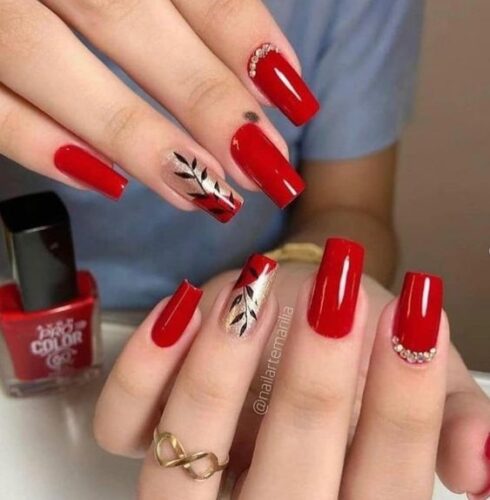 These rectangle-shaped Red colour nails look beautiful and attractive. You can make it unique by adding jewellery and leaves of your choice. By adding the golden or glitter colour in it will give your nails more attention.
15. Wine Color Jeweled Nails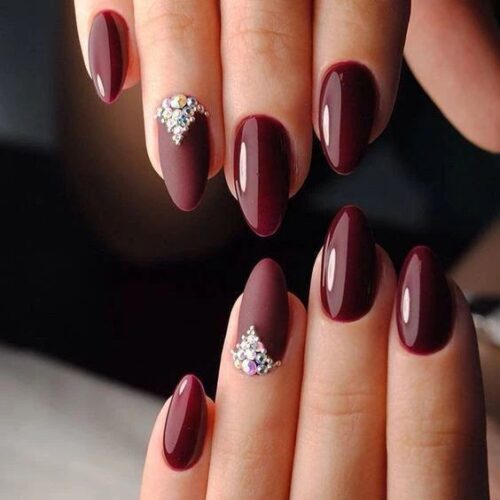 Wine colour is another version of Red colour which looks really classy in the nail paint. You can choose either Matt or Metallic finish or even both. The wine colour nails look amazingly beautiful and royal. Adding the jewelled in it adds up to the charm of nail polish.
16. Red Christmas Nails-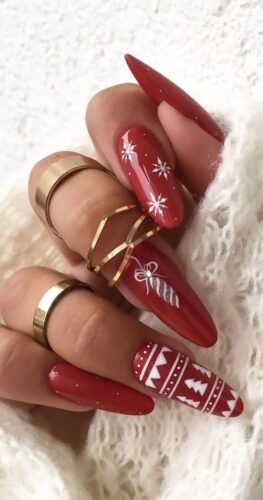 Well, we all know that Christmas is about two colours Red and White. After decorating your home with Christmas vibes, how about if you try the above nail art too? It will help you get the full holiday mode on. You can try any Christmas design you like.
So, above are some of the Best Red Nail Ideas which can never go wrong. All the above designs are easy to make and also look stylish. Red is the colour of love and energy, and red colour nail paint is never out of style. The above Simple Red Nail Designs can be made at home, you just need the right tools and precision.
Which Red Nail Ideas do you like the best?
FAQ
1. What colours go with Red Colour Nails?
Red nail colours are very much in trend. With these attractive and beautiful red nails, you can match neutral colours like white, beige, cream, brown and navy. The white colour will go perfect with your red nails and red shoes.
2. Is Red Color nail art in Trend?
Yes, Red colour is always in trend, whenever in doubt you can always go for red nails and it will never go wrong. Red is already an attractive colour, which is considered fun and flirty. The best thing about red colour nails is all age group people can apply them.
3. Are Red Nails in Trend in 2022?
Yes, According to the stylist and expert, Red, Blue and Violet color will be in trend in 2022. These bright colors brighten up the nails and they will have a comeback in spring 2022.
Related Article-