This post contains
AFFILIATE LINK
to products. We may receive a commission for purchases made through these links.
It is said that a Round face can carry any type of hairstyle. But still, you need to be careful before selecting a hairstyle for you. A wrong hairstyle can make your face look chubby. The right hairstyle or haircut for a round face is the one that works on your face curves and highlights the best of your facial features. We have shortlisted 20+ Hairstyle for Round Face to look slim face 2022. These hairstyles you can carry in any function, for a brunch or for a casual look too.
Check out the blog-
Trendy Hairstyle for Round Face To Look Slim Face
1. Hairstyle for Round Face with Thin Hair-
To manage those thin hair, all you need to do is add as many layers to your hair as possible. To make your fine, thin hair look good you need to add layers to it.
2. Long Hairstyle for People with Round Face-
Many times with people with long hair, does not know how to style their hair. Well, you can always keep them open with soft side part work.
3. Short Hairstyle-
How about this cute hairstyle with bangs coming from both sides. The sleek centre parting keeps the hair on both sides and the hair coming down till the chin, gives you an elongated face look.
4. Short Shaggy Layers-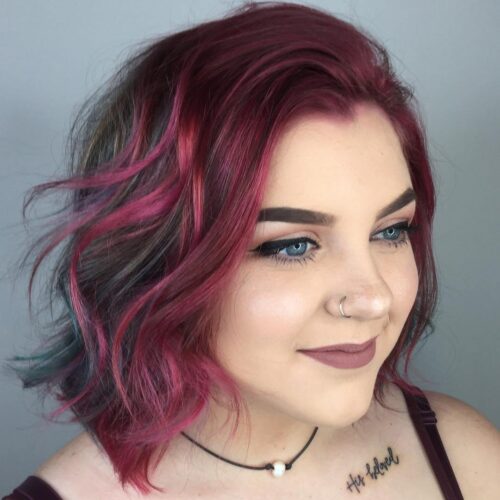 This shaggy hairstyle looks great on your round face, as it helps to balance out the curves of your face. You can also colour some of your hair to give it a great look.
5. High Ponytail- Long hairstyle For round face to look slim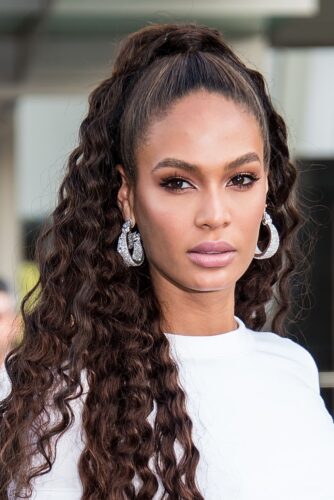 If you have long hair, then this is the hairstyle for you. Tieing your hair in a ponytail will help to showcase your facial features properly. You can also curl them up to enhance your look.
6. Curled under Lob-
This hairstyle can never go wrong. If you have short hair, you can choose to style them in this way. It will help to cover your chubby face and will give you a slim looking face.
7. Choppy Wavy Side- Parted-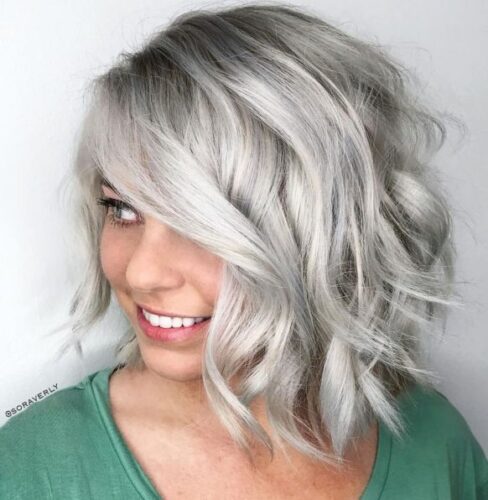 This is one amazing hairstyle for people with short hair. It helps to make your hair look more voluminous and gives your hair a messy look. All you need is to keep more hair at the crown of your head.
8. Half-up Top Knot-
One of the easy hairstyles which you might be doing for many years. This hairstyle looks cute and also make you hide the fact that your hair is oily.
9. Side-Swept Pixie Cut-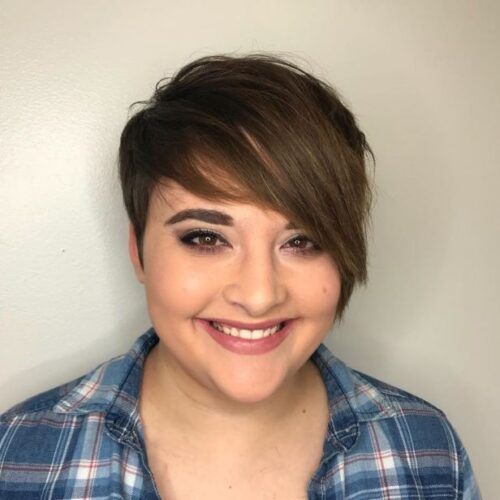 Wow. This one is for you for all those women who like to keep their hair short and stylish. With an almost invisible line to part your hair. The sideburns help to narrow down your wide face.
10. Short and Spiky-
A perfect hairstyle to enhance your bold look. Add a lot of hair on the crown of your head and minimum hair on the sides.
11. Straight A-Line Bob Cut-
This simple Bob-cut Hairstyle is a perfect inspiration for short hairstyles. A-line bob helps to make your face look slimmer and the soft curves also help to hide your cheeks.
12. Tight Ponytails-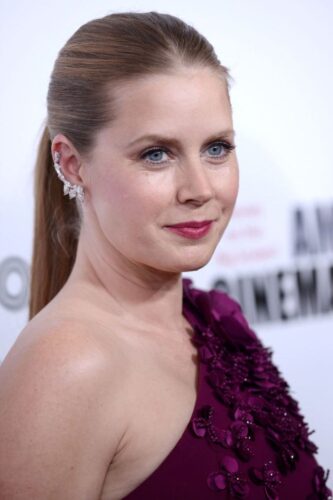 If you feel you have an amazing cheekbone and also your face looks slim, then this is the hairstyle for you. One really needs to show off those sexy cheekbones. So go for this sleek ponytail hairstyle.
13. Medium Shag for Round Face-
If you have neither short nor long hair, then try to have the above hairstyle. By keeping your hair down to shoulders, you are helping your face to look slimmer and more balanced.
14. Curly Updo-
A perfect hairstyle for Round Faces going to any party, wedding or event. These amazing curls tied up in a hairstyle helps to make your face elongated.
15. Textured Bob Look-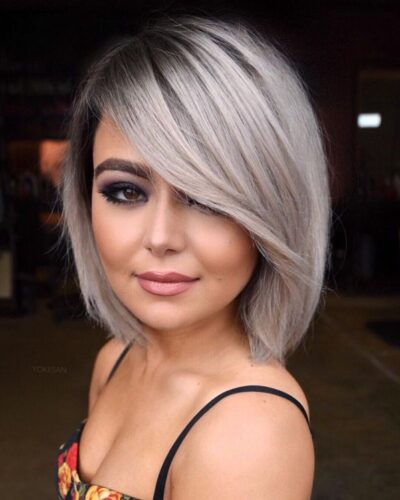 If I would have a round face, this is the hairstyle I would have gone for. The way those short bangs coming on face look, is just eye-catching. This hairstyle makes your face looks slimmer and more oval.
16. Curly Cut for Round Face-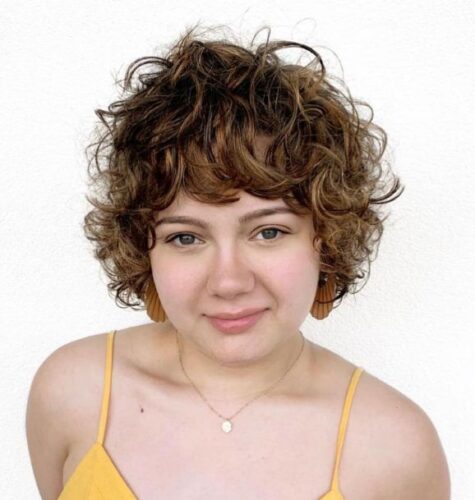 Not many would prefer this hairstyle. But if you have got curly, thick hair then this is the hairstyle for you. It not only looks cute but also make your face look slim.
17. Center Parted Curls-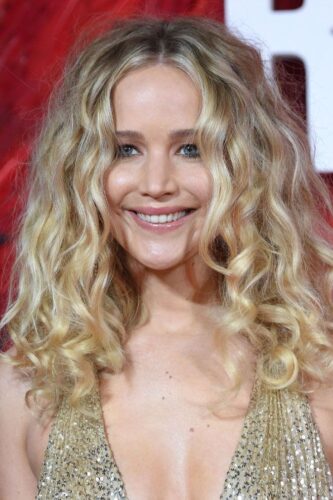 If you have curly hair, the best way to style them is to do the centre parting. This will make your face look slim and also the curls won't give you a flat hair look.
18. Bold Bangs-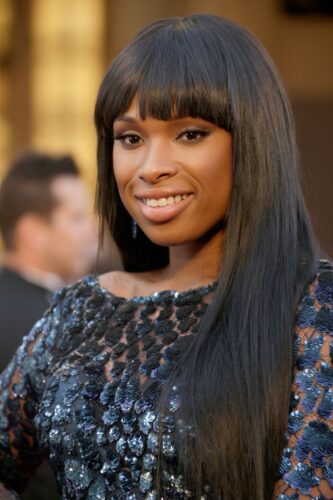 This hairstyle is perfect for all those, who have got large foreheads. The bangs on the forehead look cute and also cover it up nicely.
19. Long Choppy Pixie Cut-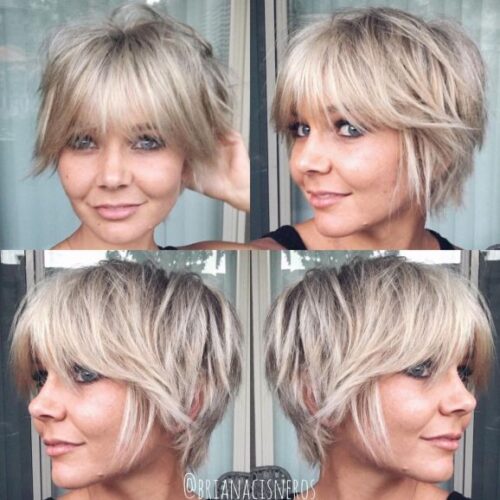 How stylish this hairstyle looks? These days the trend for round face hairstyles is to chop them off. You can have a messy look with the chopping and this helps to make your face look even.
20. Shaggy Bob Cut-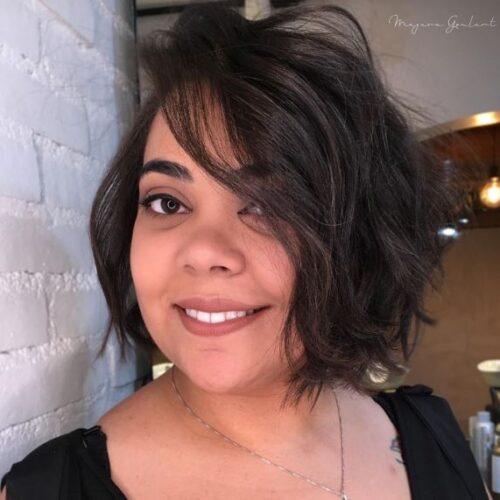 A perfect and brilliant way to showcase your short hair if you come in the category of a chubby face. The length of the hair till the chin also helps to hide your chin area.
So, above are some of the best hairstyles for round faces. Just remember, let your hair have as many layers as you want and also you are being gifted to carry out the short hairstyle proudly.
Related Article-