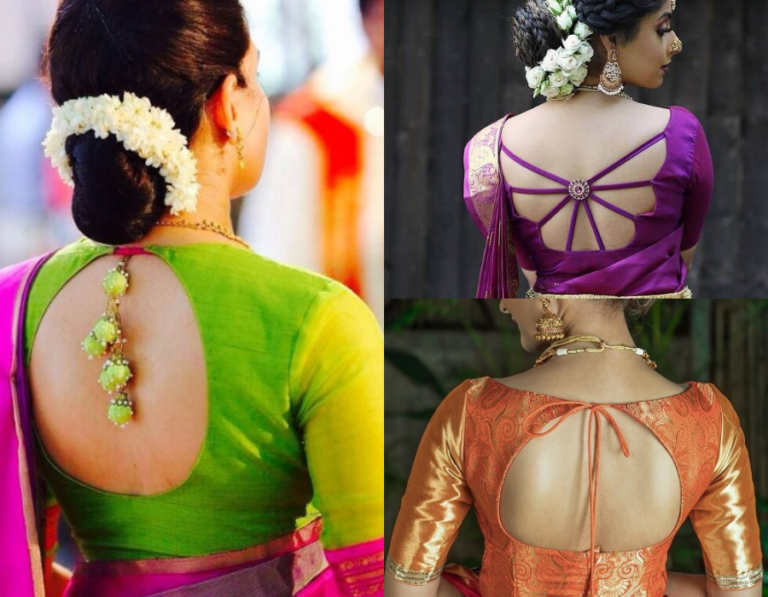 Saree is ethnic wear that enhances the beauty of women. Draping a 5 feet cloth around you properly and elegantly is just amazing and mesmerizes many people. With Saree comes the blouse, and with our latest and new Blouse Designs Backside, you can add to the beauty of your saree look. Well, who doesn't love to be fashionable and to try something different?
Therefore, we have shortlisted 15+ best latest blouse designs backside, these designs are both fashionable and give traditional look too. You can carry these designs at any festival, wedding, or even for your office wear. So, check out the amazing catalog for blouse designs backside.
15+  New Blouse Designs Backside
1. Back Neck Design
The flowery blouse design with the knot at the back and 3/4 sleeves, looks beautiful as you can combine it with any of the simple border saree.
2. Drop Back Blouse Design-
How beautiful this Buddha design blouse is looking with full sleeves. With such a creative blouse design, you can wear any simple saree and it will look amazing.
3. Round Neck Design-
A simple round neck design with just a classy print on your hand gives the blouse a heavy and classy look. With this blouse design, any simple saree will look amazing.
4. Back Neck Latest Design-
I love this simple boat neck blouse design, with a little opening at the back. You can use this design for any function and even for your office routine.
5. Tassel Work Design-
Hanging design is very much in trend and almost everyone has once tried it. You can have any of your favorite designs hanging at the back of your neck. It will add to the festive touch of your attire.
6. Full Neck Cover Design-
The main beauty of this blouse design is the work done on it. With totally covered, the blouse stands apart due to the simple work done on the neck and shoulder.
7. Collar Design-
If you are the type of woman who does not like to expose and just like to go simple yet classy. Then try this blouse design, collared blouse design with 3/4th sleeves, it gives you both traditional and modern touch and believes me it looks sexy in its own way.
8. Latest Blouse Design-
If you always like to stand away from the crowd and wear a saree limitedly, then you should try this blouse design. This halter neck blouse design with the sexy back will add beauty to the saree and will give you a modern look too.
9. Back Button Blouse Design-
This deep round-back Blouse Designs Backside with the botty hooks in the back looks sexy enough. For all those who like to have a deep-back blouse design, this design is for you.
10. Long Pattern Blouse Design-
If you are too much into blouse designing, chances are you already would have seen this blouse design. This amazing blouse design has taken the internet and everyone by storm. I really liked the way it is designed with a small back opening.
11. Silk Blouse Design-
The small botty design on the back neck looks modern combined with the little puff on the sleeves. This blouse design looks classy and stylish and can be carried with any saree.
12. Back Eye Blouse Design-
This back blouse design is for all those ladies, who like to try something different. I love how the back design has made up the shape of an eye.
13. Puff Sleeves Blouse Design-
How amazingly and beautifully this blouse design has added to the beauty of this silk saree. The puffed blouse design looks different and will surely catch everyone's attention.
14. Balloon Blouse Design-
You must be having one or the other saree which have this balloon design. Well, balloon sleeve design never goes out of style. It can be carried in both casual and fancy looks.
15. Pleated Neck Design-
The pleated neck design is new and different. It will give you classy touch and will work with any of the saree designs.
16. Jacket Blouse Design-
I just loved the way this blouse design has added beauty to a simple saree. The new long jacket design blouse with work has made them look stylish and traditional both.
Conclusion on Blouse Designs Backside
So, above are some of the Latest Blouse Designs Backside 2021 which you can carry during any occasion like a wedding or any festival too. These are some of the designs which are unique, different, and look classy too.
Save this simple silk saree blouse designs catalog for your future reference. They will come in handy and you will love wearing these designs.
Which blouse design do you like the most?
Related Article-