I really love adventures. No matter it is bungee jumping, Skydiving, Parasailing or Mountain Climbing. The rush and experience it gives are just Amazing.
Today, I am going to share my experience of the Bungee Jumping, which I did in South Africa.
Bungee jumping had been on our list for a long time. So fiancée and I decided to go to South Africa for our Honeymoon. We already had booked our slot for the Jump.  Bloukrans Bridge is the World's Highest Bungee Jump. It is 216 meters.
So here is my Bungee jumping lifetime experience: –
Signing Up : –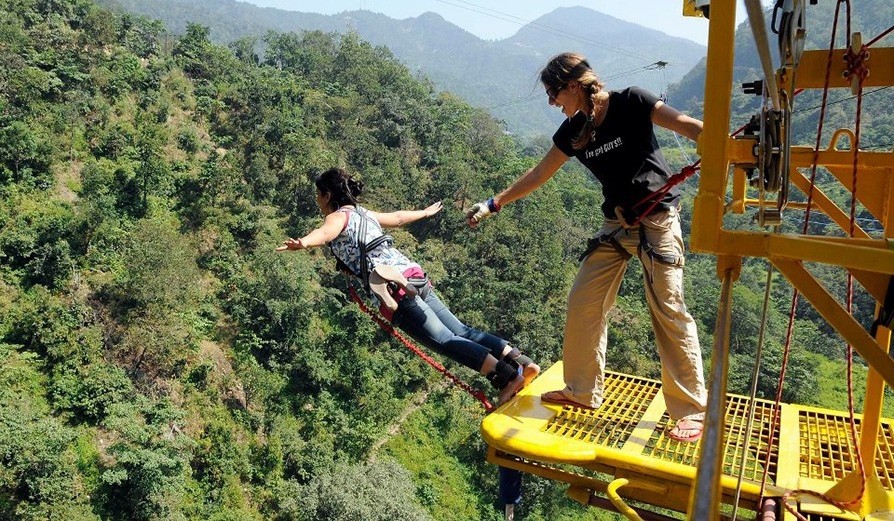 As we have already paid for our jump before, we went there at our assigned time that was 12 noons. They gave us indemnity form to sign (which is compulsory), they took our weight and wrote it down on our wrist. As soon as we sat down, we were like "Ghosh this is soo high, we cannot do it, but the passion to have that one lifetime experience kept us going".
Preparing: –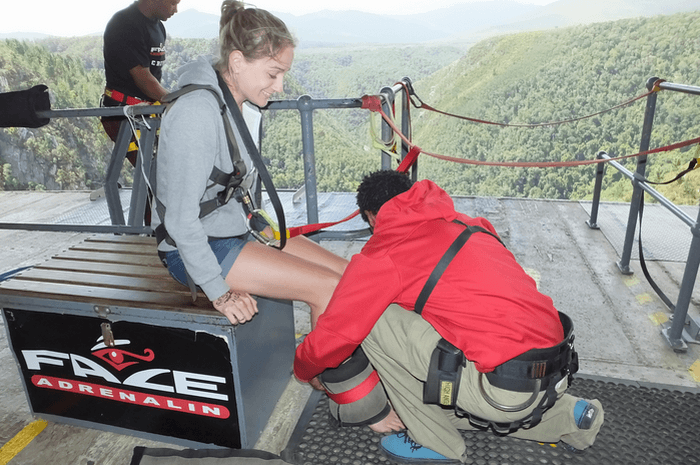 We waited for our turn to come in; when it was my turn they put your ankle straps on, tighten the padding and attach your backup harness around your shoulders and waist.
They confirmed about comforts and if the rope is loose. The bungee coach knows, that people are always afraid to go after seeing the height. So they, show you the camera, which is taking your pics and will also take your video when you jump off.
After that, they tell us that people down there are watching us. So obviously, you won't like to quit in front of a public.
But still, 2 out of 10 people quit it.
The Jump: –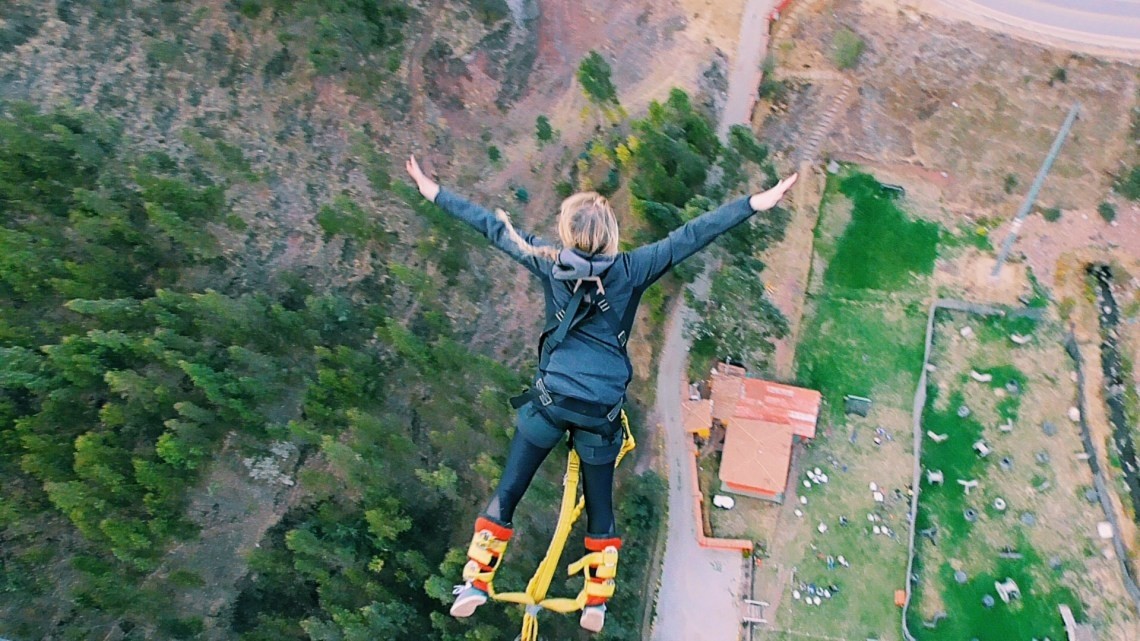 Later we walk till the edge, they tell us the position of hands. How to keep it while in the air. They tell us to wave at the camera, where many people are watching us. Look forward, Smile and Dive.
And then it is 3,2,1, JUMP. Wowww!! What a jump it was.  For few seconds I closed my eyes because of the air. It was so Amazing. When you reach the last point you won't feel any jolt. You will just keep swinging they are and enjoy the moment and the scenery. That moment is so peaceful and happy. You won't even know when they start pulling you up as the process is so easy breezy. You only notice when the view gets changed.
Back: –
One of their people comes down ask us about our experience. He clips you, and then they pull you up. That's it; it is over that amazing, happy moment is gone. Giving you one-lifetime amazing experience.
It was a zen moment for me, that experience is hard to feel unless you have done it.  The feeling of pride and accomplishment afterward is priceless.
Though it is little dangerous, it is completely safe. The staff up there is so helpful, energetic and supportive. So, try it once in your life. Later you also get to post it on facebook, twitter and grab the attention of your friends.